The Federal Government has been urged not to lose sight of agriculture as a key solution to the twin challenges of climate change and biodiversity loss.
In a speech to a sold-out Rural Press Club of Queensland lunch in Brisbane on Thursday, MacDoch Australia Group chair Alasdair MacLeod said Australia is leading the world in demonstrating agriculture can address both challenges, while at the same time growing nutritious food for a growing world population and providing a great income for Australia.
But he voiced concern that the focus of the current Federal Government "appears to have been taken away" from the agriculture sector as a solution for climate and conservation policy making.
At the same time he also challenged landholders to find the "sweet spot" between "the right ecological outcome and the right business performance outcome".
In comments that galvanised the attention of the Queensland audience, he said it was in everybody's interest to cease most land clearing, because of the significant emissions associated with clearing (more below).
Australia's carbon market 'envy of world'
Mr MacLeod called on the current Government to think "much more imaginatively" about how the agricultural sector can help to address the challenges of climate change and biodiversity loss.
Australia had a carbon market that is the envy of the world, and "we need to keep it that way", he said.
Australia had no hope of achieving net zero and keeping the economy ticking over nicely without a robust offsets market.
Farmers around the world would give their right arm to be able to take advantage of Australia's Carbon Farming Initiative, he said.
As reported by AgCarbon Central in June, two Queensland farmers were last month issued over 150,000 Australian Carbon Credit Units (ACCUs) for carbon added to their soil over a five year period through grazing management, through the carbon project developer, CarbonLink.
The projects have delivered ACCUs worth millions of dollars in saleable credits for both farming enterprises at current carbon prices around $30 per tonne, or per ACCU.
Carbon Farming Initiative huge step forward for Aus agriculture
The Clean Energy Regulator's issuance of the ACCUs under the Carbon Farming Initiative was "a huge step forward" for three reasons, Mr MacLeod said.
Firstly it gave the livestock sector some "some real ammunition" to fight back against those who want cattle removed from the landscape altogether and to force people to eat meat grown in a laboratory.
To support that point, Mr MacLeod quoted from CarbonLink data showing that on each of the two Qld properties that received ACCUs last month, 10.6t and 12t of Carbon Dioxide equivalent (CO2-e) were sequestered for every tonne of livestock grazed on each property over the five-year period, after accounting for all emissions, including methane.
"This is hugely significant, because it shows how well managed livestock can be not just carbon neutral, but massively carbon negative."
Secondly the results could also be hugely significant for Australia's carbon accounts.  If the sequestration rate of around 5.5 tonnes per hectare per annum recorded in the two Qld soil carbon projects could be achieved across 30 million hectares (representing less than 10 percent of grazing land in Australia), that would equate to 66m tonnes of CO2 equiv per annum, or about 14 percent of Australia's annual emissions.
Thirdly, there "was plenty of evidence" that more carbon in the soil leads to better water holding capacity. Research by the prestigious Rothamstead research centre in the UK had found that a 1000 hectare farm that increases soil organic carbon by 1 percent could hold the equivalent of 100 Olympic swimming pools more water.
Management practices that build up soil carbon would also build better resilience to drought and keep more farmers in business without having to resort to drought relief, he said.
"The Carbon Farming Initiative is a hugely important bit of policy and, while, to date, it has mainly been used for revegetation projects and savannah burning, it is good to see that we are beginning to recognise the huge potential for sequestering carbon in our soils."
Steps forward for Australia to capitalise on opportunity
Mr MacLeod offered his thoughts on several suggested steps Australia should take to capitalise on the opportunity it currently had to lead the world.
A better understanding of what "sustainability" looks like was needed, he said.
To help develop this, the Macdoch Foundation is currently leading  "Farming for the Future", a research  project, supported by NFF, MLA, AWI and other philanthropists, which aims to give producers better access to data and insights that will help them optimise ecological and business performance.
Land clearing in focus
He also weighed into the land clearing debate which prompted follow up questions from the rural Queensland audience after his address.
"Let me say something on the land clearing debate, because I know it is a sensitive topic.
"I believe that it is in everybody's interest to cease most land clearing.
"As the IPCC slide shows "land use change" is the largest contributor to the emissions profile of the Ag sector.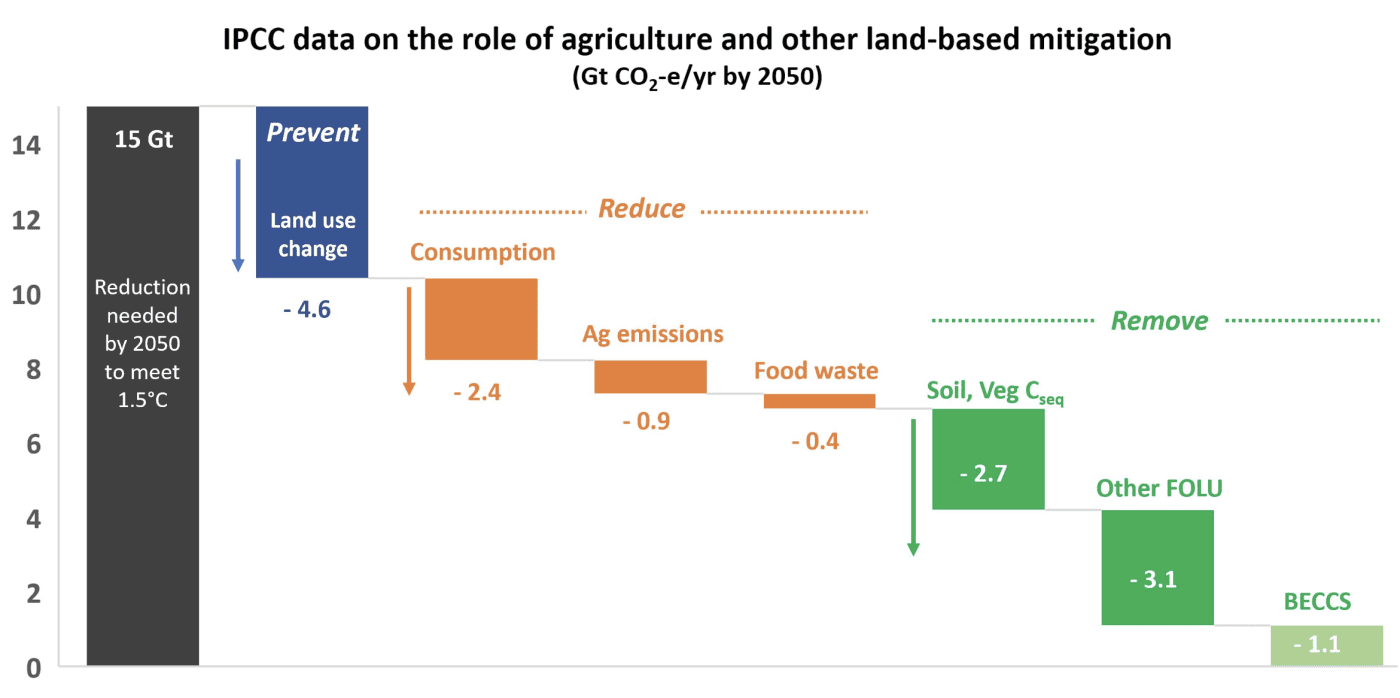 "The good news is that the recent ABARES report into Environmental Sustainability stated that land clearing in Australia was 75 percent lower than it was 20 years previously, so we are heading in the right direction here.
"And I know that there are various different interpretations of what actually constitutes "land clearing", but I believe, that with better data, it is going to be possible to demonstrate whether it is actually in the economic interest of a grazier to be clearing land."
Asked to explain his definition of land clearing in a follow up question from the floor by Phillip Kelly from Collier's Agribusiness, Mr MacLeod acknowledged there were "lots and lots definitions of land clearing", and declined to offer a specific definition and getting "suckered into a very controversial debate".
But he went on to say that key challenge for producers is to "find the right balance between the right ecological outcome and the right business performance outcome."
"And we believe there is a sweet spot between the two," he said.
"And I think our point is that you can't make a really good decision around the extent to which you should be clearing, whatever clearing is going to look like, until you understand what that sweet spot looks like.
"What is the right point between the ecological health of your country and the economic health of your country.
"And I can't answer that question right now, but we are going to answer that question through the Farming for the Future project which is going to look at where that sweet spot is between ecology and economy."
Ag sector offsets critical
With technologies to decarbonise flying, cement making and even making wind turbines still possibly decades away, and fossil fuels still required for those activities, and the ag sector provided an extremely efficient way of achieving those offsets.
He also expressed concern about schemes that will produce enough carbon credits to "inset" by measuring above ground biomass through remote sensing, and thereby model the carbon sequestered on that farm.
"Those schemes will not fully measure carbon at depth and will likely disqualify the producer from subsequently entering a fully measured scheme that will provide a surplus of carbon that can be sold as offsets.
"So producers are going to need some reliable advice before they enter into any carbon insetting scheme."
He said regulators should keep up with current practices to ensure methodologies for on-farm sequestration stay up to date, and urged the Government to press ahead with the world leading Integrated Farm and Land Management methodology.
"This will not only allow all pools of  on-farm carbon to be assessed and monetised as efficiently as possible, but will also provide an additional lever for scaling up climate smart farming across pastures, cropland  and on-farm forestry."
A balance also needed to be acheived between locking up land and keeping active management of that land, he said.
"The Ag sector has to be an important contributor to the debate about nature risk and we will not achieve our 30×30 goals without using the 55 percent of Australia's landmass that is still under agricultural production."
World demand for decarbonisation and for reducing the risk from nature loss would present present innovative landowners with good opportunities for building more resilient businesses.
"Furthermore, it will present Australia with a great opportunity to demonstrate to the world what a truly sustainable agricultural sector looks like and this will ensure that our products are well positioned in world markets."
Pictures from the Rural Press Club lunch: