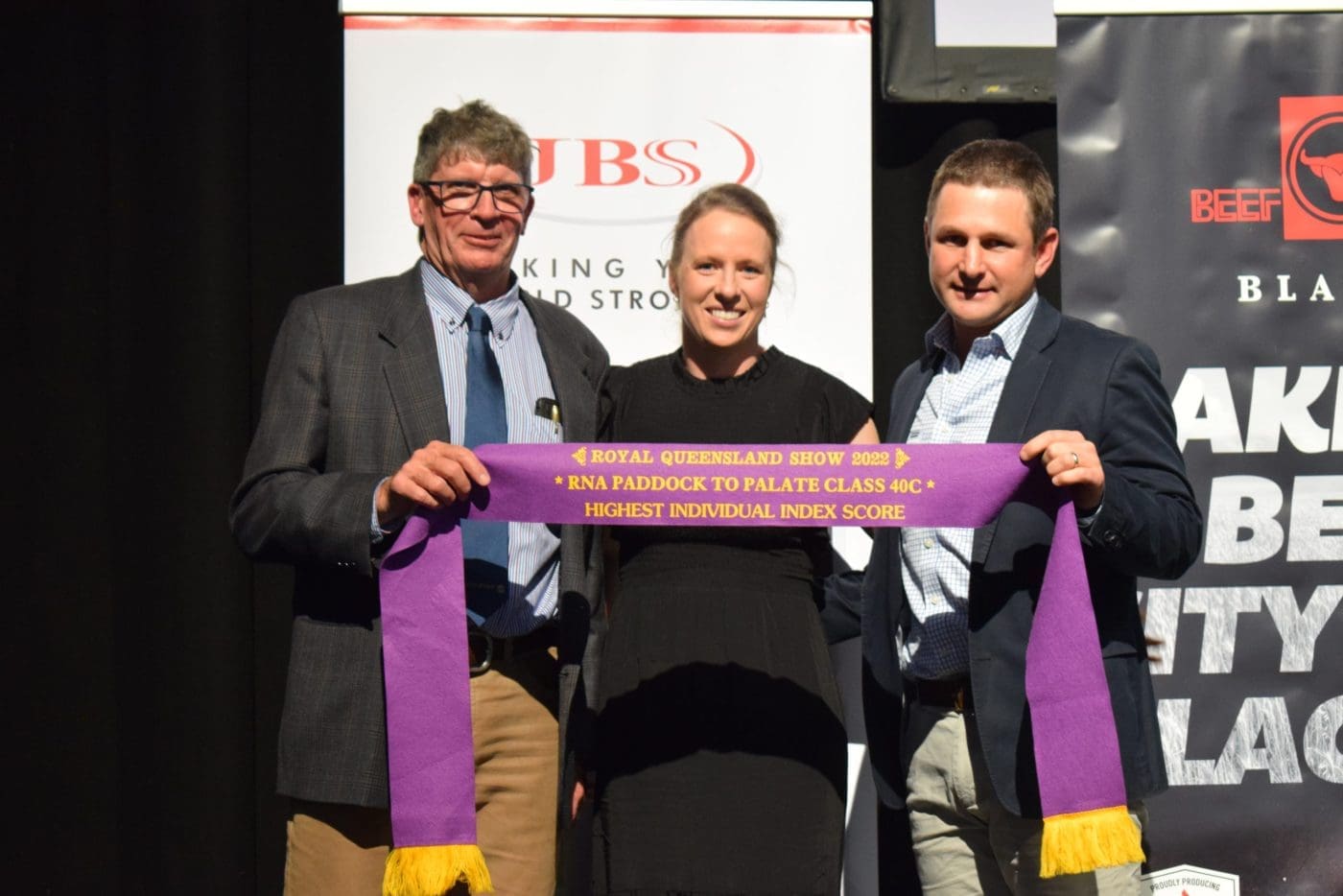 The major winners of the 2022 JBS and RNA Paddock to Palate commercial weight gain, carcase performance and eating quality competition were announced at a dinner at the Royal Queensland Show on Wednesday night.
For the fifth successive year Palgrove Pastoral Company has won the overall class 37 for 100 day HGP export cattle, winning first, second and fourth place overall with Charolais Angus X and Charolais entries.
Yulgilbar Pastoral Company took out the overall Class 38 for 70 day HGP trade class with Santa Gertrudis entries.
Shorthorn cattle from G Morgan and Co at Condamine were the major winners in Class 40 for 100 day non-HGP treated cattle.
In the Wagyu Challenge, Ross Shannon's Taldra Cattle Co was the overall champion.
Among other winners to feature prominently in the awards for carcase performance, eating quality and overall points was Russell Pastoral Company, Simon and Myriam Daley, Texas Angus, Brodie and Vicki Budd, Stanford Grazing, RJ and MMJ Harvey, McIntyre Agriculture and David Crombie's Aurelian Pastoral Company.
In the Wagyu Section Hancock Agriculture, AACo, Sunland Cattle Company, Hewitt Pastoral Enterprises and Bar H Grazing shared in the honours.
FULL RESULTS BELOW – further reports to come
Class 37 – 100 day HGP export class
Overall winner:
Palgrove Pastoral Company (Charolais Angus X)
Palgrove Pastoral Company (Charolais and Charolais Angus X)
G Morgan and Co (Shorthorn)
Palgrove Pastoral Co (Charolais & Charolais Angus X)
RB and VA Budd & Willoise Graz. Co P/L (Charolais X)
Class 37 A Weight Gain:
Yulgilbar pastoral Company (Santa Hereford) – ADG 3.262kg
Juandah Grazing (Charolais X Angus) – ADG 2.998kg
Juandah Grazing (Charolais Angus X) – ADG 2.980kg
Class 37 A Highest Individual Weight Gain:
Yulgilbar Pastoral Company (Santa Hereford) – ADG 3.59kg
Class 37 B Pen of six carcases:
G Morgan & Co (Shorthorn)
Simon and Myriam Daley (Charolais X)
RB and VA Budd & Willoise Graz. Co P/L (Charolais X)
Class 37 B Champion Carcase:
Palgrove Pastoral Company (Charolais and Charolais Angus X)
37B Reserve Champion Carcase:
Palgrove Pastoral Company (Charolais and Charolais Angus X)
Class 37 C Eating Quality:
Mayne Texas Angus (Angus)
Palgrove Pastoral Co (Charolais & Charolais Angus X)
McIntyre Agricultural Pty Ltd (Angus)
Class 37 C Highest Individual Index Score
McIntyre Agricultural Pty Ltd (Angus) – 60.1
Class 38 – 70 day HGP trade class
Overall winner:
Yulgilbar Pastoral Company (Santa Gertrudis)
Russell Pastoral Operations Pty Ltd (Angus X)
Russell Pastoral Operations Pty Ltd (Angus X)
Aurelian Pastoral Co (Angus X Ultrablack)
Russell Pastoral operations Pty Ltd (Angus X)
Class 38 A Weight Gain:
Yulgilbar Pastoral Company (Santa Gertrudis) – ADG 3.186
Aurelian Pastoral Company (Angus X Ultrablack) – ADG 3.160
Russell Pastoral Operations Pty Ltd (Angus X) – ADG 3.071
Class 38 A Highest Individual Weight Gain:
Aurelian Pastoral Co (Angus X Ultrablack)
Class 38B Pen of six carcases:
Russell Pastoral Operations Pty Ltd (Angus X)
RJ and MJ Harvey (Droughtmaster)
Russell Pastoral Company Operations Pty Ltd (Angus X)
38B Champion Carcase:
RJ and MJ Harvey (Droughtmaster)
38B Reserve Champion Carcase:
NSW Dept of Primary Industries Wollongbar (Limousin X)
Class 38C Eating Quality:
Aurelian Pastoral Co (Angus X Ultrablack)
Russell Pastoral Operations Pty Ltd (Angus X)
McIntyre Pastoral Operations Pty Ltd (Angus X)
Class 38C Highest individual Index Score
Russell Pastoral Operations Pty Ltd (Angus X) – 56.95
Class 39 – Australian Wagyu Association Wagyu Challenge
Overall winner:
Ross Shannon, Taldra Cattle Co
Hancock Agriculture
Sunland Cattle Co
Class 39 B – Pen of six carcases:
Hancock Agriculture
Ross Shannon, Taldra Cattle Co
Hancock Agriculture
39 B Champion Carcase:
AACo
39B Reserve Champion Carcase:
Bar H Grazing, Riverlea, Comet
Class 39 C – Carcase Value Competition:
Ross Shannon, Taldra Cattle Co
=2 Hancock Agriculture
=2 Sunland Cattle Co
Class 39C – Highest Scoring Carcase:
Ross Shannon, Taldra Cattle Co – $8191
Class 39D – Beef Taste Off Competition
Bar H Grazing
Hancock Agriculture
Hewitt Pastoral Enterprises
Class 40 – 100 Day HGP free export class
Overall winner: 
G Morgan & Co (Shorthorn)
G Morgan & Co (Shorthorn)
Palgrove Pastoral Company (Charolais and Charolais Angus X)
Mayne Texas Angus (Angus)
Yulgilbar Pastoral Company (Santa Angus)
Class 40 A Weight Gain:
Palgrove Pastoral Co (Charolais and Charolais Angus X) – ADG 2.557kg
Mayne Texas Angus (Angus) – ADG 2.398kg
G Morgan & Co (Shorthorn) – ADG 2.380kg
Class 40 A Highest Individual Weight Gain
Palgrove Pastoral Co (Charolais and Charolais Angus X) – ADG 2.910kg
Class 40 B Pen of six carcases:
G Morgan and Co (Shorthorn)
Yulgilbar Pastoral Company (Santa Angus)
Simon and Myriam Daley (Charolais X)
40B Champion Carcase:
Simon and Myriam Daley (Charolais X)
40B Reserve Champion Carcase:
Stanford Grazing (Charbray)
Class 40C Eating Quality:
G Morgan and Co (Shorthorn)
Palgrove Pastoral Co (Charolais and Charolais Angus X)
Palgrove Pastoral Co (Charolais and Charolais Angus X)
Class 40C Highest Individual Index Score:
Palgrove Pastoral Co (Charolais and Charolais Angus X) – 65.02