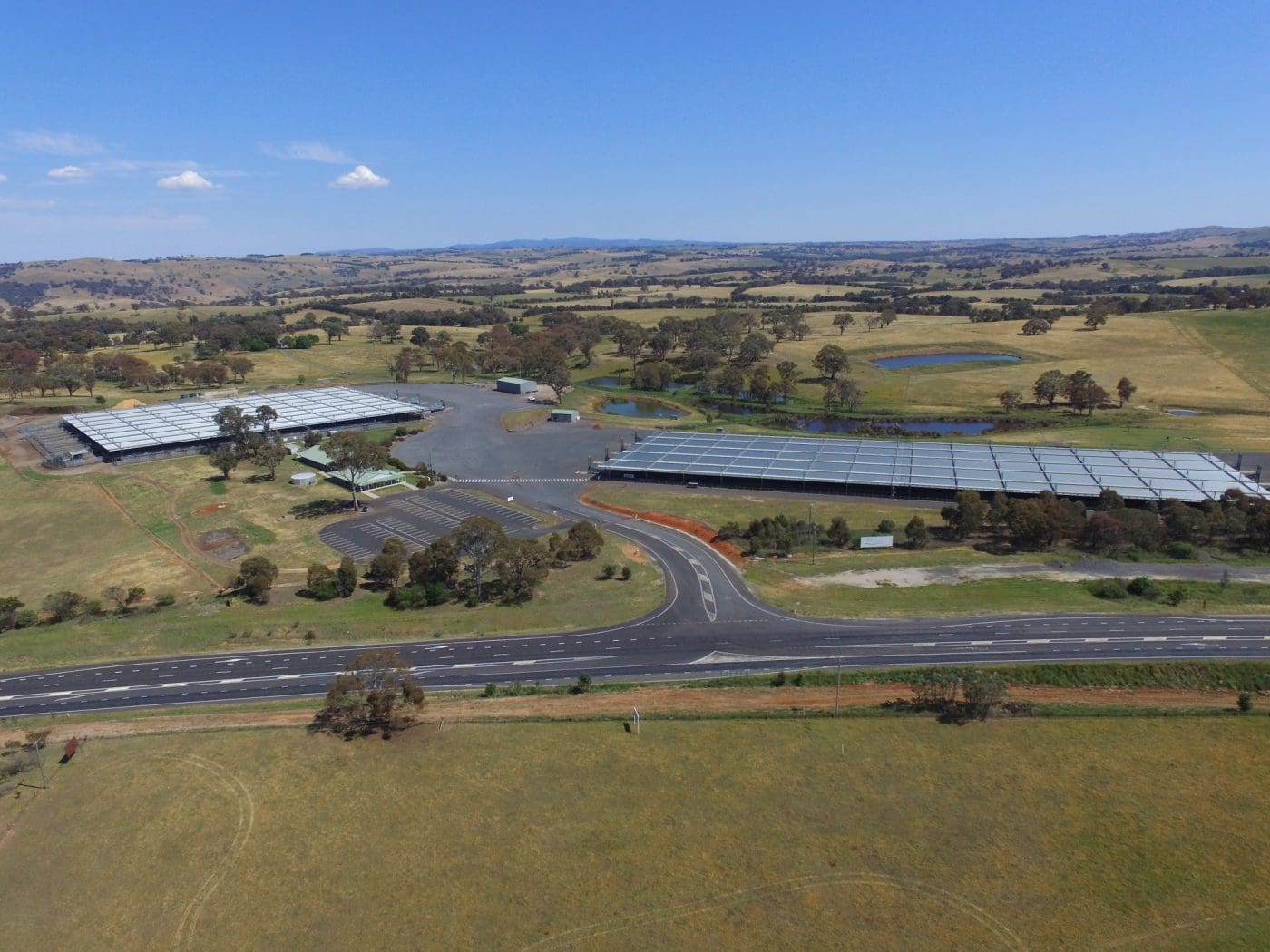 An aerial image of the RLX Investment Company's new Central Tablelands Livestock Exchange at Ballarat which will commence with its first sale in October 2018. 
THE rise of online auctions and competition from direct-to-abattoir and live export sales have led to numerous predictions of the demise of saleyard selling in the past decade.
But standing in stark defiance of these claims are major new saleyard developments that continue to emerge around Australia.
In the past 10 years the industry seen hundreds of millions of dollars invested into new saleyard developments or upgrades to existing facilities, including:
In 2008 the RLX Investment Company invested $18 million to build the new Central Tablelands Livestock Exchange (CTLX) at Carcoar, consolidating Bathurst, Orange and Blayney council operated saleyards;
In 2013 the RLX Investment Company invested $17 million to build the Tamworth Regional Livestock Exchange (TRLX);
In 2014 the RLX Investment Company invested $24 million to build the Northern Victoria Livestock Exchange (NVLX) at Barnawatha near Wodonga;
In 2015 a $12 million upgrade was completed at the Dalby Saleyards owned by the Western Downs Regional Council;
In 2016 a private consortium built and opened the $15 million South Eastern Livestock Exchange (SELX) at Yass in NSW;
In 2017 work on a $6 million upgrade to the Singleton Regional Livestock Market commenced;
Earlier this year the investors behind the SELX at Yass completed and opened another brand new $15 million saleyard, the Western Victoria Livestock Exchange at Mortlake.
The saleyards at Casino in northern NSW is in the middle of a $14 million rebuild
In 2018 the RLX Investment Company will complete a $12 million investment in the redevelopment of the Central Queensland Livestock Exchange (CQLX) at Gracemere near Rockhampton;
In October this year operations will commence at RLX Investment Company's brand new $31 million Central Victoria Livestock Exchange (CVLX) at Ballarat;
In 2018-19 the RLX Investment Company is due to complete an $8 million redevelopment of the Inverell Regional Livestock Exchange (IRLX);
The Western Australian Government is currently seeking proposals for investors to develop a $20 million saleyard facility at Boyanup in State's South West
An $8 million upgrade is about to get underway at Australia's largest selling centre, Roma.
The Macedon Ranges Livestock Exchange at Kyneton Victoria is completing a $1.75 million upgrade.
As the above list demonstrates, the single most dominant investor in new saleyard developments in Australia over the past decade has been the RLX Investment Company, which is owned by Palisade Investment Partners and its Australian superannuation investor clients.
The saleyards owned by the RLX Portfolio are managed and operated by the AAM Investment Group (AAMIG), which oversees a portfolio of modern saleyard assets that today transact over $1 billion in livestock sales annually.
AAMIG managing director Garry Edwards told Beef Central the RLX group's original investment in the Central Tablelands Livestock Exchange at Carcoar in 2008 has since been the catalyst for a further $262 million investment in regional livestock exchange infrastructure over the past 10 years.
While some see the rise of online selling and continued competition from paddock sales as a reason to believe saleyard selling is a sunset industry, Mr Edwards says more in-depth analysis demonstrates that is not the case.
Mr Edwards said the total volume of livestock that sold through saleyards nationally has remained relatively constant for 25 years.
The big change that has occurred, as demonstrated by the above list, has been the consolidation of smaller sales into larger, more efficient state-of-the-art regional-scale selling centres.
"If you look at what has happened in the marketing of livestock over the past 10 years, livestock numbers sold through larger regional centres has increased significantly," he said.
"Over the past 10 years CTLX (at Carcoar) has proved beyond a doubt that modern efficient regional facilities are not just economically viable but also cost effective and important to the sustainability of the livestock industry."
Mr Edwards said large scale regional livestock selling facilities provided significant benefits to both buyers and sellers through operational economies of scale, transport efficiencies and most importantly by providing a strong reliable marketplace with the greatest buyer competition.
He said comparisons between online selling channels and saleyards channels were not always comparing 'apples with apples'.
"What confuses many people is when throughput numbers through various marketing channels are quoted as sales instead of listings," he said.
"A large number of animals listed via currently available online products don't actually transact particularly when the market is stable or slowing.
"Rather than creating savings, failed transactions on online platforms cost the producers and agents significantly as there are extra livestock handling, mustering and labour costs involved.
"This is most evident with clearance rates on online sales having dropped below 20 percent at various times throughout 2018 whilst in saleyards clearance rates have remained above 99pc."
Mr Edwards said the multi-million investments made by RLX Investment Company into new saleyard were investments undertaken for a minimum of 20 years by "long-term patient capital from institutional superannuation investors making decisions on behalf of every day families".
"It might be surprising to many people, to find out the diversity of their investment portfolio through some of the larger funds.
"Value added benefits include online pre- and post-sale marketing options, livestreaming and online bidding interfaces, weaning programs, heifer programs and customised livestock induction and feeding programs inclusive of tailored feeding rations.
"At the end of the day it is about creating value for clients through improving the facilities and traditional service offerings and consistently striving for continuous improvement.
"It is our expectation that large-scale modern saleyards will continue to play a critical role in livestock supply chains for generations to come, they will just look very different and provide different services to what they have over the previous 50 years."
The recent study of the Australian beef and cattle market by the Australian Competition and Consumer Commission found that saleyard auctions still account for almost two-thirds of all beef cattle sales in southern Australia, with small-scale producers, in general, having a greater reliance on saleyard selling.
"Small farms are more likely to use auctions because they are generally located close to saleyards, minimising freight costs, and these producers usually trade a relatively small number of multiple cattle types for store and prime markets" the study reported.
In contrast, a much higher proportion of cattle in northern Australia were sold Over the Hooks and through paddock sales, reflecting the greater cattle numbers of similar quality that could be produced by owners of larger herds.
While a large number of store cattle are still traded via saleyards, a large number of finished cattle to meatworks are sold direct, with processors telling the ACCC that approximately 90 per cent of cattle sent to abattoirs for slaughter are acquired directly from the producer. Store markets at saleyards also played an important ongoing role in price discovery in the Australian cattle sector.