THE rise in cattle prices in 2015 has been spectacular and, in real terms, current values are the highest they have been in 30 years, MLA reported this afternoon.
Furthermore, the increase has been recorded across all classes of cattle, with both store and prime cattle averaging 40-50 percent higher year-on-year throughout 2015.
A range of factors came to the fore to support cattle prices in 2015. The A$ declined 17% year-on-year, averaging 74.8US¢ over the first eleven months – well below the mid-2011 peak of US110¢, and even the 2014 average of US89.9¢.
Export demand from key markets also remained strong, especially in the US, underpinned by tight beef supplies – although in recent months this has somewhat abated.
Tight US supplies saw Australian exports to the market fully utilise the import quota for the first time since the US-Australia Free Trade Agreement came into being. The same fundamentals, coupled with the strong greenback, also saw reduced US competition in Australia's second and third largest beef export markets: Japan and Korea.
After two years of drought in Australia's key cattle producing regions, some parts of the country finally had a decent season. In particular, much of NSW and parts of southeast Queensland have recorded average to above average rainfall over the past twelve months. However, conditions in central and northern Queensland, south-west WA, Victoria and Tasmania remained below average in 2015. Nevertheless, NSW and, more recently, Queensland restockers have been prominent buyers in the market this year, providing support and competing with feedlot buyers for young cattle.
Additionally, the reduced supply of available cattle, after two years of record turnoff (slaughter and live export), has also had an impact on prices. Since mid-2015, the eastern states weekly cattle slaughter has tracked below year ago levels, adding upward pressure to processor grids.
As illustrated below, in 2015, young cattle prices maintained a strong growth path, with the Eastern Young Cattle Indicator (EYCI), Western Young Cattle Indicator (WYCI) and Darwin delivered feeder steer indicator all recording significant gains.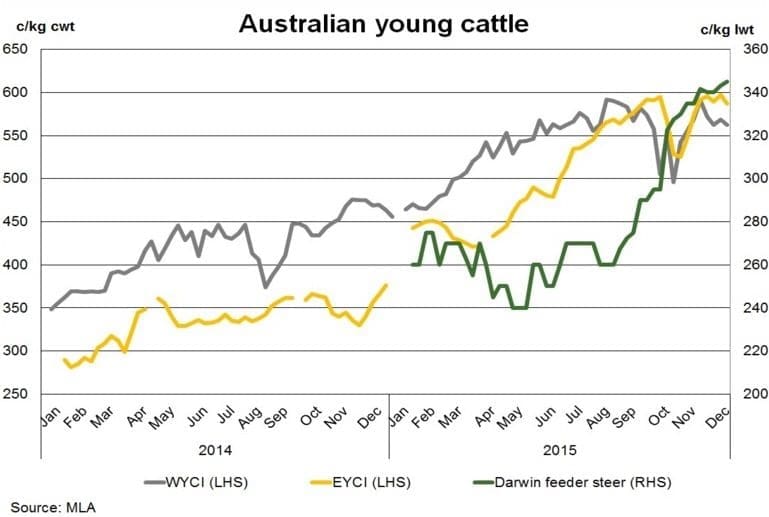 Prime cattle also recorded considerable growth, as illustrated in the chart below, with the supply of slaughter ready cattle becoming increasingly scarce as the year progressed.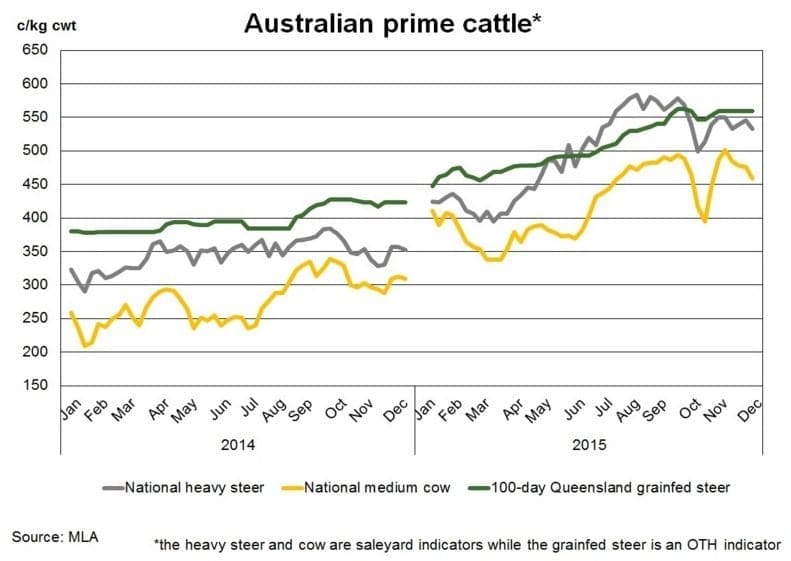 Looking ahead, the A$ is forecast to remain at or below US70¢ in 2016 and Australian cattle supplies are expected to tighten further, especially once Queensland phases out of drought. In addition, Australia will continue to benefit from the recent free trade agreements with China, Korea and Japan, in addition to the Trans Pacific Partnership (TPP), which will underpin Australia's competitiveness in key markets.
However, global beef prices are in decline, as reported in this article earlier this week. Current indicative US imported 90CL beef prices are A549.2¢/kg, back 16pc year-on-year (Steiner), and US beef supplies in cold storage have remained elevated throughout 2015. Furthermore, the US has recorded the first recovery in its cattle herd in eight years, which, along with the possibility of Brazil gaining access into more markets, will result in stronger competition for Australian beef.
At the close of Thursday's markets, the EYCI finished 2015 at 587¢/kg cwt, up 211¢/kg from where it finished last year. This will be the final EYCI value recorded for 2015, with the opening level for 2016 highly dependent on rainfall over the next three weeks.
Source: MLA