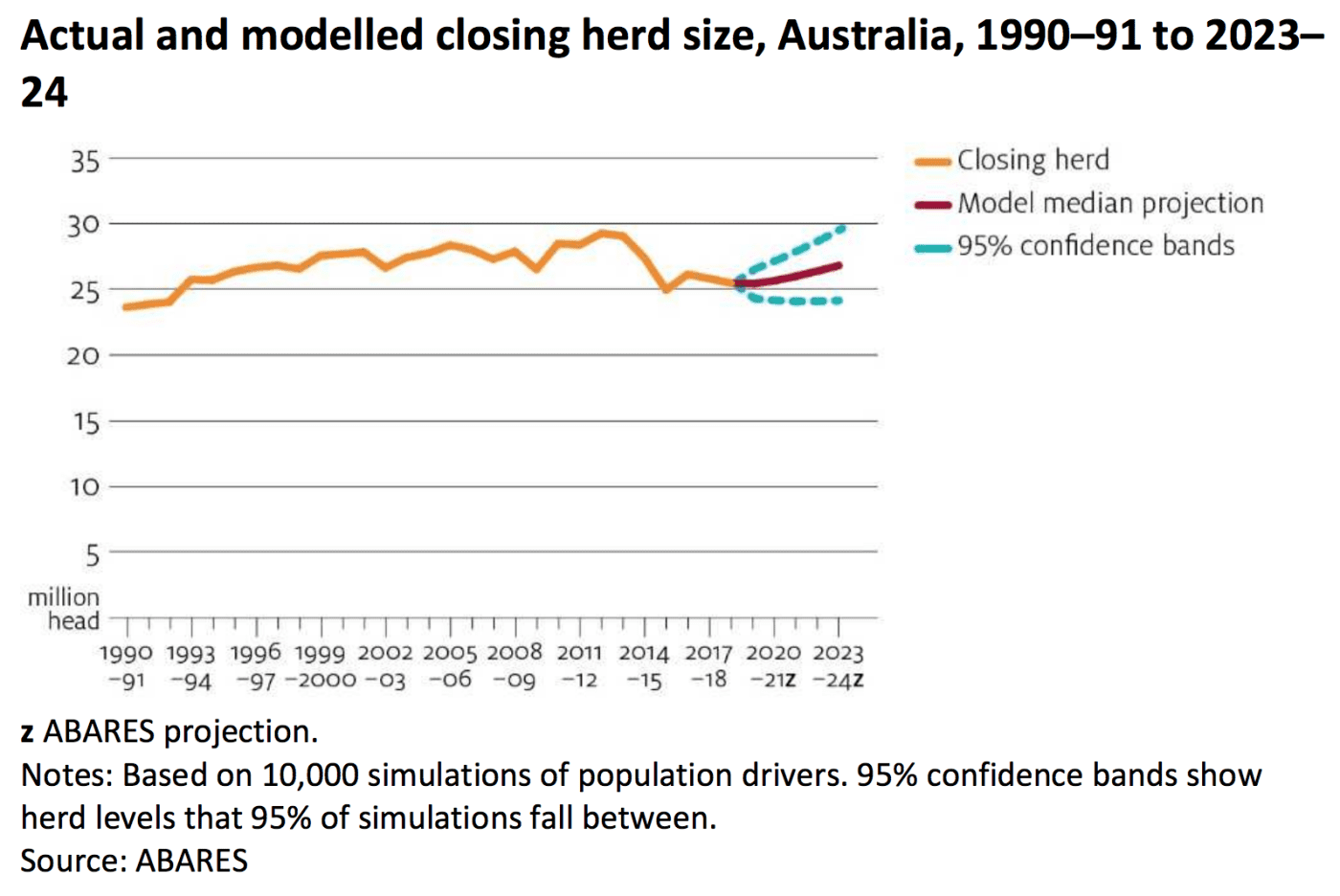 IN taking a stab at the size of the Australian cattle herd over the next five years, ABARES has provided one of the broadest possible predictions, pointing to a '95 percent probability' it will stand between 24.4 million head and 30 million head in five years time – a range of almost six million head.
ABARES says the forecast range corresponds to 6 percent lower and 15 percent higher than the 2017–18 estimated herd size of 25.8 million head (which includes dairy cattle as well as beef cattle).
The Australian Government commodity forecaster does provide a more specific projection in a table within its beef forecast, which points to the herd remining within a few hundred thousand head of the current 25.8 million head level for the next four years, before increasingly marginally to 26.4 million head in 2022-23 and 26.9 million head in 2023-24.
"Domestic herd expansion is highly dependent on seasonal conditions because of Australia's pasture-based grazing system," ABARES outlook report states.
"Prices are projected to provide incentives for producers to expand herds, but another season of adverse conditions would cause herd contraction to continue. Low supplies of feed grains would limit the ability of producers to manage poor pasture growth and cause slaughter rates to remain high.
"ABARES projections assume average seasonal conditions will be realised. However, because of the inherent uncertainty surrounding seasonal conditions, a probability simulation of possible herd closing sizes has been used to illustrate the range of potential outcomes."
The underlying message of the 2019 outlook is that despite the incentives being offered by slaughter cattle prices to restock, drought conditions continue to inhibit herd rebuilding activity and, until a widespread break in the season occurs, drive further destocking and downward pressure on prices.
There is evidence that where producers have available pasture or feed they have been looking to take advantage of low young cattle prices compared with higher finished cattle prices to purchase breeding stock in preparation for a break in the season. This was demonstrated by restocker purchases of breeding stock reaching above average levels in the last six months of 2018.
ABARES says it expects average saleyard cattle prices to fall by three percent this year, based on the impact of drought and the intensifying competition Australian beef is facing in export markets, as growing US cattle numbers and slaughter rates – now believed to be at a cyclical peak – add to increasing global supply.
Assuming seasons improve and Australian production and exports growers, the commodity forecaster expects Australia's trade to less established beef markets, such as China and the ASEAN region, to grow faster than exports to traditional markets due to changing global demand dynamics.
The large and growing US herd is expected to constrain demand for imported beef in the key US market while slowing population and economic growth will limit import demand growth in Japan.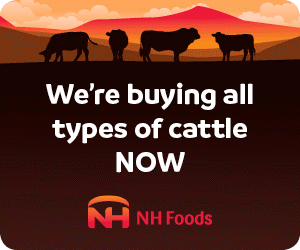 China by contrast has rising incomes which are enabling more consumers to eat more meat, a trend likely to continue into the medium term.
However ABARES notes that Australian beef faces significant competition from lower priced South American beef in China. It believes that while  China will increase its imports of beef from Australia and other suppliers, Australia will continue to lose market share to its competitors in the country, due to price pressures from low-cost producers.
ABARES believes the US cattle slaughter rates are likely to rise, as the US cattle herd growth cycle nears a peak following five years of herd accumulation and falling steer prices and relatively flat corn prices reduce the profitability of raising cattle.
"As a result, beef supply in the United States is expected to be high for several years," ABARES said.
ABARES also notes that the severe flooding that occurred in late January and early February 2019, which wiped an estimated 1 to 2pc off the Australian cattle in the space of a few weeks, will have an adverse impact on both live export and slaughter cattle supply this year. However, it said the vegetation growth generated by the rain and flood event should also provide some restocking opportunities for cattle from drier areas of northern Australia.
To read the full ABARES forecast click here