English version click here
Main Points
Prices in Indonesia have weakened again with signs of oversupply.

Prices in China remain strong with the

African Swine Fever

outbreak

that continues to spread.

Prices in the Philippines reached $ 4 for the first time.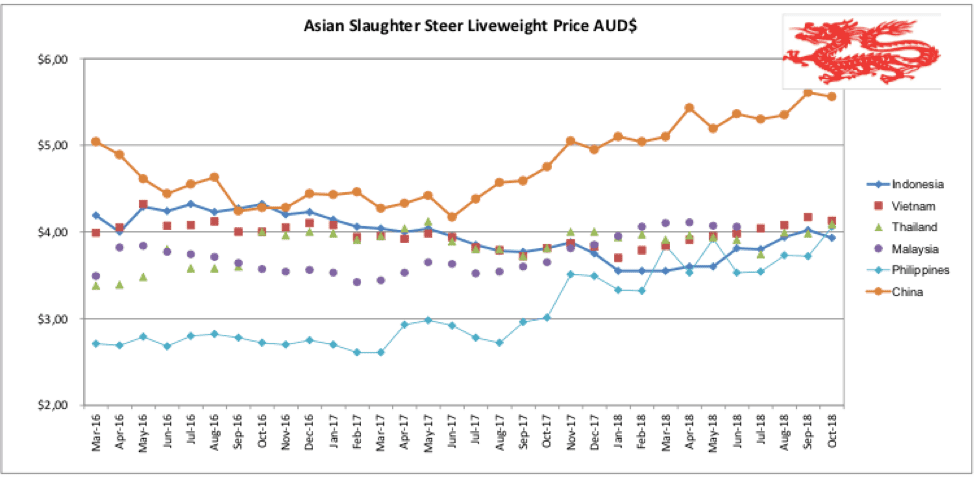 Indonesia: Sapi potong steer, AUD $3,93/kg bobot hidup (Rp10.700 = AUD $1)
Setelah 9 bulan terus naik, harga sapi potong di Indonesia akhirnya kembali merosot dari Rp43.000 pada bulan September menjadi Rp42.000 di bulan ini. Semua pendapat yang saya dengar menunjukkan bahwa ini hanyalah awal dari penurunan harga yang signifikan dan berkelanjutan, sebagai akibat dari kelebihan pasokan yang serius. Penurunan harga ini menunjukkan betapa sempitnya margin atas dan margin bawah pasokan. Baru di bulan lalu, para importir menjual sapi yang belum selesai digemukkan dan hanya diberi pakan dalam waktu singkat demi memastikan bahwa pelanggan mereka memiliki persediaan yang cukup. Namun, besarnya jumlah impor pada bulan Juli (60 ribu ekor) dan Agustus (70 ribu ekor) yang mengalir masuk ke pasar menyebabkan pasokan menjadi sangat berlebih, yang dapat terus berlanjut sampai semua sapi yang diimpor pada Juli dan Agustus telah terjual melalui sistem, dan ini dapat berlanjut hingga Desember.
Saya mengunjungi Bambu Kuning yang merupakan pasar tradisional besar di Bandar Lampung (Sumatera) pada bulan Oktober (lihat foto di bawah). Di sana, saya mendengar dari para pedagang bahwa penjualan mereka merosot sejak Lebaran (akhir Juli) karena mereka tidak dapat menjual sapi pedaging yang harganya terus menanjak kepada pelanggan mereka. Di saat yang sama, daging kerbau India siap sedia memberi alternatif yang lebih murah bagi para pelanggan.
Melemahnya nilai tukar rupiah juga berdampak signifikan terhadap margin importir. Rupiah yang melemah terhadap USD dan AUD membawa sejumlah dampak negatif karena pengiriman melalui laut dibayar dalam USD sementara ternak dibeli dalam AUD. Selain itu, harga sapi di bagian utara Australia naik sekitar 5 sen per kg hingga mencapai sekitar $ 3,10 per kg bobot hidup pada akhir Oktober. Tingkat harga ini kemungkinan akan tetap relatif stabil hingga terjadi kekeringan di Australia, di mana pada saat itu harga ternak di seluruh negeri akan meningkat tajam dan membawa kejutan lain yang menyakitkan bagi para importir Indonesia.
Pengiriman pertama sapi indukan impor Australia yang disponsori oleh Pemerintah Indonesia sudah tiba di Jawa Tengah untuk selanjutnya didistribusikan kepada petani kecil di seluruh nusantara. Dua pengiriman berikutnya sedang dalam tahap persiapan dengan kemungkinan jumlah sapi indukan yang diimpor sekitar 6.000 ekor.
Masalah ketidakmampuan importir dalam memenuhi persyaratan mengimpor 1 ekor sapi indukan untuk setiap 5 ekor sapi bakalan, tetap belum terpecahkan. Satu-satunya kepastian adalah bahwa hampir semua importir akan gagal mematuhi (dengan selisih yang jauh) perjanjian yang sudah mereka tandatangani.
Bencana alam yang baru-baru terjadi akibat gempa bumi dan tsunami di Lombok dan Sulawesi menjadi berita internasional. Beberapa orang berpendapat bahwa bencana kali ini sangat tidak biasa. Secara geologis, Indonesia terletak di "Cincin Api Pasifik" dan akibatnya terus-menerus mengalami gempa bumi yang parah dan letusan gunung berapi. Risiko bencana seperti ini selalu ada, dan jika bencana besar terjadi di daerah yang padat penduduk maka akan berpotensi menimbulkan pukulan besar bagi penduduk Indonesia dan perekonomian mereka. Di bawah ini adalah peta lokasi gempa bumi berkekuatan besar (dengan skala lebih dari 5) selama 50 tahun terakhir.
Vietnam: Sapi potong steer, AUD $4,13/kg (VND16.700 = AUD $1)
Tingkat penyembelihan secara umum stabil pada bulan Oktober dengan penurunan harga dalam AUD di atas terjadi karena Dong sedikit menguat terhadap AUD. Pasar di Vietnam masih menjadi alternatif yang sangat penting bagi para eksportir Australia, karena pasar nomor satu mereka di Indonesia sedang terus menurun.
China: Sapi potong, AUD $5,56/kg  (RMB 4,95 = AUD $1)
Harga sapi potong relatif stabil selama bulan Oktober dengan harga di Beijing Yuan 27 per kg bobot hidup dan harga di Shanghai bertahan di Y 28.
Wabah African Swine Fever (ASF) terus menyebar di seluruh China dengan ditemukannya kasus-kasus baru di provinsi-provinsi di ujung Barat Daya selama bulan Oktober (lihat peta di bawah). ASF adalah penyakit yang sangat sulit ditangani karena dapat menular melalui beragam produk babi dan babi hidup. Satu-satunya pendekatan yang ampuh untuk mengendalikan dan membasmi wabah penyakit ini adalah dengan mematikan semua babi di lokasi yang terinfeksi, disusul dengan periode karantina yang panjang, dan larangan total untuk memindahkan produk-produk babi maupun babi hidup di kawasan terkait. Akibatnya adalah jatuhnya harga di daerah-daerah yang melakukan karantina dan kenaikan harga yang tajam di daerah-daerah yang tidak terinfeksi namun memiliki babi lokal dalam jumlah kecil. Situasi ini menciptakan masalah klasik bagi pihak berwenang yang berusaha mencegah penularan penyakit dari daerah yang terinfeksi. Ketika perbedaan harga semakin tinggi, yaitu harga rendah di area yang terinfeksi dan harga tinggi di area yang tidak terinfeksi, keuntungan finansial penyelundupan babi hidup atau produk babi dari daerah yang terinfeksi ke kawasan bebas infeksi menjadi semakin besar. Dan para penyelundup yang berusaha mencari keuntungan selalu lebih berhasil daripada petugas pemerintah.
Filipina: Sapi potong, AUD $4,06/kg (Peso 38,2 = AUD $1)
Melonjaknya harga daging sapi dan sapi hidup dikombinasikan dengan penguatan Peso telah mendorong harga sapi potong hidup melampaui AUD $4 untuk pertama kalinya sejak laporan ini mulai menyertakan Filipina, pada pertengahan 2014. Saat itu, harga sapi potong masih di bawah AUD $2 per kg berat badan! Saya yakin bahwa eksportir sapi hidup Australia akan membolak-balik buku telepon lama mereka untuk menemukan nomor para importir Filipina yang sudah tidak aktif selama lebih dari dua dekade. Foto di bawah ini diambil oleh agen lokal saya sewaktu dia mengunjungi pasar tradisional di General Santos City di Mindanao
Thailand: Sapi potong steer, AUD $4,09/kg (Baht 23,5 = AUD $1)
Harga menguat di bulan ini dengan kenaikkan naik dari THB95 menjadi 98 sementara harga sapi jantan naik dari THB92 menjadi 95 pada akhir Oktober. Agen saya mengatakan bahwa arus masuk ternak dari Myanmar ke Thailand sudah dimulai lagi, setelah banjir baru-baru ini. Namun, kualitasnya masih buruk dan tidak membangkitkan persaingan dengan stok lokal. Pada saat yang sama, ada laporan bahwa sejumlah besar sapi yang berasal dari Thailand diselundupkan dengan truk ke Cina melalui gerbang perbatasan Laos bagian utara di dekat Luang Namtha, di mana kereta Jalur Sutra yang baru memasuki Laos dari Cina. Beberapa angka yang dikutip bahkan mencapai 1.000 ekor dalam satu hari.
Saya mengunjungi Chiang Mai di Thailand bagian utara pada bulan Oktober, bersama Fraser Macfarlane dan mengamati industri daging sapi lokal dari dekat. Thailand tampaknya berubah lebih cepat daripada banyak kawasan lain di Asia, di mana pasar-pasar swalayan menguasai pangsa penjualan ritel yang jauh lebih besar daripada pasar tradisional. Rantai supermarket besar nasional dan internasional menyajikan banyak sekali daging sapi (dan beragam produk lainnya) sementara penawaran di pasar tradisional sangat mengecewakan. Foto di bawah ini diambil di pasar tradisional Warorot Road di China Town, Chiang Mai. Ini adalah salah satu pasar tradisional terbesar di Chiang Mai, tetapi hanya ada satu meja yang menjual daging sapi, bersama-sama dengan daging ayam dan ikan yang jumlahnya lebih banyak. Kami mengunjungi dua jaringan supermarket besar, Makro dan Rimping, keduanya menjual daging sapi yang sangat banyak dari berbagai sumber.
Dari pengamatan sekilas di bagian daging, buah, dan sayuran di Rimping swalayan, kami melihat ada buah dan sayuran dari Selandia Baru, Chili, Australia, China, Jepang dan Amerika Serikat serta banyak daging domba dari Thomas Foods di Australia Selatan. Lihat dua contoh di bawah ini. Saya harus memuji para manajer rantai pasok supermarket ini karena produk mereka disajikan dengan amat menarik dan dalam kondisi yang sangat baik, meskipun melalui perjalanan yang sangat panjang dari seluruh dunia ke Thailand utara.
Etiopia
George Black mengirimkan foto yang bagus di bawah ini. Mengapa tukang daging ini terlihat sangat bahagia, itu misteri bagi saya mengingat kondisi toko yang seadanya namun tidak membuatnya terganggu. Atau mungkin dia hanya senang dipotret.
Kios daging sapi eceran ini terletak di sebuah kota kecil di provinsi Tigray di utara Etiopia, di mana George bekerja memberikan pelayanan konsultasi untuk sebuah proyek peternakan.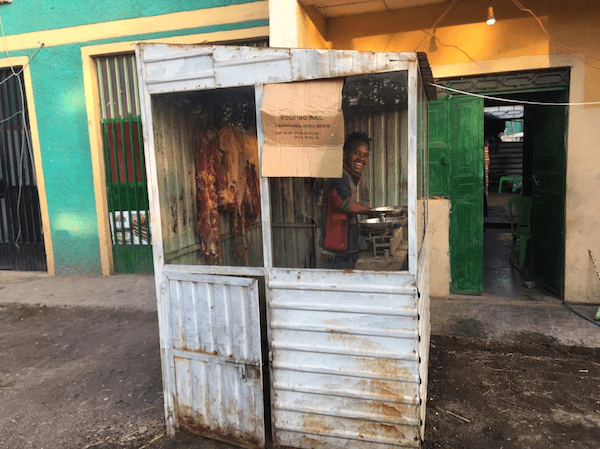 Angka-angka pada tabel ini dikonversi ke AUD$ dari kurs masing-masing negara yang berubah setiap harinya, sehingga harga aktualnya sedikit berbeda oleh fluktuasi nilai tukar mata uang asing yang terus berubah. Harga dalam AUD$ yang disajikan di bawah ini hendaknya dilihat sebagai sebuah tren, bukannya harga persis masing-masingnya. Bila memungkinkan, daging potong yang digunakan untuk penentuan harga di pasar tradisional dan di supermarket adalah bagian knuckle/round  atau yang biasa disebut daging kelapa.
Location
Date
Wet Market

AUD$/kg

Super market

$/kg

Broiler chicken

$/kg

Live Steer

Slaughter Wt

AUD$/kg

Indonesia
May 18
12.80
10.80 – disc
3.32
3.60
Rp10,500
June 18
12.85
No product
3.81
3.81
Rp10,650
July 18
12.21
14.83
3.57
3.80
Rp10,650
August 18
12.21
18.69
3.29
3.94
Rp10,700
Sept 18
12.15
14.95
3.37
4.02
Rp10,700
Oct 18
12.15
18.60
3.27
3.93
Philippines
May 18
8.35
8.86
3.54
3.92
P39.7
June 18
8.06
8.44
3.52
3.52
P39.5
July 18
8.56

8.73

3.80

3.54

P38.8

August 18

8.89

9.15

3.87

3.74

P39.0

Sept 18

8.85

9.36

3.59

3.72

P38.2

Oct 18

9.95

10.47

3.66

4.06

Thailand

May 18

9.96

11.62

2.90

3.94

THB 24.3

June 18

9.88

11.52

2.88

3.91

THB 24.6

July 18

8.94

11.38

2.56

3.74

THB 23.8

August 18

9.24

11.76

2.94

3.99

THB23.5

Sept 18

9.36

11.91

2.98

3.98

THB23.5

Oct 18

9.36

12.34

2.97

4.09

Vietnamese

May 18

16.28

18.02

7.67

3.95

D17,100

June 18

18.12

17.66

7.89

3.98

D17,100

July 18

18.13

17.66

12.68

4.04

D16,900

August 18

18.34

17.87

7.99

4.08

D16,800

Sept 18

18.45

16.61

8.04

4.17

D16,700

Oct 18

18.56

16.71

8.08

4.13

Beijing

China

May 18

12.45

–

3.32

5.19

Y4.85

June 18

12.78

17.32

3.30

5.36

Y5.0

July 18

12.40

6:00 p.m.

3.60

5.30

Y4.95

August 18

12.93

18.18

4.04

5.45

Y4.94

Sept 18

12.55

18.12

4.05

5.55

Y4.95

Oct 18

12.53

15.76

3.64

5.45

Shanghai

May 18

16.60

22.41

4.56

5.19

June 18

16.91

22.27

4.54

5.36

July 18

16.80

21.60

4.00

5.20

August 18

16.16

21.80

4.44

5.25

Sept 18

17.00

21.86

4.66

5.67

Oct 18

16.16

21.82

4.44

5.66