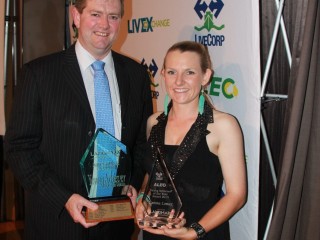 The livestock export industry last night honoured two of its achievers, one who is making a mark in the early years of her career, and another reflecting on a lifetime of pioneering accomplishment in the trade.
At 27 years of age Gemma Lomax always harboured a passion for working with Brahman cattle and in northern Australia's extensive cattle industry while growing up on her parent's property on South Australia's Fleurieu Peninsula.
After graduating from university with agribusiness qualifications she followed her dream north and worked as a station hand, stock person, contract musterer and sale yard assistant before joining Wellard Rural Exports in early 2010.
In that four year period she has proactively become involved in every aspect of the live export process, filling various roles from receiving livestock and managing vessel loading to undertaking voyages as an onboard stock person and visiting clients in South East Asia. She has also held positions in Queensland, the Northern Territory, Victoria and Western Australia.
Gemma nominates a three-month stint where she managed the company's unique pilot cattle breeding operation in the Philippines, which also plays a significant role in providing training and medical services to local villagers, as the highlight of her action-packed career to date.
At just 27 years of age she now has responsibility for managing Wellard Rural Exports' large pre-export quarantine facility in Darwin.
In naming her as the 2013 Livestock Export Industry Young Achiever Award, Landmark general manager, agency operations, Cameron Hall described Gemma as a role model for other young women in the industry.
Mr Hall said Gemma joins a long and distinguished honour roll of young achievers in the industry whose contribution to the live export and the broader agricultural sector is outstanding and ongoing (see list of previous winners below).
Gemma described her four years with Wellard Rural Exporters as an amazing experience and paid special mention to Mauro Balzarrini, Fred Troncone and Steve Ellison for their positive influence over her career to date.
South East Asian Livestock Services founder John Kaus was also honoured last night with induction into the Livestock Export Industry's Hall of Fame.
After starting out his working career in various rural roles including working as a jackaroo, stock agent and property manager, John joined Carabao Exports in 1985.
1989 Carabao Exports and the cattle properties it owned was sold to the Sultan of Brunei. John was appointed marketing manager and opened an office in Manilla to service the South East Asian region.
Within a few years Carabao was selling around 50,000 cattle, but at the time of the Beef 94 Expo in Rockhampton, a decision was made to downsize the operation and John and others were made redundant.
As well-known livestock agent Peter Watkins, managing director of Australian Ag Advisory & Managment, explained to last night's LiveXchange gala dinner, John saw this as an enormous opportunity and established South East Asian Livestock Services (SEALS).
"He commenced business in a loose type of partnership with another legend of the industry, the late John Montague of Quality Livestock Australia, and what a partnership it was," Mr Watkins said.
SEALS marketed 40,000 cattle per year in its first two years, sending 10 ships in one month alone.
In 1996 SEALS became a licensed exporter in its own right and commenced trading with John selling the cattle and industry pioneer Sid Parker buying the cattle, sending one shipment a month.
Despite the impacts of external shocks such as the Asian financial meltdown, the Global Financial Crisis and the 2011 Indonesian trade suspension the business has gone from strength to strength servicing clients in the Philippines, Malaysia, Indonesia, Vietnam, Thailand, Brunei, Sabah and Sarawak.
In 2010 John, as a major shareholder, purchased the Karumba Livestock Export shipping depot and wharf.
In accepting the award John, who has recently been undergoing cancer treatment, said he was humbled by the recognition.
"This is a very big surprise for me, for a guy who has spent seven months of the last 12 months in hospital doing treatment, this is a really, truly tremendous honour and privilege to join the shortlist of achievers," he told the crowd of almost 400 at Jupiters Casino in Townsville.
$60,000 raised for Quintana family
Last night's dinner also saw live exporters dig deep to raise more than $60,000 in a charity auction to contribute to the education of the daughters of late live export industry identity John Quintana.
Mr Quintana and well-known Ray White Rural livestock agent Charlie Maher died in a plane crash at Roma in March.
The funds raised will go to a foundation established by a group including Charlie Mort, Jim McDonald and John Fraser to contribute to the education Ally and Anna Quintana.