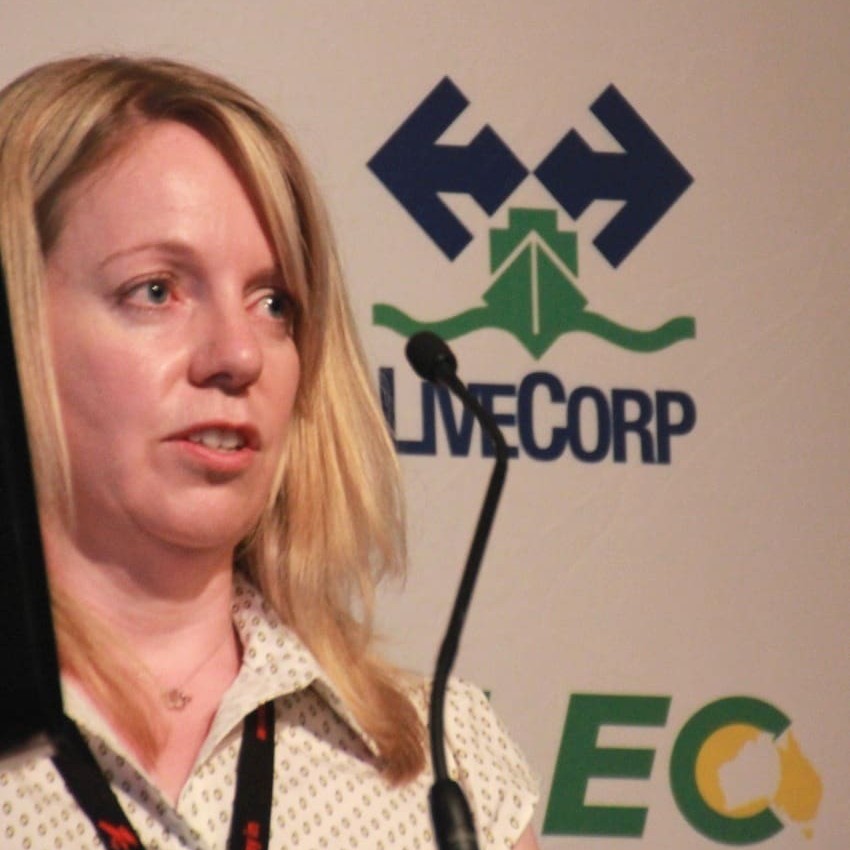 Australia's livestock export industry has received a pat on the back for its commitment to animal welfare from what animal rights groups might see as an unlikely source – a lecturer and lead auditor in animal welfare.
Dr Leisha Hewitt is an adjunct lecturer in animal welfare and has experience as a lead auditor in animal welfare in both Australia and previously in the United Kingdom. She addressed the LiveXchange Conference in Townsville on Thursday.
As the live export industry explores ways to streamline mandatory animal welfare standards contained within the Export Supply Chain Assurance System, without compromising levels of oversight or control, her address provided a timely insight into the factors required to develop effective animal welfare standards.
Central to her message was the importance of developing animal welfare standards that are based not on assumptions, but on genuine scientific evidence of improved welfare outcomes.
In some cases public concerns had overshadowed science in the development of standards, Dr Hewitt said.
In the northern hemisphere, there were a number of animal welfare standards that had a very strong welfare focus and were supported by renowned welfare organisations, but, when studied scientifically, were shown not to improve animal welfare, she said.
In fact some actually resulted in adverse animal welfare outcomes.
"A good example of this is a standard and also a piece of legislation in the EU which is concerned with animals observing other animals being slaughtered," Dr Hewitt explained.
The actual standard states that animals cannot be slaughtered in front of another animal.
"That was written in legislation and in a number of retail standards, yet there was no sound scientific reason for it," Dr Hewitt said.
"Actually the scientific evidence suggests that animals are not distressed and are not affected by seeing other animals slaughtered, and unfortunately that area of public concern actually has a detrimental effect for animal welfare."
"We need to be very aware of the need to demonstrate scientifically that we are improving animal welfare."
The first challenge was in having to make sure that individual standards are absolutely necessary, are based on a sound reason, and have a real welfare outcome.
It was also advisable to ensure new standards recognised the requirements of existing legislation, Dr Hewitt said.
In one expensive error, a global retailer had recently come unstuck after adopting a new animal welfare standard that required CCTV to be used in all areas where people were handling animals.
At the same time, their main suppliers in the EU were already subject to legislation that prohibited the filming of people working in their place of work.
"In this case they have spent thousands of pounds on developing a standard and it already conflicts with existing legislation in that country," she said.
Even when watertight standards were in place, poorly trained auditors could still sabotage their integrity.
Dr Hewitt offered an example where a retailer had recently severed its contract with an abattoir because the auditor raised an issue that cattle were being ineffectively stunned on the line.
However it transpired that instead of actually assessing cattle on the line to assess if animals had been effectively stunned, the auditors had looked purely at the skinned heads of cattle, and were claiming that if the bolt was not in the right position, the cattle had not been effectively stunned.
"However they didn't know that at all, because the only way you could assess the effectiveness of stunning is to look the animals themselves," Dr Hewitt said.
"So the competence or lack of competence of the auditor had massive consequences for that particular industry, and that particular processing plant."
She said the success of ESCAS weighed 'quite heavily' on auditor competence.
Dr Hewitt said that under ESCAS, Australia's livestock export industry was required to implement standards that were in some cases higher than what the livestock industry within Australia was required meet.
She finished by telling the Australian industry that it deserved a pat on the back for the work it had done to improve animal welfare standards in export markets.
"It is an industry that does need a pat on the back. We have taken the OIE code, and have encouraged our trading partners to implement levels of animal welfare at a much faster rate in much greater detail than would have happened without the live export industry," Dr Hewitt said.
"The live export industry has definitely improved the level of OIE implementation, it has definitely improved the levels of animal welfare standard development and implementation, and it has definitely improved animal welfare outcomes in our trading partner countries."
* The original version of this article incorrectly stated that Dr Hewitt is a senior lecturer at Murdoch University. She is an Adjuct Lecturer.