AN ANALYSIS of the value of live exports to the Australian cattle industry shows that over $620 million of the industry's average annual revenue is returned to the farmgate.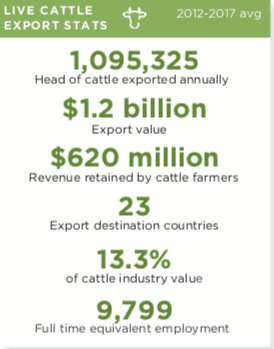 The research was commissioned by LiveCorp and Meat & Livestock Australia and conducted by Ruralco-owned market intelligence company Mecardo.
The study involved survey and regression modelling by Mecardo using data from sources such as ABARES and ABS, and two surveys of 161 industry participants. Mecardo also produced a series of webinars for the project.
Findings included:
40-57 percent of total revenue from live cattle exports is retained by cattle farmers.
An estimated 22pc is retained by shipping operators, 15.7pc by exporters and 7pc by fodder suppliers, with the balance is shared by other value chain participants such as livestock agents, veterinarians, port workers and transport operators.
The trade is of particular importance to producers in Northern Territory and Western Australia which have limited access to domestic feedlots and processing facilities and long transport distances to reach such facilities in southern areas.
The trade directly employs 2029 people and underpins the employment of a total national workforce of 9799.
Live export provides an important de-stocking option during drought when producers face a "must sell scenario".
Live exports as a percentage of slaughter rests between 8-12pcm but during the 2014-15 drought increased to 15.4pc.
The trade serves as a competitive buyer in the beef supply chain, and supports domestic cattle prices at times when the market is saturated with stock, providing an alternative sales outlet for farmers liquidating herds.
Live exports sustains a raft of industry support services including veterinary, transport and agency businesses, and is of particular importance in regional and remote areas, providing one of the few employment opportunities, particularly in indigenous communities.
Trading partners rely on the live trade for a reliable supply of protein for their population. "Capacity constraints including the availability of suitable land, electricity for cool stores and household access to refrigeration make the purchase of live cattle an essential component in meeting their local demand for beef," the report noted.
Cattle imports provide a source of local employment in customer countries, through feedlots and abattoirs, where most tasks are performed manually.
The trade helps trading partners to keep a cap on beef prices as it utilises lower-cost by-products to feed cattle, and benefits from cheaper labour costs in the importing country. It also provides comfort around the cultural and religious requirements of slaughtered cattle,
Australia's live trade regulations have contributed significantly to the growth in animal welfare, handling and husbandry skills in partner countries.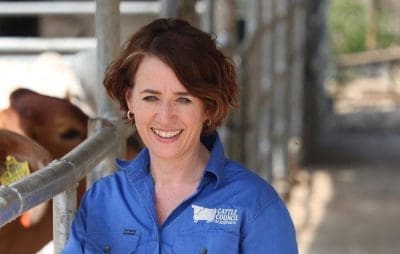 Cattle Council of Australia said the research confirmed the economic and social imperatives of the industry and its positive impact at the farmgate.
"This research is important because it gives us a clear understanding of the returns to the production sector, showing that that over $620 million of the industry's average annual revenue is returned to the farmgate," CCA chief executive officer Margo Andrae said.
Ms Andrae said the analysis was timely in light of the current drought pressuring the cattle industry.
"As we are seeing again this year, producers are forced to de-stock when the season fails, and live export demand helps absorb the drought-driven supply of cattle not suitable for slaughter," Ms Andrae said.
"Competition and diverse market options are always critical for producers, but during drought the way the live trade can put a floor in prices for lighter cattle and act as a relief valve in the market absolutely crucial."
Ms Andrae said that whatever the seasonal situation, the ongoing national importance of the livestock export industry was clear.
"The trade provides employment for 10,000 Australians, including more than 2000 on-farm jobs," she said.
"On cattle properties in the Northern Territory and north-west Western Australia where properties are heavily reliant on live export, indigenous employment accounts for 10-15pc of the workforce. This is significant because other employment options are limited."
Sources: Value analysis of the Australian live cattle trade, Cattle Council of Australia. To view the key highlights of the analysis and to download the full report click here.