SEEDSTOCK producers keen to provide trouble-free cattle to clients are moving towards testing all sale animals to ensure they are not infected with Pestivirus, also known as Bovine Viral Diahorrea Virus (BVDV).
Some breed organisations and agricultural show societies have introduced regulations to ensure Persistently Infected (PI) cattle do not participate in sales and competitions, but it is up to individual studs to guard against the spread of the disease into commercial clients' herds.
The loss of productivity and the fear of litigation over infection and fertility train-wrecks in customers' herds has persuaded many in the seedstock industry to provide this protection.
The nation's largest breed organisation, Angus Australia, does not mandate that members test cattle. However, if Angus Australia conducts an event that involves cattle, such as the Youth Roundup, all animals entered must be tested Pestivirus free.
This testing can be done through the Angus Australia at a cost of around $20 per beast. If the animal returns a negative Pestivirus test result, it will then be eligible to enter the Roundup.
Breeders can organise their own tests if they wish, however Angus Australia needs to be provided with a copy of the results. While the society acknowledges this is an additional cost and extra work for those breeders supplying cattle, according to the Angus website, "…it is important to protect your own herd and those of other breeders from the damaging impact of this disease."
Polices vary across shows, sales
Angus seedstock industry leader Te Mania ear notch tests all sale cattle to make sure they are not PIs. A wide scale ear notch testing/eradication program has been carried out within the Te Mania herd, and the stud believes it has no PI animals.
The big Hereford National sales at Wodonga and Dubbo have quite specific requirements in that all sale cattle must be tested PI negative before arrival.
Melbourne Royal Show has also tightened its BVDV requirements. Last year only the stud beef cattle needed to be tested PI negative. This year, the steer and dairy cattle entries will also need to be certified PI negative. Other Royal shows are moving similarly, setting a good example for the seedstock industry.
It is also understood the move will lessen the risk of litigation if animals are suspected of picking up the disease at the show.
The annual Rockhampton Brahman Week Sale, where close to 1000 bulls can be offered over three days, has no specific Pestivirus requirement. Maybe that's because Queensland has only an intermediate (22pc) frequency of diagnosis, with the lowest frequency in the Northern Territory (11pc).
These statistics, based on an MLA review in 2001, showed the frequency of diagnosis was highest in Western Australia (31pc).
BVDV has been around for a long time. Work in the 1960s found that 90pc of Australia's production systems had evidence of harbouring the virus. MLA statistics show it is the second most destructive cattle productivity challenge, after ticks.
It's been around for a long time and it is widespread, so why the fuss?
According to the MLA, clinical signs of BVDV can vary depending on the strain of the virus and time of infection. Clinical signs include:
Early term abortion or embryonic loss
Temporary infertility
Increased susceptibility to other diseases
Weak, stunted or deformed calves
Diarrhea
Respiratory disease
Ill thrift and wastage.
We asked West Australian veterinarian Enoch Bergman, a widely acknowledged expert in the field of persti disease detection and management, to explain what the disease is, how it affects production efficiency and how it is best managed.
Dr Bergman, a past president of the Australian Cattle Vets Association (ACV), said BVDV was a costly disease, but the tools were now available to systematically manage it and even eradicate it at the individual herd level.
The cost of BVDV is estimated between $20 and $90 per breeder on affected properties.
When previously unexposed or unvaccinated animals make close contact with a PI animal, they almost invariably contract BVDV, resulting in significant reproduction losses and/or immune suppression.
Reproductive losses can occur at during pregnancy but are most significant during mating and early pregnancy. Immune suppression can occur if the animal is under stress or under another disease challenge such as a scours outbreak, or in the transition stages of lotfeeding.
Dr Bergman said BVDV was unique, as it is transmitted by PI animals only. PIs are exposed to BVDV in utero. Either the dam was a PI, or more commonly she became infected while pregnant. They remain PIs for life (see graphic below).
From birth, PI calves excrete enormous amounts of virus. A high proportion of the animals that come into close contact with the virus become transiently infected with BVDV. They rarely show signs of infection, but can suffer immune dysfunction. These animals usually don't contribute to the spread of the disease, according to Dr Bergman.
Without the presence of PI animals, the virus simply ceases to propagate in most management systems.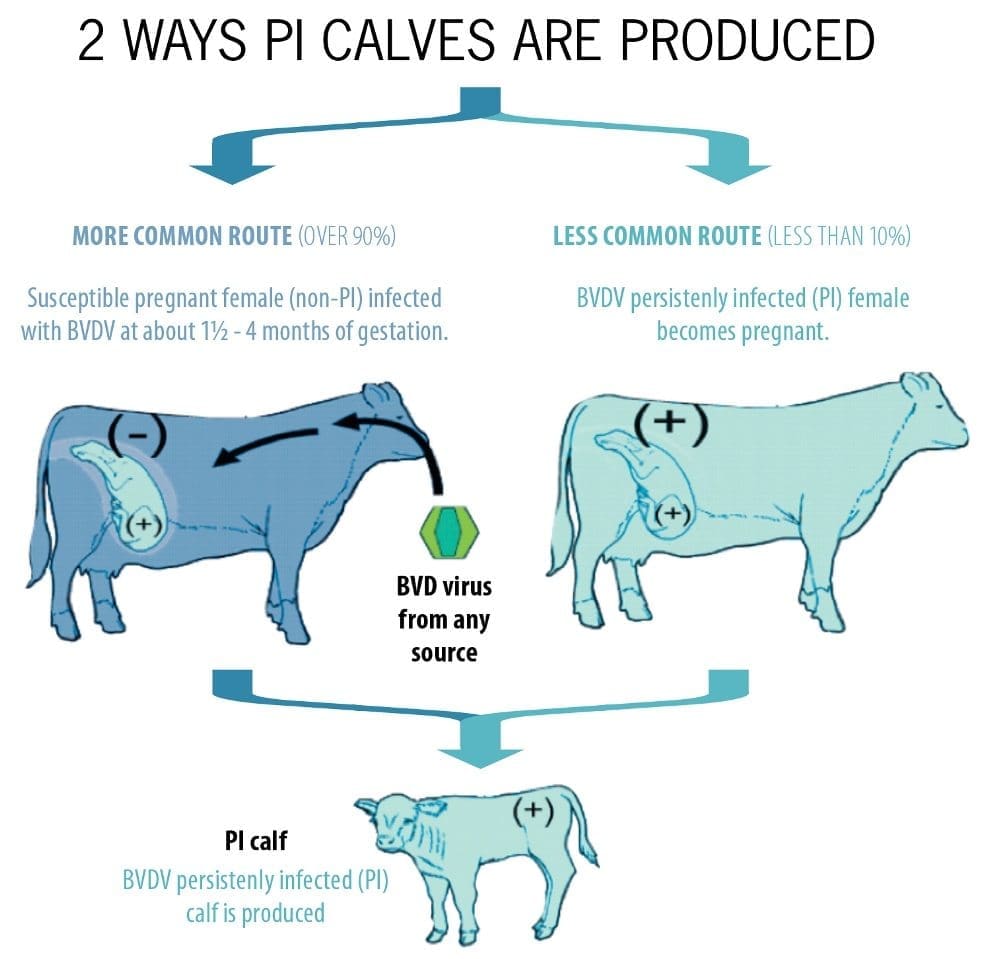 Tools for managing BVDV
Dr Bergman said there were three tools available for managing BVDV in a typical seedstock herd:
Antigen (Virus) Testing (Ear Notching).
This test is used to identify PI animals. PI is a lifetime status. PI animals remain PI. Animals that are not born PI will never become PI.
Antibody (Immunity) Testing (Blood Testing).
This test reveals if an animal has been in contact with a PI animal. Ear notch testing asks "Are you a PI ?" while blood testing for antibodies asks "Have you ever met a PI ?" The blood test shows the status of management groups and allows vets to prescribe the most cost effective intervention.
Vaccination.
Currently only one commercially available vaccine exists for BVDV in Australia – Pestigard. It requires two initial doses, one to six months apart, followed by annual boosters. However 20pc of vaccinated animals may still produce PI calves if exposed during pregnancy. Vaccination of a PI animal is ineffective, and does not change its status.
Some breeders have ear-notched entire herds and every calf born thereafter and then vaccinate every breeder.
PI cows always have PI calves.Therefore if a calf is not a PI, it could not have been from a PI dam. A control program could be initiated after calving ends, and before the next joining by ear notching every calf plus all animals that have not carried a calf (heifers, bulls or cows that did not produce or lost a calf). Then test the dams of any PI positives. Completed prior to mating, PI positives can be removed from the herd before they have the opportunity to infect the next drop of calves.
Click here to access upcoming autumn bull sales list
Click here to access recently completed autumn bull sales summary