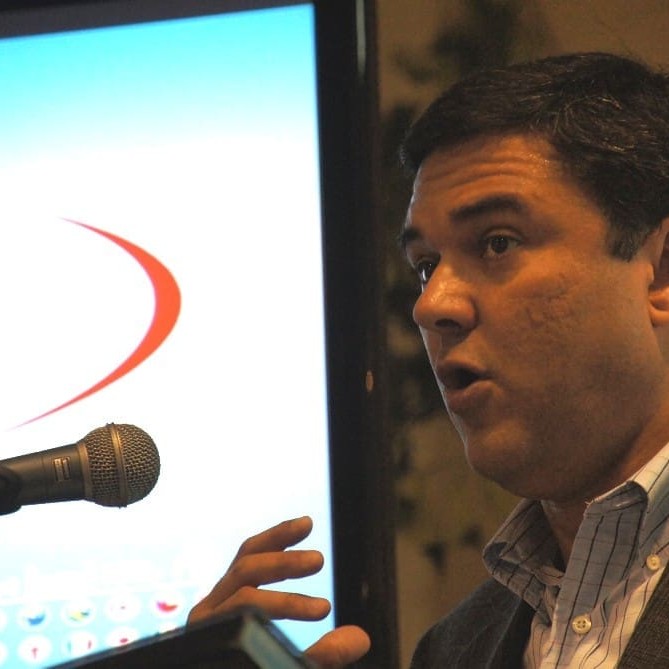 Despite spending $500 million on improvements and upgrades since arriving in Australia in 2007, the cost of production of beef here, relative to major international competitors, has actually worsened rather than improved, a JBS spokesman told a Beef 2012 audience last week.
That was one of the key messages delivered by JBS Australia's new chief executive officer, Andre Nogueira, who made his public speaking debut before a Rural Press Club audience of 400 leading industry stakeholders.
Mr Nogueira said that Australian processing competitiveness, relative to beef industries in North and South America, remained a major challenge.
As revealed exclusively on Beef Central in January, (see original story "Mars moves on in JBS senior management changes"), Mr Nogueira assumed overall responsibility for JBS Australia operations three months ago from Iain Mars. He was formerly chief financial officer with the company's US division.
While the basic themes woven into his address varied little from earlier addresses made at similar gatherings by Iain Mars, Mr Nogueira shows early signs of being prepared to put his own stamp on the JBS business.
Ample evidence of that was seen soon after he assumed responsibility for the Australian operations when he implemented a raft of cost-cutting measures across the business, ranging from discontinuing under-performing value-adding activity, closing an overseas trading office, and reducing head-office personnel numbers, mostly in admin roles.
The process also saw the closure of the company's Prime City feedlot – a reflection of prolonged poor grainfed profitability in Australia – and reduction in processing activity at Beef City and Riverina Beef grainfed-focussed plants.
He said one of the challenges for the industry was to discover ways to continue to 'grow the pie', creating an industry that in ten years could be close to double the size of what it is today. Many interpreted this as a call to arms for the entire Australian industry, and government, to work collaboratively to achieve such an outcome.
"At the same time, we recognise that there are perhaps some risks that we need to be aware of, and we need to be careful not to take the wrong path, and ultimately reduce the pie for Australia," he told the Rockhampton audience.
Mr Nogueira said one of Australia's key assets as a beef producing nation was its production sector, populated with 'very professional people', and a very important asset for the Australian beef industry.
Other competitive advantages held by the Australian industry included its degree of market access, unfettered by animal disease or health issues faced by other exporters; quality genetics and herd productivity; geographic location close to North Asia and emerging markets; a willingness to invest by producers and processors; high animal welfare and food safety standards; and individual animal identification.
The Australian industry also had a capacity to grow, unlike some other competing export nations, which were 'pretty much at the limit of their capacity.'
Mr Nogueira painted a picture of continued global demand growth for red meat. During the period from 1960-2010, global demand for meat protein had grown 445 percent. That would only continue, due to population growth, increasing affluence, and a shift from rural to city environments.
He illustrated this with a graph quoting USDA and OECD data suggesting total annual global meat protein consumption of 250 million tonnes today will grow to closer to 300mt by 2020.
"There lies an opportunity for us, as Australian beef producers, mainly because the countries that are growing in terms of demand will not have the capacity to grow production," he said.
"Of course the demand pattern has changed a little. In the past, demand was coming from Europe and the west. Today the real demand growth is coming from the emerging markets like China, Brazil, South America and most of the countries in Asia."
More than 80 percent of the expected increase in beef demand between now and 2020 would come from emerging countries, Mr Nogueira said.
He also highlighted the diversification of markets that had happened since 2007, when 83 percent of JBS Australia's exports went to just two countries – Japan and the US. Today, those two markets account for only 56pc, with a diverse range of other customers across the globe, optimising the value of each cut.
"We cannot survive as an industry by focussing on just two or three different markets," he said.
"There is a lot of opportunity for us globally, but we need the capacity to go there, selling Australian beef as a premium product, backed by the quality we have here."
Mr Nogueira said the Australian industry faced a series of challenges if it was to be successful in the international market. These were not just JBS challenges or producer challenges, but were industry-wide.
The first was market access, which was absolutely critical for Australia to remain competitive. Australia could not afford to be left behind in trade access in key export markets.
Cost to operate was the second. The fabrication cost in Australia was more than twice that of the US processing sector. While processing costs in the US had changed little over the past five years, in Australia they had in fact gone up by more than 30 percent, making Australia even less competitive on international markets. Part of the solution would require more labour flexibility in operating the plants, simplifying the process and doing away with unnecessary regulation.
Access to labour was the third challenge faced by the Australian beef industry.
Mr Nogueira stressed the point that industry sectors were inter-dependent on each other.
"We are part of the same process," he said. "Farmers need good markets and processors need a strong, efficient processing sector to remain viable. Long term, conditions need to be sustainable for all segments of the supply chain."
He saw the answer in a combination of actively engaging with the Federal Government to address excessive regulatory and cost burdens, and the impact of the carbon tax and full cost recovery of AQIS inspection fees, and greater support for improved innovation and efficiency and labour efficiency.
"We are not going to bridge this gap by focussing on just one area. We need to be more productive across the industry, not just in processing. We need to find ways to be more efficient every day.
"We may not ever reach the same level as the US in terms of processing productivity, but we cannot afford to be only half as efficient, as we currently are. What should really concern the Australian industry is that the margin in comparison with US processing is growing, not reducing.
Mr Nogueira said it was no secret that the Australian beef and lamb operations had had a tough time, financially, and needed to be more efficient in the business and more aggressive in sales.
Asked about the level of livestock prices paid to producers and whether they were being adequately rewarded, he said JBS shared the concerns of producers over the price level being achieved for beef, globally.
"The Australian industry exports 65pc of its annual production, so we are closely linked to what happens overseas. In order to pay more, we firstly need to be able to sell our beef on international markets for a high price, and that's a challenge for everyone. But issues like currency movements play a big part. Five years ago, the A$ was worth US60-75c, where today it is well above parity."
"But we need to work on the things we can change, rather than worry about influences like currency, that we cannot."
Beef Central intends to explore some of the issues raised by Andre Nogueira in an upcoming series of articles with senior industry stakeholders covering Australia's changing political landscape, major challenges facing the industry and related issues.