With opening day for Beef 2015 now only a fortnight away, it's time to start showcasing some of the vast range of new equipment, services and technology that will be on display in Australia's largest cattle industry commercial trade showcase. Two of the biggest names in animal traceability and handling systems, Gallagher and Allflex, will mount extensive displays, including a host of new products designed to save beef producers time, improve efficiency, and extend capability.
ELECTRIC fencing solutions provider Gallagher will use Beef 2015 to officially launch the world's most powerful energizer, designed for large-scale fencing projects and ideal for feral animal control.
The company's new M10000i Fence Energizer is the latest in the i-Series Energizer family, which has redefined electric fencing by giving livestock producers more information about their fence, and peace of mind that it is working.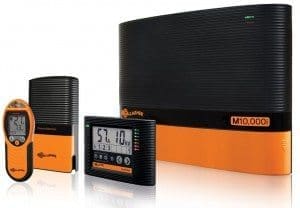 "A good energizer is really an invisible asset protector: making sure that valuable stock, pastures and crops are safe and secure," Gallagher Australia general manager Malcolm Linn says.
Gallagher has designed the M10000i Energizer to meet the demands of larger grazing properties, which need plenty of power over longer distances to remain effective. With 100 joules of stored energy, the M10000i will power electric fencing systems spanning up to 405 hectares.
Feral fencing application
Mr Linn says increasing numbers of beef producers used i-Series Energizers for feral fencing because of the peace of mind the systems offered, telling them immediately how their fence is performing.
"Checking their Energizer Controller screen instantly shows if there are any issues with the fence — not just at the shed, but through monitors located at remote points along the line," he said.
The Energizer Controller can be positioned up to 50 metres from the main energizer, in a spot where it's easily monitored, such as the farm office. The waterproof controller displays voltage and current readings, and can be used to turn the energizer on or off, set alarm levels and fine-tune adjustments to the energizer's operational output voltage.
Remote monitoring saves time
Up to six Fence Monitors can then be installed along the fenceline and linked back to the central Energizer Controller to create a fully-monitored fence system. This remote-monitoring capability built into the i-Series had proven extremely valuable to time-poor producers, Mr Linn said.
"Cattlemen don't have to physically check the fence every couple of days, as they did in the past," he said. "The monitors will show if there's a fault — such as a branch falling across the fence – anywhere along the line. It's a bit like having six staff-members out there looking after six different zones, all the time."
"If there is an issue, the operator can immediately identify which zone is causing that performance loss, so fault-finding and repair is quick and easy. He can then test the fence once a fix is completed."
Fence performance checking online
Producers can also check their fence's performance online.
A System Data Controller is offered as an optional remote-monitoring platform, supported by agricultural services company, Observant.
Users of the M10000i Fence Energizer can add a System Data Controller, subscribe to the Observant Global platform, and can then view and manage their entire system — which could be multiple zones across a property — using a web browser on their desktop PC, laptop or compatible smart phone.
"This interface lets producers see the same information that's on the Energizer Controller — whether it's on, and the voltage being delivered, or if it's off, then for how long, and so on. With larger properties, it's all about peace-of-mind and certainly saving labour and time," Mr Linn said.
Compatibility
All i-Series Energizer accessories are compatible with all of Gallagher's i-Series models, so producers can upgrade to the M10000i to cover more fenceline without having to buy new accessories.
Gallagher will demonstrate the M10000i at Beef 2015, then at field days nationally. The company exhibits can be found on the Beef 2015 grounds on the CRT Site C209 and Landmark's site in centre ring.