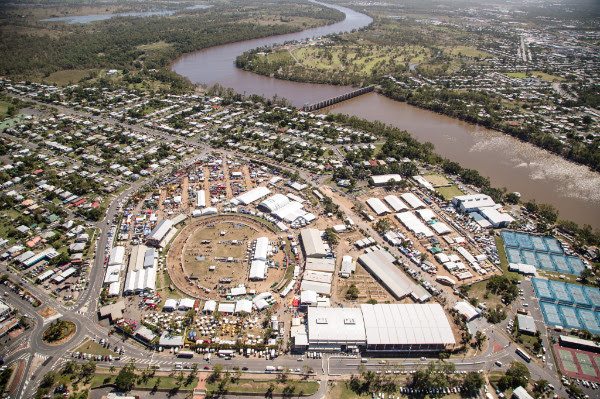 WITH the countdown to Beef Australia 2018 in Rockhampton now less than 12 weeks away, some of the event's key seminar programs are now starting to confirm their speaker lineups.
This year's Beef Australia Industry Symposium will focus on the global disruption agenda and how this is affecting, and will affect the beef sector into the coming decade.
In an era of Uber, Amazon, drones, virtual reality and crowd funding, the way industry conducts its business is changing rapidly. The industry symposium will explore these themes and analyse what these changes mean for the Australian beef sector.
The event will look at digital disruption from the perspectives of politics and market access, investment and capital funding, agri-tech innovations and food and consumer trust issues in a modern economy.
Taking place on Tuesday, 8 May, the symposium will be an early highlight in this year's conferences and seminars program, being staged throughout Beef 2018.
Several keynote speakers will deliver presentations, before a panel session discusses how individual business and the industry as a collective charter the new era of disruption, and takes questions from the audience.
Here's a quick snapshot of speakers and panellists involved:
The symposium's keynote speaker, media identity Hamish McDonald, will discuss digital disruption in a global context.
Mr McDonald will explore the disruption dilemma – and the opportunities arising from it – and relate that back to how it impacts on the Australian beef industry.
Mr McDonald is an award-winning broadcaster and international affairs correspondent, having covered war in Ukraine, Afghanistan and Libya, as well as the rise of ISIS in the Middle East, the rise of Donald Trump in America and the search for missing schoolgirls in Nigeria.
In 2013 he was appointed international affairs correspondent for America's ABC News, after a career anchoring and reporting for Aljazeera. At Australia's Ten Network he was an executive producer and prime-time series host. He has received a Walkley Award for Journalism and a Human Rights Australia Award for Journalism.
Master of ceremonies Chris Riddell is a respected futurist, and a regular speaker on digital affairs. He is also a renowned strategist and global emerging trend-spotter for businesses and leaders in today's disrupted world.
Mr Riddell was the first Chief Digital Officer for MARS Inc in Australia and New Zealand, developing corporate digital strategies behind well-known consumer brands including Whiskas, Pedigree, Wrigley, Starburst, Masterfoods, Snickers and Maltesers. He is frequently called on as a futurist, speaker and expert commentator to give insights into consumer technology trends within traditional media. He also works as senior advisor to businesses across industry verticals, with consulting expertise in the technology, transportation, manufacturing, healthcare, finance and communications sectors.
Panelists expertise in health & nutrition, social trends
Sitting as a panellist for the industry symposium will be Dr Joanna McMillan, a health and nutrition specialist, with more than twenty years of experience in the health and fitness industries.
She has extensive media experience as a health presenter with a particular skill in translating science into everyday messages to benefit all consumers. She appears regularly on TV, with appearances on The Today Show, A Current Affair, Nine News, 7 News, Studio 10, Destination Happiness and ABC Catalyst.
Dr McMillan is an accomplished author, having published a number of successful books on nutrition and health, including Inner Health Outer Beauty, the winner of the 2010 Australia Food Media Awards for Best Health or Specific Diet Book.
Social trends and consumer insights expert Neer Korn will also sit as a symposium panellist. Mr Korn has studied Australian consumers for major brands including Nestlé, ABC and Sanitarium for 20 years.
He has documented Australian attitudes and culture in great detail, writing more than 120 large-scale reports on Australian society, from people aged 7 to 70. Mr Neer is an expert advisor to  leading blue chip companies such as AMP, as well as government departments and not-for-profits. His presentations encompass all spheres of life including careers, leisure, shopping, health, nutrition and wellbeing, finance, politics, media and new media, happiness, dreams and aspirations.
Panellist Rebecca Huntley is one of Australia's foremost researchers on social trends. She holds degrees in law and film studies and a PhD in gender studies. She spent nine years at global research firm Ipsos, and from 2006 until 2015, was the director of the Mind & Mood Report, Australia's longest-running social trends report. She is the author of numerous books, a columnist for BRW and the presenter of Drive on a Friday on Radio National.
Rebecca is also an adjunct senior lecturer at the School of Social Sciences at The University of New South Wales. She currently provides research counsel to Essential, an integrated research and communications agency in Australia and New Zealand.

Beef 2018 Industry Symposium:
Date: Tuesday 8 May
Time:  Registration opens at 7.45am for an 8.45am start.
Location: Rockhampton State High School Stadium