AN Australian company focused on resolving inadequate internet and phone connectivity in rural and remote parts of the country has claimed a US$500,000 prize in the hotly-contested US food and ag-tech competition, Grow-NY.
Zetifi is based in Wagga Wagga and has developed new technology to solve connectivity problems in areas with limited access to suitable broadband and little or no mobile coverage. Dan Winson is the tech start-up's founder and is thrilled with the huge win in a market the company has its sights set firmly on.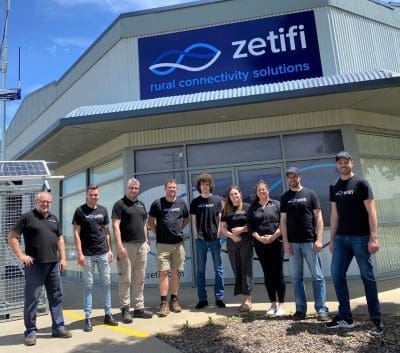 "Connectivity is not only an issue for rural and regional Australia, it's an enormous challenge for countries around the world, including the United States," he said.
"The contacts we've made through the Grow-NY competition and of course the $500,000 in prize money, will allow us to establish a presence in Upstate New York and take our solutions to farmers across the US, sharing with them the technology we've developed and have been trialling successfully here in Australia."
Zetifi has conducted numerous trials with farmers in Victoria and NSW and is on track to commercialise a viable model for eliminating mobile blackspots across Australia's primary production areas.
One of these trials is with the support of Birchip Cropping Group, a not-for-profit agricultural research and extension organisation led by farmers from the Wimmera and Mallee regions of Victoria, with the company commencing a pilot program that's delivering cost-effective Wi-Fi solutions across a number of large farming properties while solving the mobile blackspot issues between Birchip and Sea Lake.
Grow-NY is a high-profile food and agriculture business competition that identifies, supports, and funds the top food, beverage, and agriculture innovations across the globe, with more than 260 companies putting entries forward this year. The competition includes prize money, mentorship, training, business development support, and tax incentives.
Being named in the top three is an enormous opportunity for Zetifi, Mr Winson said, with the company now poised to establish a team in Rochester, in New York State and start trials of its products with agricultural machinery dealership, Monroe Tractor, a Case IH dealer that has multiple locations across New York State and whose customers often confront the same connectivity challenges faced by their Australian counterparts.
"We recognise the challenges and frustrations poor connectivity presents to farmers, who are being offered increasingly sophisticated technology in the likes of agricultural machinery but lack the access to the connectivity to take full advantage of it," he said. "We know access to reliable internet and phone coverage is a game-changer for these areas, increasing productivity and profitability for farm businesses, as well as enhancing quality of life and the safety of rural residents, particularly on the farm and on the roads."
The benefits of improved connectivity are reflected in research undertaken by Birchip Cropping Group (BCG), estimating that poor mobile reception and internet coverage has the potential to reduce farm profitability by about $5/hectare across the grain belt of the Wimmera/Mallee region, equivalent to $15,000 a year for the average (3000ha) Victorian grains property.
As part of the BCG trials, Zetifi is trialling its ZetiCells and ZetiRovers, the former a long-range solar powered public Wi-Fi hotspot and the latter a portable Wi-Fi repeater fitted to a piece of machinery or vehicle. The ZetiRover is also the focus of a series of trials Zetifi is conducting in conjunction with Case IH Australia/New Zealand, with dozens of Case IH customers and several large Case IH dealerships involved.
"Fast and reliable in-field connectivity is key to realising the full potential of precision agriculture, and as a direct result of that, improvement in the profitability of farm businesses. That's a major concern for our customers so we're keen to work with companies that are devising ways to improve this connectivity," said Pete McCann, General Manager for Case IH Australia/New Zealand.
"We've been impressed with what we've seen to date with the ZetiRover and its ability to enable a machine's telematics, remote support and data transfer capabilities, along with Wi-Fi calling, messaging, email and internet access for the machine's operator. The solution Zetifi is bringing to the market is unique and the involvement of stakeholders at every step means a product that reflects the needs of the farmer, for the benefit of agriculture."
For Cameron and Rachel Ferrier, who farm 1600ha between Birchip and Sea Lake in the southern Mallee in Victoria and own one of the BCG trial properties, Zetifi's technology has allowed them to finally make phone calls and access the internet across about 85pc of the farm. Prior to the trial, as much as 40pc of the property had very poor or no mobile coverage.
"Every second counts in farming, and at sowing, harvest or when you've got a couple of hundred tonnes of fertiliser to spread before it rains, even the slightest delays can cost you thousands or even tens of thousands of dollars. You don't want to be running around the farm trying to find reception or dropping calls to suppliers or truck drivers," Cameron said.
"Using the gateway, I can comfortably make phone calls and access the internet from anywhere inside the house as well as the shearing shed and workshop. Using the Rover, I can also make calls from here to Sea Lake or Swan Hill, which there was no way I could do before. It's made a huge difference to us."
Zetifi, with the support of Birchip Cropping Group are scoping a larger deployment of Zetifi's technology that will provide benefits not only to disadvantaged farmers in target regions but to the wider community, enabling a viable model for eliminating mobile blackspots across many of Australia's primary production areas.
"It's such an exciting space to be working in and such an important challenge to be addressing. Cost-effective and reliable connectivity is something all Australians have a right to and we're confident we have the solutions to make this possible," he said.
Source: Zetifi