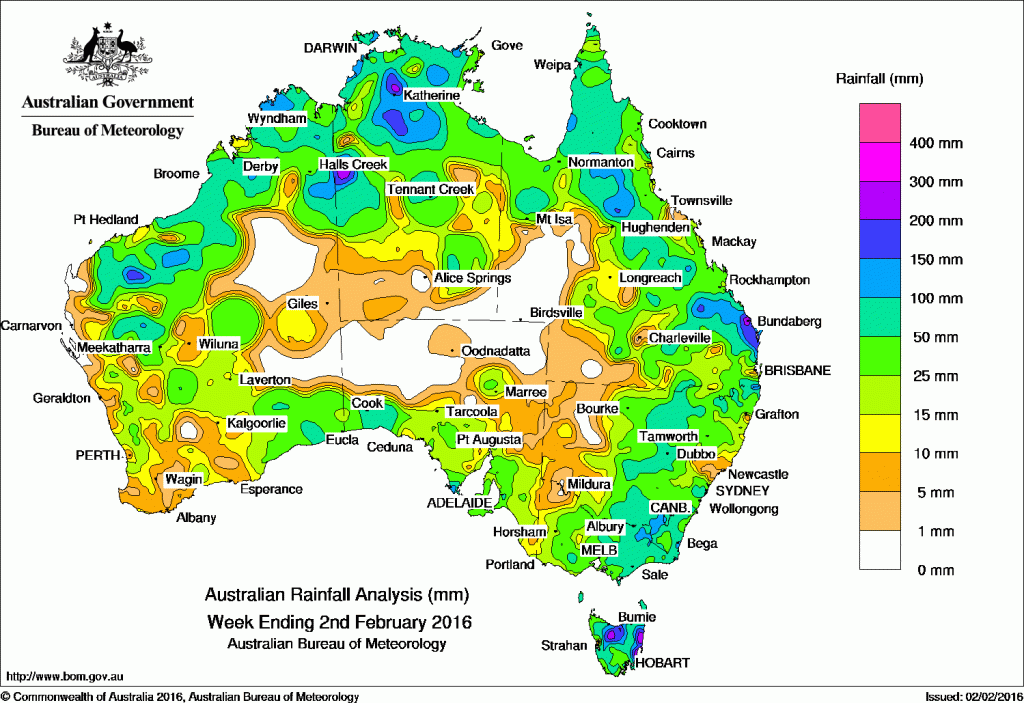 Most cattle producing areas across Australia received at least some rain the past week, with the exception of western Queensland and New South Wales, northern South Australia and parts of south west Western Australia.
A surface trough through inland Queensland and New South Wales generated moderate to heavy falls in parts of the southern interior and eastern Queensland, and central and southern New South Wales early in the week. A low pressure system deepened on the trough near western Victoria, generating moderate falls in some parts of central and eastern Victoria.
In the middle of the week, a tropical low pressure system north of Western Australia developed into tropical cyclone Stan, and along with an active monsoon trough north of the Top End, triggered a broad area of deep convection with moderate to heavy rainfall across the tropical regions from the Pilbara and Kimberley to the Cape York Peninsula.
A cold front and associated cloudband with embedded thunderstorms approached Victoria and Tasmania ahead of a developing low pressure system moving over Bass Strait. A moist, easterly flow brought moderate to heavy falls to most of Tasmania, with heavier falls to the north and northeastern parts of the State. The system moved to the northeast, developing multiple centres of low pressure as it tracked over southeastern Australia. Moderate to heavy falls were recorded in southern and eastern Victoria, and southeastern New South Wales.
In the latter part of the week, tropical cyclone Stan, the first tropical cyclone of the season, made landfall as a category 2 cyclone on the east Pilbara coast. It weakened as it tracked southeast over the central interior of Western Australia and into South Australia. A trough near the west coast brought moderate to heavy falls to large parts of central and southern Western Australia, and western and central agricultural districts of South Australia. Monsoonal activity continued in the Top End and tropical Queensland.
Surface troughs persisted across eastern Australia during with week, generating moderate falls over the interior and southeast of Queensland.
Rainfall totals exceeding 200 mm were recorded in parts of the western Kimberley, an area of the Top End, the Wide Bay district in Queensland, and in northern and eastern Tasmania. Isolated locations in northeastern Tasmania recorded rainfall totals in excess of 300 mm, including the highest weekly total of 496 mm at Gray (Dalmayne Rd).
Rainfall totals between 100 mm and 200 mm were recorded in the areas of the Pilbara, Gascoyne and Kimberley districts in Western Australia, western and northern parts of the Northern Territory, and parts of the northern interior and southeastern Queensland. Similar totals were recorded in far northeastern and southeastern New South Wales, northeastern Victoria and in a large part of the central north, and eastern Tasmania.
Rainfall totals between 50 mm and 100 mm were recorded in large areas of northwestern Western Australia, pockets of the south coast of both Western Australia and South Australia, eastern Victoria, and much of Tasmania. Also in southeastern, central and northeastern New South Wales, much of the southeast and central interior of Queensland, parts of the Gulf Country and in the Cape York Peninsula.
Rainfall totals between 10 mm and 50 mm were recorded in most of Western Australia except the southwest and central interior, most of the Northern Territory except the southern interior, most of Queensland away from the southwest and west, the eastern half of New South Wales, the southern part of South Australia, most of Victoria and all of Tasmania.
Little or no rainfall was recorded this week in central Australia, including western Queensland, southern parts of the Northern Territory, inland Western Australia, the northern half of South Australia, northwest Victoria and western New South Wales.
New South Wales and Australian Capital Territory
154 mm Bega (Newtown Road)
132 mm Bungonia (Inverary Park)
130 mm Touga
Victoria
154 mm Wilsons Promontory Lighthouse
124 mm Mitta Mitta
122 mm Reeves Knob, Dartmouth Reservoir
Queensland
290 mm Tiaro Township
253 mm Bingera Sugar Mill
214 mm Mungar Gayndah St
Western Australia
135 mm Bonney Downs
131 mm Theda
130 mm Liveringa Station
South Australia
86 mm Coffin Bay
78 mm Uraidla
70 mm Piccadilly (Woodhouse), Ashton
Tasmania
496 mm Gray (Dalmayne Rd)
298 mm Grindstone Point
287 mm Little Swanport (Lisdillon Far
Northern Territory
272 mm Upper Seventeen Mile Creek
256 mm Mount Felix
217 mm Nitmiluk Ridge
More weekly rainfall totals:
Source: BOM