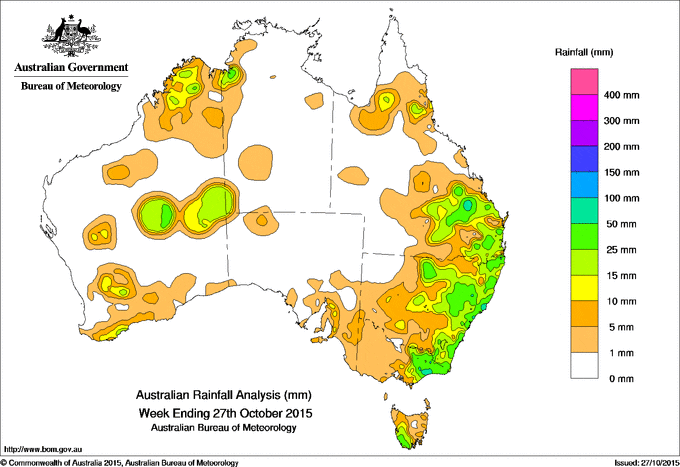 Low pressure troughs over the weekend and earlier this week have helped to generate rainfall totals in excess of 25mm in areas of eastern Australia between eastern Victoria and the Capricornia coast of Queensland.
Weekly totals exceeded 50mm in some parts of East Gippsland in Victoria, the south coast of New South Wales, and in a pocket of the Central Highlands in Queensland.
Rainfall totals between 10mm and 25mm were recorded in parts of southwest, central and northern Western Australia, northern and southeastern Queensland, eastern New South Wales, most of eastern Victoria, and southwestern Tasmania.
Remaining parts of Western Australia, most of South Australia and the Northern Territory, western Queensland, western New South Wales, and western Victoria recorded little or no rainfall this week.
At the beginning of the week, a low pressure surface trough over eastern Australia and a cold front crossing Tasmania produced a broad cloudband with embedded thunderstorms, extending from central Queensland to the southeast of the continent. Moderate rainfall totals were recorded in parts of southeastern New South Wales and southwest Tasmania, and widespread, light rainfall was recorded in southeastern South Australia, and much of Victoria and New South Wales.
As the trough tracked eastward a low pressure centre gradually developed off the south coast of New South Wales with moderate rainfall totals recorded in East Gippsland, along the New South Wales coast, throughout central New South Wales and in parts of southeastern Queensland during the 48 hours to 9 am on 23 October 2015.
In the middle of the week, another surface trough and low pressure system located across eastern Queensland produced convective activity east of the trough, with localised moderate rainfall totals recorded in parts of the Central Highlands, and the Wide Bay and Burnett districts.
During the last part of the week, low pressure troughs lying around the northern coastline and through central Australia produced isolated showers and thunderstorms over parts of Western Australia, eastern Queensland and northeastern New South Wales, with localised moderate falls recorded. On the last day of the week a low pressure trough over southern and western New South Wales, with unsettled conditions ahead of the trough, generated moderate falls between the central coast of New South Wales and southeast Queensland.
Highest weekly totals in each State:
New South Wales and Australian Capital Territory
103 mm Careys Peak (Barrington Tops)
102 mm Bungwahl
96 mm Cabbage Tree Mountain
Victoria
87 mm Bullumwaal
80 mm Bairnsdale
77 mm Lakes Entrance
Queensland
64 mm Blackwater Airport
61 mm Kinnoul
59 mm Moura Post Office, Mount Wallaby
Western Australia
69 mm Willare Bridge
42 mm Southern Cross Airfield
26 mm Gabbin
South Australia
25 mm Uraidla
24 mm Ashton, Mount Lofty
Tasmania
30 mm Tim Shea (Summit)
28 mm Scotts Peak Dam
22 mm Catamaran
Northern Territory
21 mm Bradshaw Homestead
7 mm Batchelor Airport
4 mm Yuendumu, Labelle Downs, Majestic Orchids
More weekly rainfall totals:
Source: BOM