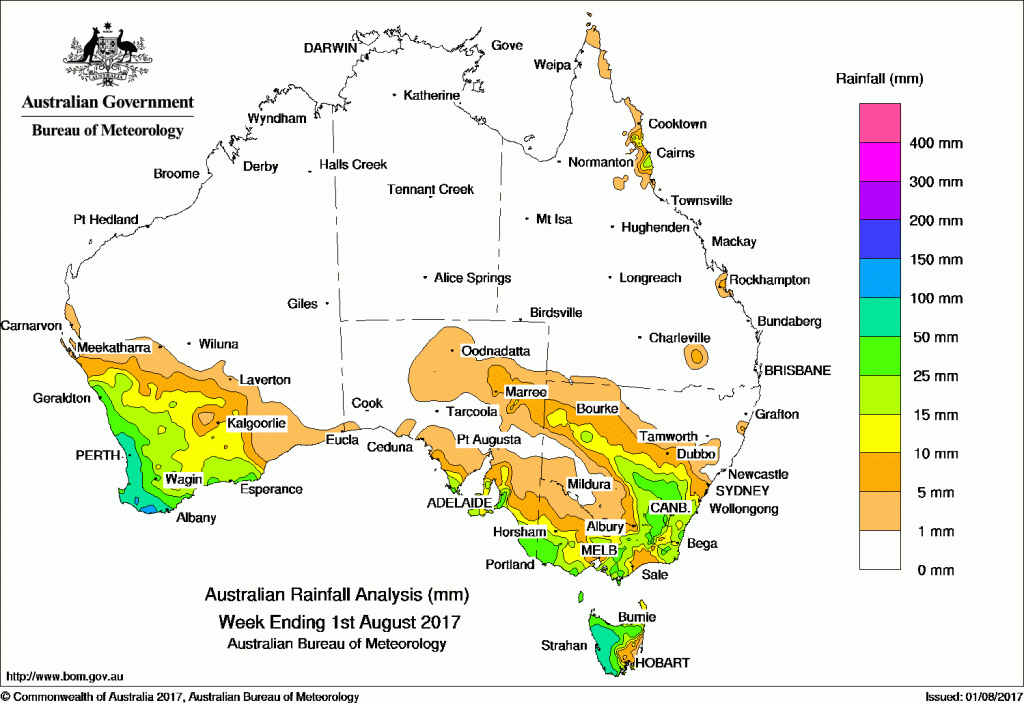 For today's 14-day rainfall outlook – scroll to bottom of article
A series of cold fronts and low pressure systems tracked across southern Australia over the past week, with rain limited to isolated thunderstorms and moderate falls recorded in the southwest and southeast of Australia.
Past seven days: At the start of the week, a trough and associated cloudband crossed over Tasmania; in the west, a cold front with embedded thunderstorms tracked over southwest Western Australia. Moderate falls were recorded in southwest Western Australia and western Tasmania.
During the middle of the week, the cold front and associated cloudband moved through southeast Australia, while a strong cold front soon followed and tracked across southern Australia. The fronts produced showers and thunderstorms, with moderate falls in southwest Western Australia, and gusty thunderstorms over Adelaide and Kangaroo Island. As the system tracked eastwards, moderate falls were recorded over much of the southeast of the country.
In the last part of the week, as the second front moved through southeast Australia into the Tasman Sea, a low pressure system developed off the New South Wales coast. Moderate falls were recorded in southeastern South Australia, Victoria and Tasmania. Showers and thunderstorms developed in southeastern New South Wales, producing moderate totals from the offshore low, while an inland middle-level trough brought some moderate falls to the State's northwest and central districts. Another cold front brought showers and storms in a line from Geraldton to Esperance, with isolated thunderstorms occurring further south.
Rainfall totals between 50 mm and 100 mm were recorded along the far southwest of Western Australia, and in western Tasmania. Falls in excess of 100 mm were recorded in a small area of western Tasmania, and along the south coast of Western Australia, including the highest weekly rainfall total of 126 mm at Jarrahwood in Western Australia.
Rainfall totals between 10 mm and 50 mm were recorded in the the South West Land Division of Western Australia; along the Lower Eyre Peninsula, southeast coast and adjacent inland districts of South Australia; and in southwest, central, northern and northeastern Victoria. Similar totals were recorded in western and northern Tasmania, through northwestern, central and southeastern New South Wales, and in the north tropical coast of Queensland.
Little or no rainfall was recorded in remaining parts of Western Australia and South Australia, the Northern Territory, Queensland except the north tropical coast, parts of the southwest and northeast quarter of New South Wales, and in northwestern Victoria.
Highest weekly totals
New South Wales and Australian Capital Territory
52 mm Perisher Valley AWS
40 mm Dalmeny (Binalong St)
36 mm Montague Island Lighthouse
Victoria
41 mm Apollo Bay
40 mm Grampians (Mount William)
39 mm Portland (Cashmore Airport)
Falls Creek (Rocky Valley)
Queensland
18 mm Innisfail
17 mm Kareeya
15 mm South Johnstone Exp Stn, Greenhaven
Western Australia
126 mm Jarrahwood
121 mm Dwellingup
120 mm Bickley
South Australia
48 mm Uraidla
45 mm Ashton, Robe
Tasmania
125 mm Mount Read
86 mm Lake Margaret Power Station
81 mm Zeehan
Northern Territory
0.6 mm Gove Airport
0.2 mm Port Keats Airport, Centre Island
More weekly rainfall totals:
Source: BOM