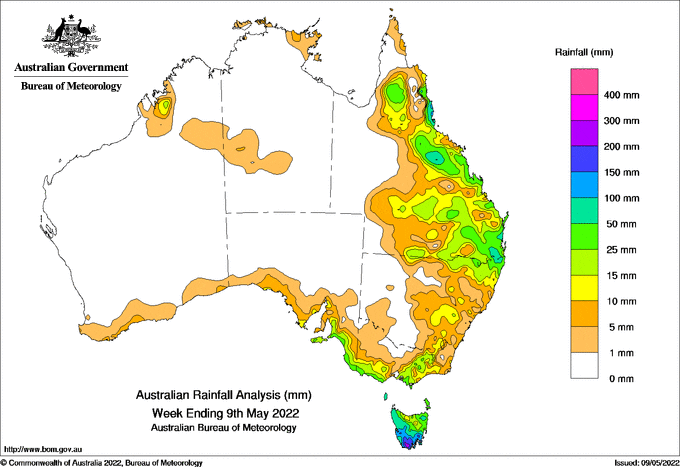 WEEKLY rainfall totals of 100 mm to 200 mm were recorded over southern Tasmania, from the passage of a cold front on 3 and 4 May followed by the development of a low pressure trough off the east coast of Tasmania which later intensified into a during the middle of the week.
Monthly and annual daily records were exceeded for sites in south-east Tasmania, where more than 100 mm fell in the 24 hours to 9 am on 6 May.
Rainfall totals of 25 mm to 100 mm were recorded over central and eastern parts of Queensland, followed by an intensifying stream of onshore flow at the end of the week.
Sunshine Coast Airport recorded 133.4 mm in the 24 hours to 9 am on 9 May, exceeding its highest daily rainfall record for May (29 years of record).
For parts of south-east Australia, also produced light to moderate rainfall, mostly less than 25 mm.
The highest weekly total at a Bureau gauge was 187.0 mm at Mountain River in the south-east of Tasmania. The highest daily total for the week was 133.4 mm in the 24 hours to 9 am on 9 May, at Sunshine Coast Airport in south-east Queensland.