The monsoonal activity that brought heavy and timely rainfall to large tracts of northern cattle country in recent days is expected to deliver more rain to parts of the drought-stricken Gulf country this week.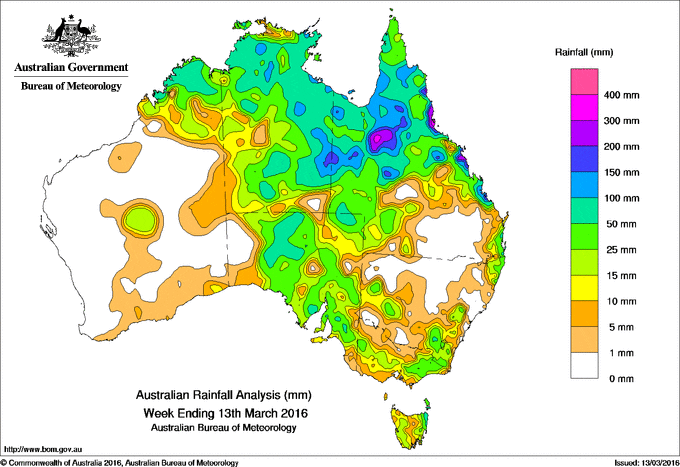 The above map shows the broad areas where rain was received, but does not capture the extremely "patchy" nature of the falls.
In every conversation Beef Central has had with northern landholders, stock agents and industry representatives this morning about the rain, the key point of emphasis was on the scattered and hit and miss pattern of the rain.
In Central Australia for example Kevin Prior from Territory Rural McPherson in Alice Springs said one station homestead west of the town recorded 80mm while a neighbouring homestead 20km away received no rain at all.
It was a similar story in north western Queensland according to Peter Dowling at Dowling Livestock and Property in Cloncurry.
"In the space of one property you can go from one season to one drought," he said.
While stressing that the falls were scattered, Mr Dowling said that generally speaking, the Cloncurry, McKinlay and Julia Creek shires had received anywhere from one inch of rain (25mm) to eight inches (200mm).
Winton today is cut off by flood waters after the drought-ravaged township received more than 100 millimetres last Wednesday in what has been reported as the town's wettest day for more than 15 years.
Further rain is likely for the Queensland Gulf region in particular in coming days, as this video produced by Higgins Storm Chasing this morning demonstrates:
At Cloncurry, Peter Dowling said the rain was very well timed for those lucky enough to receive it.
"March is traditionally our wettest month, and if we get rain at the end of March or early April it just adds longevity to our season," he explained.
"The best rain we can get here is the end of March/early April because we go into the cooler months with green feed and it lasts longer.
"Traditionally the heat starts going out of this country at the end of March, so if you have good green feeding heading into April/May/June when everything has cooled off it is going to last."
Mr Dowling said seasonal conditions varied dramatically from one property to the next, but generally speaking the McKinlay and Cloncurry area was looking at a decent season, while conditions to the east and south of Julia Creek were still very patchy.
Consolidated Pastoral Company chief executive officer Troy Setter said some of the totals recorded on the company's stations included 190mm at Wrotham Park and 74mm at Newcastle Waters.
He also emphasised the patchy nature of the western Queensland season at present.
"This rain will assist greatly and hope the tropical low will too this week," he said.
In Central Australia, Kevin Prior said the arrival of the first rain in early December meant that by now most properties throughout the region had received at least some scattered rain.