Most of Queensland is enduring drought conditions and faces a long road to recovery with a likely El Nino event developing, according Weatherzone meteorologist Rob Sharpe.
Queensland Department of Agriculture, Fisheries and Forestry data shows that more than 65pc of Queensland's land area, home to around half the nation's total beef cattle herd, is drought declared. Some districts have now been drought declared for more than 12 months.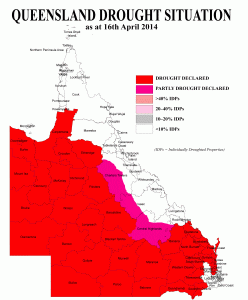 Mr Sharpe points out that during summer much of Queensland picked up some healthy falls, but most still recorded below average rainfall.
"During the past 18 months most of western and southern central Queensland have experienced a serious deficiency of rainfall.
"Farmers across the state are hoping for drought breaking rains, but the forecast of an El Nino is limiting these hopes.
"There are now strong indications that an El Nino event is likely to develop. (See Max Gonzalez's explanation on the Weatherzone website here)
Mr Sharpe said the affects of an El Nino event were varied, however there were some significant similarities between events.
"During moderate or strong events (as is most likely in this case) we have typically seen rainfall drop below average across eastern Australia, particularly in Queensland. The period with the greatest impact is during the already drier seasons of winter and spring.
"The wet season typically starts slightly later than usual during El Nino events, delaying the chance for drought breaking rain. Thankfully it has been shown that once the wet season starts rainfall across non-tropical QLD returns to near normal levels as the El Nino starts to break down.
"If the El Nino develops and plays out as usual then most of western Queensland would unfortunately have to wait until at least the start of next year for drought breaking rain. Let's hope and pray that the long road to rain isn't too tough."