Encouraging signs of rain across large parts of NSW and southern Queensland are evident in the Bureau of Meteorology's latest eight-day forecast.
As can be seen in the BOM map published here, falls of 15-50mm are forecast in coming days across the eastern half of NSW and southern Queensland, starting from Friday.
Western Australia's central belt, and the eastern portion of northern South Australia has a similar outlook for the start of June.
The Central western Queensland centre of Blackall had already received 5-10mm this morning as stakeholders arrived for the Blackall Beef and Cattle Marketing Forum, organised by AgForce.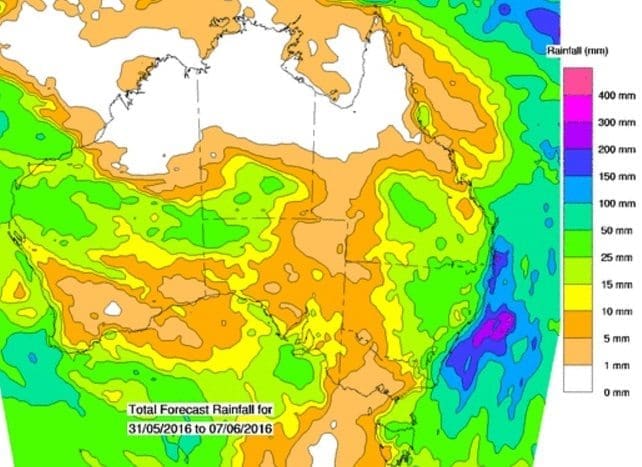 BOM suggests large parts of the country are more likely to have a wetter than average June. However, southwest Australia, southwest Victoria, and eastern NSW have roughly equal chances of a wetter or drier June.
The current outlook reflects the combination of increasing odds for La Niña, chance of a negative Indian Ocean Dipole, and very warm sea surface temperatures surrounding northern and eastern Australia.
Source: BOM