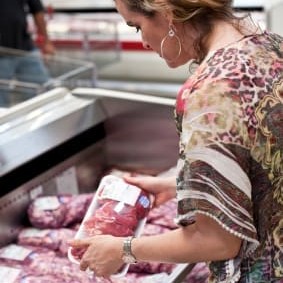 Meat and Livestock Australia has appointed a candidate to the critically important, newly-created role of global marketing general manager who, on paper at least, looks like an excellent choice.
Widely experienced corporate-level food and consumables marketer, Michael Edmonds will take up his new role in time for the upcoming important red meat task force meetings in Sydney during April.
MLA managing director Scott Hansen announced Mr Edmonds' appointment to head the new business unit just minutes ago, concluding a global search for a quality candidate that began last October.
Whereas MLA marketing programs in key export and domestic markets previously operated largely independently, Mr Edmonds will take overall responsibility for the red meat industry's levy funded global marketing activities across all markets.
"Mr Edmonds brings over two decades of experience and a unique blend of marketing and industry expertise to this new role, having worked in both trade and direct consumer marketing of global food and beverage brands," Mr Hansen said in a brief statement issued just minutes ago.
He will join MLA from Simplot Australia, a division of US food giant, JR Simplot, where he was general manager for sales and marketing for the company's Top Cut foods division. Top Cut is the domestic market division (sister company TenderPlus does export), as a leading provider of meat and protein-based meal solutions to foodservice and retail trade. Much of Top Cut's focus is on value-added and portion-controlled items.
Mr Edmonds, not yet 50, holds a degree in Economics and a Masters in marketing. He has spent the past two decades as a marketing executive, both in Australia and overseas, with large international consumer brands, gathering a deep understanding of consumer, brand and channel marketing principles.
Prior to his most recent three-years with Top Cut/Simplot, he started his career with ICI Orica, as a key brand manager with Dulux/British Paints. He spent the next decade with the Mars group, one of the world's largest confectionary manufacturers, based first in Australia, and later in Europe.
He then spent three years with the Fosters Group, where he was general manager for two important business units during an important growth period.
As an added bonus, Mr Edmonds was born and bred in rural Victoria, suggesting, at least, that he may understand and appreciate the beef production sector culture better than most.
Mr Hansen said Mr Edmonds appointment formed part of structural change within MLA that would see the formerly separate domestic and international marketing efforts now consolidated under a single unit.
"A single marketing unit can be more responsive to fluctuations in global marketing conditions and more efficient resource allocation," he said.
"I have formed the view for some time that MLA's marketing effort needed to be consolidated, for a number of reasons," Mr Hansen said. "In this day and age, Australia is just another one of the marketing options available to our industry, and we needed to be reflective of, and responsive to, the changing dynamics around the global meat industry."
"Having everyone in one team, working off a strategy this is flexible and able to accommodate changing patterns is increasingly important."
"Secondly, there are a number of key themes spread across global markets serviced by Australian beef. Issues like nutrition and food safety and consumer awareness activity are common in all markets, so this approach will allow MLA to plan globally, while acting locally."
Mr Hansen said the change would lead to a more coordinated and efficient use of industry funds, with potential for cost savings and greater reach from existing expenditure.
"We think we can stretch our budgets further by having this coordinated approach," he said.
"In many ways, it simply copies what is being seen increasingly in the private-sector, commercial world, within the limitations we operate under."
Mr Hansen said one of the key abilities Mr Edmonds had demonstrated in his earlier employment career had been the creation and leadership of strong teams, to deliver results, which would be fundamental to his new MLA role.
Departure for Glen Feist
Also during this morning's disclosures it was announced that Glen Feist, currently general manager for domestic marketing, will leave the producer-owned company. One of Mr Edmonds initial tasks will be seeking a replacement to fill the domestic marketing management role.
Mr Hansen said Mr Feist had made a substantial contribution to industry's marketing programs including maintaining the positive momentum for domestic lamb as well as the delivery of a refreshed domestic beef marketing program.
Mr Feist brought a passion and energy to his role in domestic marketing, backed by decades of coalface-experience in major supermarket retail marketing operations in Asia. He was well liked and respected across the supermarket and independent butcher sectors, and will be missed.