ACCESSING quality Angus maternal genetics is every bit as important as selecting the right Fullblood Wagyu terminal sire in developing successful F1 terminal crossbreeding programs, one of the pioneers of commercial Wagyu x Angus production in this country says.
Lock Rogers mated his first Angus heifers using American purebred Wagyu semen back in 1994, and recounted his 20-year journey with both breeds to members attending this month's Australian Wagyu Association Conference in Geelong.
The New England cattleman said there was a temptation for some Angus producers considering Wagyu F1 programs to use their cull females for the exercise – retaining their best heifers for Angus straightbred work.
But it was every bit as important to use superior marbling genetics on the dam side to deliver the best F1 result in terms of frame, growth and marbling performance, he said.
While his family's Wattletop F1 program was run as an 'extension' of their straightbred Angus seedstock business, he admitted that there had been times when they had "enjoyed F1 production so much that we started to struggle to retain enough Angus heifers as replacements."
Fortunately the Rogers' entered into a long-term arrangement buying replacement heifers over an 11-year period from noted New England Angus cattleman, Arthur Cox, whose feeder cattle regularly top results in the longfed programs run at nearby Rangers Valley feedlot.
Some of the original heifer replacements bought back in 1998 have only just left the Rogers' F1/Angus breeding programs, at the age of 16 years.
Simplicity is key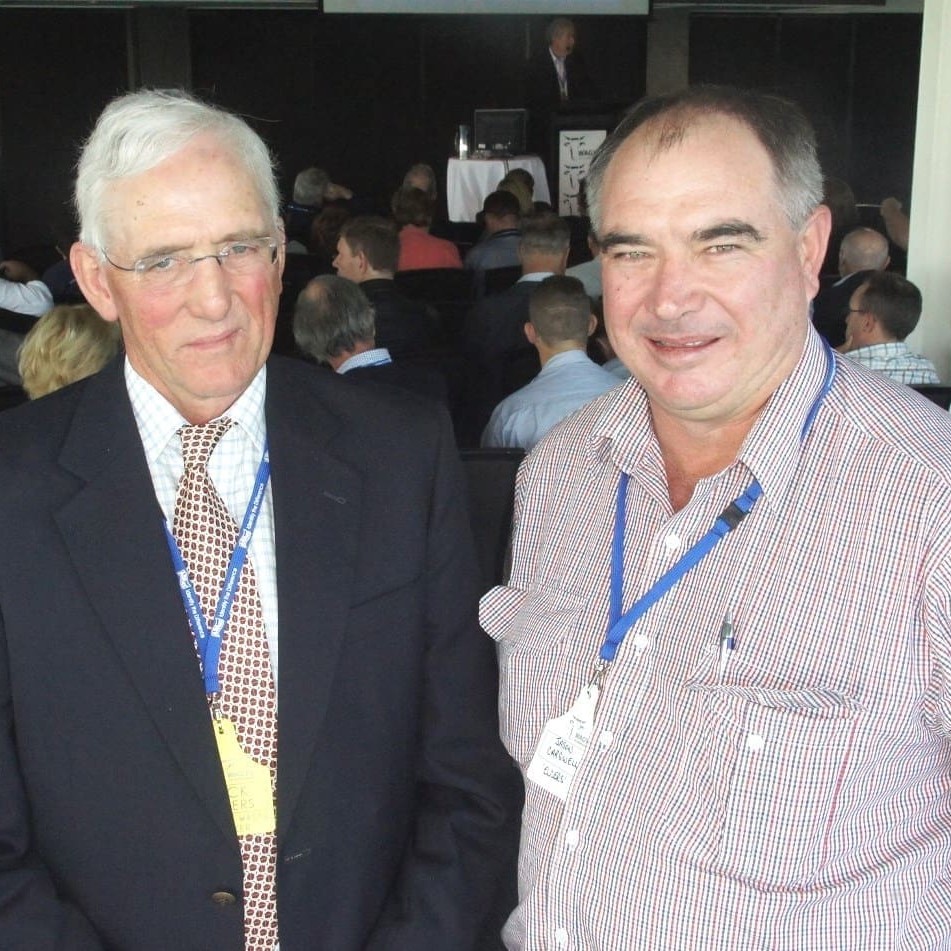 Mr Rogers told the Wagyu conference audience at Geelong that in his family's case, they tended to treat their Wagyu F1 work a little like the prime lamb industry is treated by Merino breeders – maximising cash flow, while retaining a 'certain level of protection' in case there was a hiccup in the industry.
"We wanted to keep it simple, and have resisted any temptation to go further into F2 or F3 production," he said. "There have been such hiccups in the F1s industry in the past, and potentially can be again, but it's always easy just to put black (Angus) bulls over black cows again, if the need arises."
Mr Rogers established his Wattletop Angus cow herd in 1983, following the dissolution of the White and Bell Partnership which made a portion of the Glenavon herd available to Trish and Lock Rogers at Wattletop, near Guyra. The Glenavon herd's origins date back to the importation of Angus cattle from Scotland by the White Family of Edinglassie in 1888.
That rich Angus heritage, alone, must have raised some eyebrows when the first crossbred calves started to appear.
Mr Rogers said he, along with some other Angus breeders across the New England, was propositioned in 1994 by Heather Suares, who ran the Woburn Downs ET and AI Centre at the time, to AI some Angus heifers in the New England with newly-arrived American purebred Wagyu semen. The Rogers were the only ones to take the bait.
Mrs Suares agreed to buy back the steer and heifer progeny for a 60c/kg liveweight premium over the Angus equivalent price of the day, initially to service three Sydney Japanese restaurants owned by one of her Japanese business partners.
While that early restaurant partnership fell over, Mrs Suares honoured the deal and bought Wattletop's first F1 progeny, sealing the Rogers' interest in a crossbreeding extension to their business.
They continued to AI their heifers to well-known early pioneering Japanese Fullblood Wagyu bulls like Michifuku and Haruki II, and decided over time to put a little more structure into how they marketed their F1 turnoff.
"We went to the Whyalla feedlot near Texas, and met with Mac Kimura and Russell Handley, and together with another breeder, Alex Hall from Wandoan, established the first long-term breeding contracts with Whyalla," he said.
"It was a period of genuine risk-management, putting some security into our business, with excellent prices locked-in over five years. We were getting $3/kg at that stage for F1 steers and heifers, which compared with between $1 and $1.15 for Angus steers at the time."
Whyalla agreed to supply four different Wagyu herd bulls to back-up AI programs, and the Rogers' relationship with Whyalla continued for some years.
"It was good business in those days – we used to sell our Wagyu F1 heifers for around $800 and buy our Angus replacements from Arthur Cox for about $400, but it didn't last all that long," he said.
Having sold their second property, Glenbrook, in 1996, the Rogers made some adjustments to their business including selling their remaining crossbred ewes to concentrate on stud & F1 beef production, and agisting cattle on a number of other properties.
In 2000 they bought a second property, Dyamberin and five years later a family redistribution took place, with Lock's son, Lock Jr, taking over Dyamberin, together with 500 commercial females.
While that took a big chunk out of Wattletop's own F1 production capacity, Lock used it as an opportunity to move also into a small Fullblood breeding extension, in addition to the F1 work – both to provide bulls for their own F1 program, as well as stud and commercial fullblood feeders and herd bulls for sale.
Starting with a small bull breeding nucleus plus some embryos from Tamarind, Longford and Goorambat studs, the Rogers' concentrated on high-Tajima Wagyu genetics, the breed sub-type most applicable for use as herd bulls by Angus commercial herds.
While they try to retain at least 75pc Tajima genetics in their Fullblood herd, smaller infusions of Shimane strain genetics have been added to enhance frame score and add some stronger maternal traits.
"We've tried to increase our growth rates in our Fullbloods, without compromising carcase quality too much," Mr Rogers said.
"We scan our bulls and heifers at 400 days – which I really think is too young to properly express marbling. In fact our Angus heifers at 600 days showed marbling not much different than the fullblood Wagyu do at 400 days," he said.
"It's one of the reasons I would dearly love the new Wagyu genomic test to become a reality, so we can start to identify our superior genetics early – which heifers to keep, which ones to feed, and which ones to join."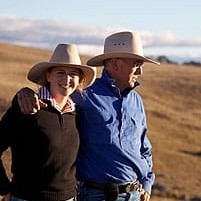 Mr Rogers said demand for Fullblood Wagyu herd bulls had been so strong this year that he had already sold out of this year's crop, as yearlings.
The business approaches management of its Wagyu herd a little differently than the Angus operation, he explained.
"We wouldn't dream of creep-feeding our Angus calves, but given that we've taken the high-Tajima route with the Fullblood Wagyu, we're prepared to push those calves along, including some creep-feeding while they're still on their mothers."
'Breeders of F1 cattle want to use those bull calves for mating as yearlings, and looking after them a little more as calves allows us to sell them at that young age."
While the Rogers core business today remains the well-known Wattletop Angus stud, they continue to produce about 200 F1 calves each year, in addition to the small Fullblood program.
Ninety percent of the F1s are sold off their mothers to avoid Guyra's cold winters, mostly into the live export trade to Japan, through Elders International's Jason Carswell. Most go to a business in Japan that runs seven feedlots, relying virtually entirely on Australian F1 feeders.
This year, Wattletop's AI-bred steers and heifers averaged $940 on-farm, with the naturally-mated steers making $850. Their naturally-mated heifer siblings are either sold into the boat trade, or to Aronui, Stanbroke or Rangers Valley feedlots.
Are F1's compromised in growth rate?
Compromise in growth rate between straightbred Angus and F1s is often a subject of scrutiny among Angus breeders considering an extension into F1 breeding.
Mr Rogers provided some figures on the 2012-drop Wattletop F1 steers, which averaged 332kg when weighed in April, with a top of almost 400kg at 7-9 months of age. Their heifer siblings averaged 305kg.
The 2013 drop AI steers by benchmark F1 sire Michifuku averaged 300kg in March at 7-8 months, and were trucked on March 20 at $940 each. Heifers were trucked a month later averaging 302kg.
Mr Rogers said while he knew there could be 'fantastic opportunities' to custom feed F1s under longfed programs, he had never been tempted.
"My brother was asked once how he was going in custom-feeding, and his response was, 'It's the only thing that makes school fees look cheap'," he said.
Lock Rogers spoke at the 12th National Wagyu Conference in Geelong, attended by almost 200 Wagyu breeders, brand program managers, lotfeeders and other stakeholders from all states plus Japan, the US, New Zealand, the Philippines, South Africa, China and the UK.