70pc chance of El Nino
Hunt on for hay thieves
Milton Jones gets chopper license back
Wellard welcomes ChAFTA
AgForce tackles biosecurity concerns around CSG
New Qld mine law will affect billions of litres of groundwater
$30m drought loans for Victoria
70pc chance of El Nino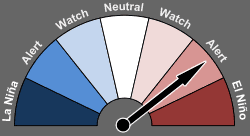 The Pacific Ocean has shown some renewed signs of El Niño development in recent weeks, according to the Bureau of Meteorology. Above-average temperatures in the tropical Pacific Ocean have warmed further in the past fortnight, while the Southern Oscillation Index (SOI) has generally been in excess of El Niño thresholds for the past three months. Climate models suggest current conditions will either persist or strengthen. These factors mean the Bureau's ENSO Tracker status has been upgraded from WATCH to ALERT, indicating at least a 70pc chance of El Niño occurring. Not all indicators have shifted towards El Niño. Tropical cloudiness near the Date Line and trade wind strength are close to average, suggesting the atmosphere is still not firmly linked with the warmer ocean below. However, trade winds have weakened several times over the past few months and SOI values have remained generally negative, suggesting at least some atmospheric response to the underlying ocean conditions. International climate models expect the warm tropical Pacific Ocean temperatures to persist, with most models predicting values near or beyond El Niño thresholds for the next two to three months. Regardless of whether El Niño fully develops, warmer-than-average tropical Pacific Ocean temperatures, combined with cooler waters currently to the north of Australia, increase the chance of some El Niño-like impacts. For many parts of Australia, this suggests below average rainfall and above average temperatures in the months ahead, as shown by the November–January Climate Outlook.
Hunt on for hay thieves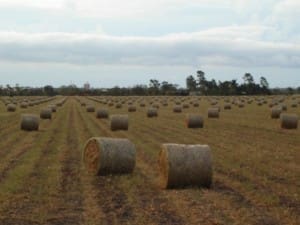 Queensland's Stock and Rural Crime Investigation Squad is seeking assistance from the public to identify one or more offenders who entered a farm property on the Warrego Hwy at Brigalow sometime between October 28 and October 31, 2014. The offenders gained entry to a paddock on the property by cutting the wires on an external four strand barbed wire fence. They then entered the farm paddock with a vehicle and stole a quantity of five-foot round bales of freshly cut barley hay. If anybody can assist with locating the offender/s for this matter, please contact Plain Clothes Senior Constable Darrell Dunstone at Toowoomba SARCIS on (07) 4614 2114.
Milton Jones gets chopper license back
Northern Territory cattleman and helicopter operator Milton Jones who starred in a reality television show about life in the Top End has won back his license to fly. The Civil Aviation Safety Authority cancelled the license of Mr Jones, the star of the Channel 10 reality program Keeping Up With the Joneses, after the show aired in 2011 due to regulatory breaches. During the show Mr Jones was filmed towing his teenage son Beau behind a Robinson R22 helicopter while he wake-boarded in a race against a jet ski. Another episode featured Mr Jones' young son start a helicopter engine while sitting at the controls. Despite the breached regulations, the Administrative Appeals Tribunal found Mr Jones should be allowed to fly again once remedial training on rules and regulations was completed. "The incident involving the jet ski and towing his son on the (wakeboard) were probably the most serious matters because they were obviously foolish actions that put other people in jeopardy," senior tribunal member Bernard McCabe found, according to a NineMSN report. It was also found that Mr Jones had broken regulations through low flying, failing to wear a seatbelt or lifejacket correctly, and doing aerial photography without a commercial pilot's license. The tribunal also found Mr Jones had failed in his duty of care in safely operating and navigating an aircraft but did not deem it necessary to cancel his licenses.
Wellard welcomes Australia China Free Trade Agreement
Wellard Rural Exports yesterday congratulated the Australian Government and Trade Minister Andrew Robb on the successful negotiation of the China-Australia Free Trade Agreement (ChAFTA). "Negotiation of the ChAFTA is of utmost importance for the whole agriculture sector, and specifically for the farmers and businesses that rely on the live export trade," Wellard Managing Director Mauro Balzarini said. "This Free Trade Agreement, combined with soon to be agreed health protocol for slaughter and feeder cattle, has the potential to grow farm gate returns for a large number of Australian farmers. Exporters to China are receiving strong demand for quality food, and specifically for red meat. Our company is approached regularly by Chinese interests to supply this important market." The ChAFTA provides a number of benefits to Wellard and its partners including the elimination of all tariffs on live animal exports within four years, including the 10 per cent tariff on live cattle (pure-bred breeding cattle already enter China duty free), elimination of the tariffs on sheepmeat (currently ranging from 12 to 23 per cent) within 8 years and the elimination of the 18 per cent tariff on frozen sheepmeat offal within 7 years. "We are very excited about China's potential and its strong demand for cattle and sheep, both live and boxed," Mr Balzarini said.
Two field days to tackle Coal Seam Gas biosecurity concerns
Biosecurity concerns, particularly in regards to coal seam gas (CSG) activities, will be the focus two field days coming up at Miles. The Livestock Biosecurity Network (LBN) and the Weed Society of Queensland are jointly delivering a biosecurity-planning workshop at Miles this Friday, November 21. LBN Regional Manager Dr Sarah-Jane Wilson will use the workshop to explain how local livestock producers can use the LBN biosecurity farm plan template to identify and manage biosecurity risks. AgForce Projects is also delivering a biosecurity field day at Miles in on December 2. AgForce Projects CSG Project Officer Daniel Phipps said biosecurity has become a significant concern for landholders, partly due to the increase in coal seam gas activities occurring on property. "The AgForce Projects team undertook a survey of Queensland landholders affected by CSG earlier this year that revealed many are concerned about biosecurity. CSG is an industry that is operating across a diverse landscape and with increased traffic through or around your property there is an increased risk of biosecurity issues arising." The field day will outline resource company obligations to manage pests and weeds, as well as other crucial information to mitigate potential biosecurity breaches.  The Miles CSG and Biosecurity Field Day is free for all landholders and runs from 8.30am to 2pm on December 2. For more information or to register visit www.agforceprojects.org.au. For more information about the LBN/Weed Society of Queensland workshop visit at Miles on November 21 visit www.lbn.org.au
New Qld mine law will affect billions of litres of groundwater
A Queensland parliamentary committee this week recommended the passing of a new piece of legislation that will allow coal mining companies to remove billions of litres of groundwater without having to buy licences or adhere to caps, according to the Lock the Gate Alliance. The anti-CSG and coal mining group says the Water Reform and Other Legislation Bill will give mining companies a statutory right to take so-called "associated water" with no limit, no need to buy licenses, and no right of appeal for affected landholders and communities. The alliance says most of the large volumes of water mines will remove will be from regional aquifers that feed towns, cattle stations and the tributaries of the Belyando River, and some will also be diverted from recharging the Great Artesian Basin. The group says the new law will give coal mining companies a statutory right to take so-called "associated water", a privilege already enjoyed by coal seam gas companies in Queensland. "The Great Artesian Basin is an irreplaceable asset for inland Australia, and one state should not be allowed to jeopardise it in this way, just to fix water scarcity problems faced by their mining mates," the group said.
$30m drought loans for Victoria
$30 million in Drought Concessional loans will be made available to Victorian farmers following agreement between the Australian and Victorian governments. Minister for Agriculture, Barnaby Joyce, said now that the high-level settings were agreed, the focus would shift to finalising the scheme guidelines and the delivery arrangements to allow farm businesses to apply. "I am pleased to say we have now reached broad agreement with the Victorian government, and are on the way to making these funds available to Victorian farm businesses," Minister Joyce said. "The loans will provide much needed help to those experiencing drought to restructure their existing business debt, meet ongoing costs of running their farm business and/or undertake drought recovery activities." The five-year loans will fund up to 50 per cent of eligible farm business debt up to a maximum of $1 million at an initial concessional interest rate of four per cent. This is in addition to the Farm Finance Concessional loan scheme already available in Victoria, which is another significant assistance measure for Victorian farm businesses in need. Victorian Minister for Agriculture and Food Security, Peter Walsh, said the Rural Finance Corporation of Victoria would deliver the new drought scheme. For more information visit www.ruralfinance.com.au and agriculture.gov.au/assistance.