Vic Govt to scrap alpine cattle grazing trial
The newly elected Andrews Labor Government in Victoria has announced it will scrap an alpine cattle grazing trial that had been revived by the previous Coalition Government. The state's new environment minister Lisa Neville told ABC radio that the previous Bracks Labor Government banned cattle grazing from alpine regions in 2005-06 because of evidence showing that the practice caused significant environmental harm to the region. "We believe the science hasn't changed," she said. The Mountain Cattleman's Association says grazing reduces fuel loads and mitigates the risk of bushfires, and is calling for the alpine grazing trial permitted by the former Coalition Government and federal environment minister Greg Hunt to proceed. "If we get the opportunity to sit down with the minister, we can prove a point that it's imperative that the trial goes ahead," association president, Charlie Lovick told ABC. Hundreds of cattle were due to enter the Alpine National Park in coming months for the second year of a three-year study.
Qld opens Jakarta trade office
The Queensland Government has officially opened a new trade office in Jakarta. Treasurer and Minister for Trade Tim Nicholls said the office will help to grow Queensland's already strong relationship with Indonesia, which currently involves a two-way merchandise trade worth more than $2.3b last financial year. "Maintaining and further strengthening our ties is an important part of opening up business opportunities now and creating the jobs of the future," Mr Nicholls said following a recent trade mission with Queensland business representatives to Indonesia and Singapore.
Eight airlifts for snake bites in 11 weeks
A little girl was airlifted from Goondiwindi to Toowoomba last night after suffering a suspected snake bite to her leg. An RACQ CareFlight Rescue helicopter spokesperson said she was the eighth suspected or confirmed snake bite victim RACQ CareFlight Rescue has airlifted in 11 weeks. Other cases included a teenager from a property at Milmerran, a 10 year old boy from Warwick, a 20 year old woman holidaying on Fraser Island, a boy from Toowoomba, a girl from Tara and a woman from Texas. The CareFlight spokesperson urged people who suspect they have been bitten by a snake to remain calm and limit body movement to prevent the venom spreading. They should immediately call triple zero and a bandage should be applied to compress the bite, wrapping it tightly around the affected area.
Police pursuing hay thieves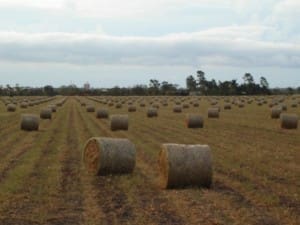 Queensland Police are seeking assistance from the public to identify one or more offenders who entered a farm property on the Warrego Hwy at Brigalow sometime between October 28 and October 31, 2014. The offenders gained entry to a paddock on the property by cutting the wires on an external four strand barbed wire fence. The offender/s then entered the farm paddock with a vehicle and stole a quantity of 5 ft round bales of freshly cut barley hay. If anybody can assist with locating the offender/s for this matter, please contact Plain Clothes Senior Constable Darrell Dunstone at Toowoomba SARCIS on 4614 2114.
Small exporters chase registration rebates
The first round of the Australian Government's $15 million, four-year package to assist small exporters received over 600 successful applications for registration rebates across all sectors of the agricultural export industry. Minister for Agriculture, Barnaby Joyce, said successful applicants from the meat, dairy, egg, fish, horticulture and grain industries would receive a rebate of 50 per cent on export registration charges up to a maximum of $5000. In addition to rebates for small exporters, the $15 million package includes a review of export fees and charges as well as grants for projects designed to directly benefit small exporters.
70pc of chickens in UK supermarkets infected with campylobacter: FSA
The UK's Food Standards Agency (FSA) has published the cumulative results from the first two quarters of its year-long survey of campylobacter on fresh chickens, which showed that 70 per cent of chicken sold in UK supermarkets were infected with the bacteria. The FSA said tackling campylobacter was its "number one food safety priority" and it is spearheading a campaign to bring together the whole food chain to tackle the problem.  Campylobacter is killed by thorough cooking; however it is the most common form of food poisoning in the UK, affecting an estimated 280,000 people a year. Poultry is the source of the majority of these cases. The FSA said results to date showed:
18pc of chickens tested positive for campylobacter above the highest level of contamination (Above 1,000 colony forming units per gram (>1,000 cfu/g). These units indicate the degree of contamination on each sample.)
70pc of chickens tested positive for the presence of campylobacter
6pc of packaging tested positive for the presence of campylobacter with only one sample at the highest level of contamination (>1,000 cfu/g)
More details on FSA website here
Importer fined for ham scam
A ham scam has netted an importer and his company a $25,000 fine for breaching Australia's strict importing requirements. Perth-based Topas Pty Ltd and its director, Paqualino Licastro, breached strict conditions of their import permit by importing ham from unapproved regions in Italy in 2011. The company was fined $22,000 and Mr Licastro was fined $3000 for offences in relation to the importation of 2241 kilograms of Parma leg ham in a sea freight consignment. Department of Agriculture spokesperson Raelene Vivian, said the prosecution sent a strong message to businesses and individuals who knowingly breach Australian biosecurity laws. "Products containing animal or plant material may carry exotic pests or disease which could have devastating impacts on human, animal and plant health," Ms Vivian said. "That's why these requirements are critical—for instance if Foot-and-mouth disease were to enter Australia it would cost the economy more than $50 billion over 10 years."
Wild tiger attacks cattle in Langkat, North Sumatra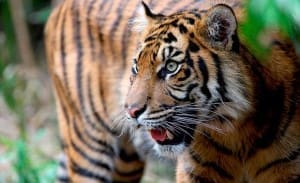 Indonesian news agency ANTARA has reported that a Sumatran Tiger has recently been preying on cattle belonging to the local residents of a village in Bahorok Sub-district of North Sumatra Province. District spokesperson Pabel Turnip said dwindling numbers of natural prey in its habitat in Mount Leuser National Park meant the tiger was aggressively hunting for food in the local village.  "In fact, the local people are raising their cattle in the area within the tiger's hunting corridor, and this has driven the tiger down to the residential area in Bahorok," Turnip explained. He said local residents were being urged to change their cattle-raising method by avoiding the tiger's zone to prevent further incidents. The local authority has set up a restriction zone for local residents in the area around the tiger's habitat, while local rangers are maintaining a round-the-clock armed guard at the location. It is estimated that fewer than 400 Sumatran tigers exist in their natural habitat today.
$5000 scholarship available for ag students
School leavers looking to start an agricultural-related university degree are being encouraged to apply for the prestigious Horizon Scholarship. The RIRDC provides $5000 per year for the duration of a student's university degree. The Horizon Scholarship also offers students annual industry work placements that give them first-hand exposure to modern agricultural practices, access to industry leaders, professional development workshops and opportunities to network and gain knowledge at a range of industry events. To be eligible for The Horizon Scholarship students must be entering their first year of university and studying a degree related to agriculture, such as agricultural science, rural science, livestock/animal science, veterinary science, agribusiness or plant science. Student must also have started their tertiary studies no later than two years after leaving high school. Applications for the Horizon Scholarship are now open and need to be submitted by 30 January 2015. Shortlisted applications must be available for a telephone internet in late February 2015. The Scholarship winners are announced at the end of February 2015.  Application forms can be downloaded from the RIRDC website at www.rirdc.gov.au/horizon or by contacting RIRDC on 02 6271 4132.