The Federal Government has delivered on a budget commitment of $3.9m to support the Beef Australia 2021 expo in Rockhampton.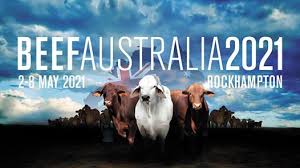 Member for Capricornia, Michelle Landry, said the event plays a major role in showcasing Australian beef to the world.
"2021 is an important opportunity to champion Australia's fantastic beef products domestically and internationally," Ms Landry said.
"Rockhampton's contribution to the industry is central, with Beef Australia facilitating new trade and export opportunities by connecting the local supply chain to international industry leaders.
"Preparations are well underway for the next event, which will feature more than 5000 cattle from over 30 breeds, a trade fair promoting more than 500 businesses; a symposium, seminars and property tours to deliver new research information to producers.
"And let's not forget Queensland is the epicentre of beef production in Australia, with more than 12,000 businesses contributing $5.47 billion to the national economy."
Minister for Agriculture, Senator Bridget McKenzie, confirmed that the $3.9 million election commitment to help showcase quality Australian beef to the world had been signed, sealed and delivered.
"This is an investment not only in Rockhampton—the beef capital of Australia—but in an industry that's delivering economic benefits to Australia, to regional economies and to farmers' hip pockets.
"Our government is backing Australia's beef producers by helping to improve returns by maintaining and securing new export markets, and achieving lower tariffs through our free-trade agreements—particularly with Korea, Japan and China.
"We're backing an industry that creates direct and indirect employment opportunities for around 404,800 people.
"The beef industry is a powerhouse of Australian agriculture, with cattle and calf production valued at about $10.8 billion, and beef and veal exports valued at almost $9.5 billion.
"Anything our government can do to support and sustain this significant contributor to Australia's economy and the many thousands of people who work in it, especially during drought, is an investment in the future of agriculture."
The 2021 Beef Australia Expo will be held in Rockhampton, Queensland from 2 to 8 May.
Source: Federal Minister for Agriculture