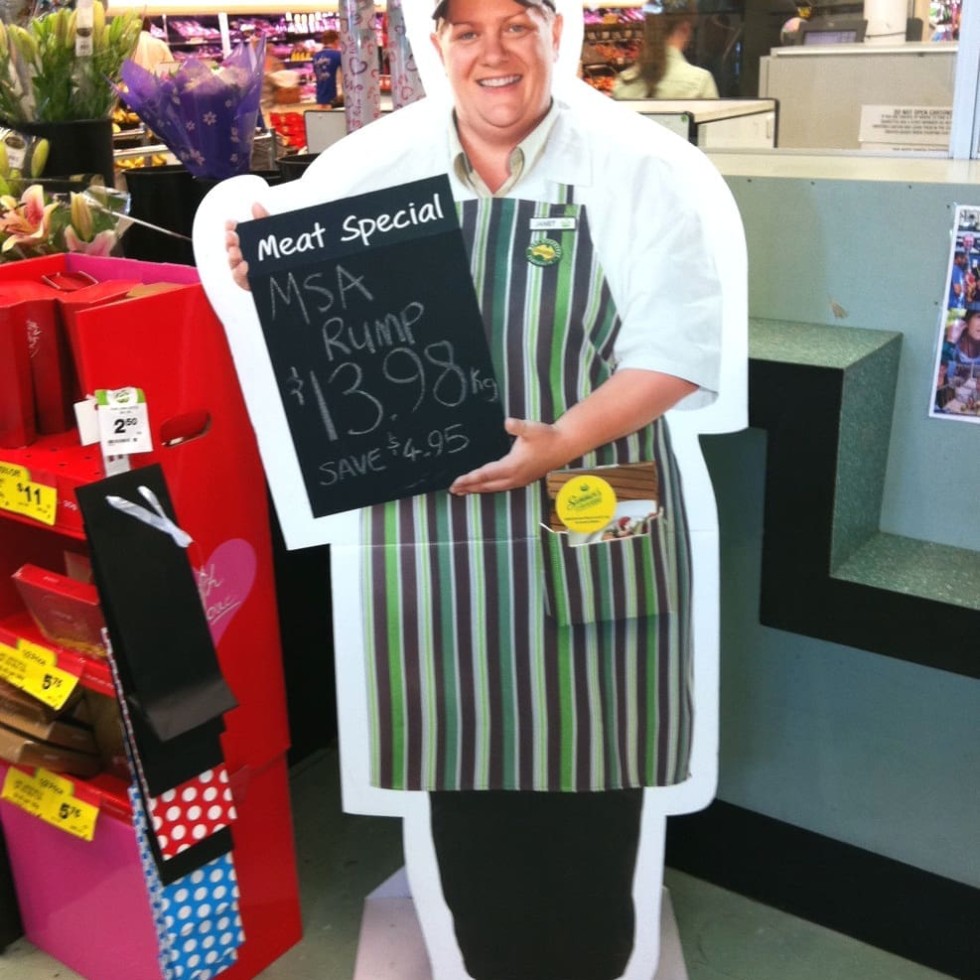 Woolworths' has stemmed the tide of consistently better sales performance recorded by its major competitor Coles, in the latest quarterly financial results posted by both companies late last week.
The result turns around a two-year sequence where Coles' Australian supermarkets and liquor division has recorded stronger growth than the equivalent Woolworths' supermarket division.
Woolworths on Friday announced sales growth of 4.5pc for its first quarter of the new financial year, while the Coles supermarkets division logged a sales increase figure of 4.4pc.
In combination, the two represent almost 57 percent of national retail sales in the beef segment.
Woolworths' Australian Food and Liquor division delivered sales of $10.6 billion for the quarter ended October 6, up $500 million or 4.5pc over the same period last year.
Woolworths described the result as 'solid,' despite weak
trading conditions impacted by price deflation and consumer uncertainty.
Chief executive Grant O'Brien said Woolworths' result was underpinned by an "ongoing commitment to price leadership, which continues to drive unit and customer growth as we reinforce Woolworths' position as Australia's lowest-priced full range supermarket."
"Our customers continue to benefit from lower average prices as reflected by deflation of 4.3pc for the quarter, driven by marketing campaigns such as 'More Savings Every Day' and deflation in the fresh food division (including beef)," he said
As anticipated, retail trading conditions remained subdued last quarter with ongoing consumer caution reflecting cost of living pressures, higher unemployment and uncertainty prior to the Federal Election, a Woolworths statement to the market said.
The quarter delivered increased market share, customer numbers, basket size and items sold, Mr O'Brien said.
Managing director for Woolworths Australian supermarkets Tjeerd Jegen, said results across meat, seafood and deli departments were pleasing, and the company's online business also continued to deliver strong growth, strengthening Woolworths position in the online food market.
Coles result similar
A day earlier, major competitor Wesfarmers Ltd announced its Coles retail sales results for the first quarter of the 2014 financial year.
Managing director Richard Goyder said the Coles supermarket and liquor division had recorded sales of $6.9 billion, up 4.4pc for the quarter ended September 30.
"Our continued focus on improving merchandise offers and value for customers was reflected in strong transaction and volume growth achieved across our retail businesses," Mr Goyder said.
"Volume growth remaining strong, particularly in fresh produce. Coles continued to offer customers better value through ongoing investment in lower prices."
Food and liquor price deflation (cheaper prices) of 2.5pc was recorded during the quarter as a result of significant fresh produce deflation and Coles "continued investment in lower prices to deliver better value to customers."
"In an environment where the cost of living has become the single most important issue for Australians, Coles remains committed to lowering prices… for our customers," Coles managing director Ian McLeod said.
Price war grinds on
The unprecedented price war that has unfolded over the past three years between Coles and Woolworths has been great for customers, both companies maintain.
It has delivered sustained cuts to prices, right across the supermarket sector. While the best known as become $1-a-litre milk, beef prices have also been slashed, with MSA rump regularly selling for $13.50-$14/kg, and regular beef mince for just $5/kg this year.
There us now deep price discounting evident in many fresh food categories. While these price cuts on basic food staples could not have come at a better time for the average consumer being whacked by big price rises on electricity, gas, health and health insurance, the darker side to such a strategy is that somebody has had to pay for those lower prices, and it has been the suppliers.
Coles and Woolies claim to build strong relationships with some specialised suppliers. While that's undoubtedly true, it's simply undeniable that overall, they've been ruthlessly squeezing their suppliers.
Prices in Woolies supermarkets are now on average about 11pc lower than they were three years ago. That's taking into account, the continuous price cuts on specials and promotions.
This means the consumer who spends $100 in a Woolies supermarket today is walking out with around 11pc more goods than they did when they spent $100 in late 2010. Over the three years, the total average price cut at Coles has been 6pc.
Indeed the two strategies have evolved into a highly complementary mix – strengthening the big two against all other players in the retail space – in the case of beef, primarily independent butchers.
Both companies have been able to record solid increases in dollar sales. Over the three years Coles increased its dollar revenue by 16.4pc, and Woolies by 13pc.
And despite the fact that has meant they have had to supply even bigger increases in volumes, because of their price cuts; their profits have increased at an even faster pace: by 24 pc for Woolies, by 40pc in the case of Coles.
The bottom line is that Woolies has actually increased its profit margin from 7.2c in the sales dollar three years ago, to 7.65c today.