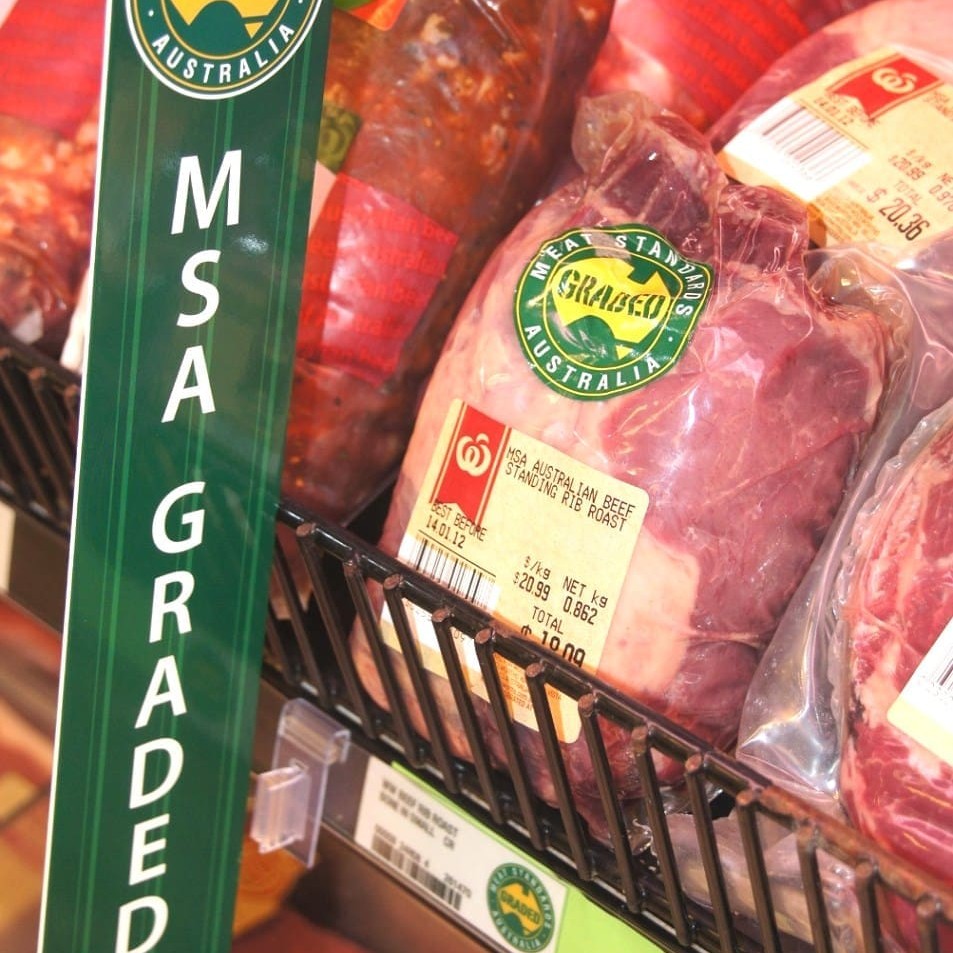 Supermarket retailer Woolworths closed-out the 2012 year with a slightly improved national retail value share for annual fresh meat sales, driven by a lift in beef and lamb turnover, according to recent industry research.
Woolies easily retained its mantle as the largest retailer of fresh meat (all species) in Australia, lifting sales by 0.16pc, according to Neilsen Homescan survey data. The company accounted for 34.24pc of fresh meat retail sales across the nation in 2012.
Woolworths introduced the Meat Standards Australia grading program at consumer level for both beef and lamb during the reporting period.
Major retail rival Coles improved its sales of fresh meat as well, rising 0.28pc last year, but this was driven primarily by chicken and pork sales, Neilsen results suggest. Coles accounted for 23.05pc of sales across the 2012 year, roughly two-thirds of Woolies' sales value.
The biggest improver amongst retailers, in percentage terms, at least, was discount retailer Aldi, which lifted fresh meat sales last year by 0.5pc, to 5.82pc.
Aldi recently announced it will increase its capital investment in Australia to more than A$2.5 billion after expansion from the eastern states into South Australia and Western Australia. The company will spend more than $500m building two distribution centres to support 40-45 stores in SA and a further 60-70 stores in WA.
The move west comes 12 years after the German-owned eighth-largest retailer in the world opened its first Australian stores. It will be several years however before Aldi is ready to commence retail operations in the west.
In the meantime the company will continue to grow its store network on the eastern seaboard where it opened its 300th store recently, opening between 20-25 stores a year since entering Australia in 2001.
Beef segment shows gains to butchers
In the beef segment of the December Neilsen report, there was evidence of independent butchers improving value market share in the lead-in to Christmas, at the expense of both major supermarket groups.
For the rolling average quarter reporting period ended December 29, butchers accounted for 24.8pc of all beef sales, by value – up 0.5pc from the previous reporting period, and the best result for butchers since July last year.
In contrast, Woolworths fell 0.8pc to 31.2pc, while Coles also declined a little, to 22.9pc. The Woolworths figure was coming off a two-year high, however, where the company registered a 32pc share in total beef sales in both October and November rolling quarters.
The Aldi group improved its share 0.2pc to 7.6pc in the December rolling quarter, while other retailers monitored in the report, including the independently-owned IGA group, and 'other' retailers showed little movement.
Beef strong performer in protein pricing
Beef produced the largest improvement in average annual value of all major proteins during 2012, Neilsen Homescan's report suggested.
Beef lifted in average value by 33c/kg to $10.06/kg compared with a year earlier. Chicken improved by just 1c to $7.66/kg over the same period; lamb dropped 30c/kg to $11.59/kg; and pork lifted 21c/kg to $10.18, largely due to higher feedgrain costs.
It should be noted that prices reported by Neilsen are measured as the average $/kg value of the items in the surveyed consumer shopping baskets, and do not attempt to represent the overall value of beef and other proteins being sold in the retail marketplace.
For the rolling quarter ended December 29, beef's average value lifted further, to $10.50/kg, while chicken also climbed by almost $1/kg to $8.54/kg.
Shifts in category share
In terms of value share of the total protein market, beef's share for 2012, at 38.07pc, represented a 0.27pc slide from a year earlier, with higher price a contributor. A strong finish to the year erased some of the larger early losses.
Chicken picked up a little ground, being 0.15pc better than a year earlier (25.8pc of all meat sold, by value), while pork declined a little to 9.9pc share. Lamb showed a modest 0.18pc improvement to 13.6pc, due mostly to cheaper prices from historic highs seen back in 2011.
Not surprisingly, in the run-in to Christmas, seafood increased its share significantly, as did turkey, which almost double to 1.7pc share during the rolling quarter ended December 29. In comparison, beef's image as a 'non-festive season' meat choice saw it fall away a little during the final rolling quarter for the year, sliding 1.6pc to 36.2pc.
Note: Unless otherwise stated, comparisons are made on rolling quarterly figures, instead of monthly figures, because they are regarded by analysts as being more representative of longer-term trends.