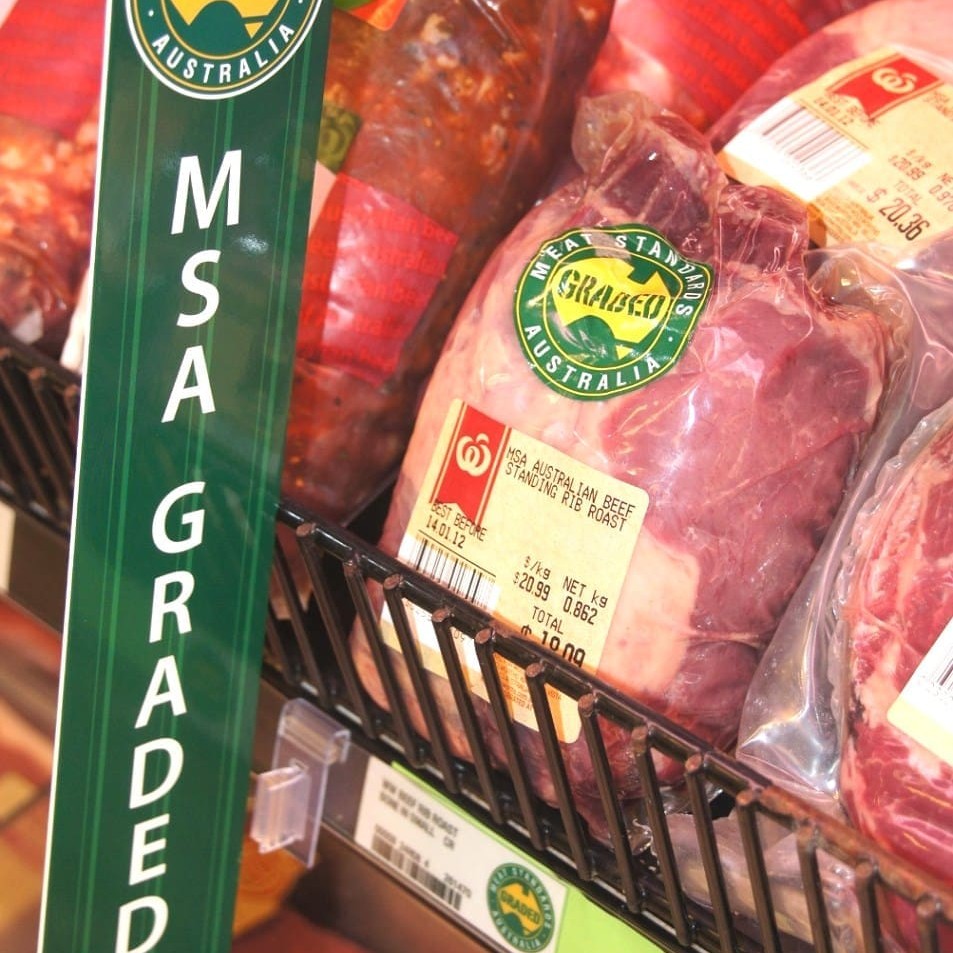 The nation's largest red meat retailer, Woolworths, will this week launch an extension of its Meat Standards Australia program into lamb.
In a high-profile January launch, Woolworths adopted MSA grading on its beef offer, including clearly identified labelling on pre-packs, extensive in-store signage, and mainstream media support.
From this week, the retailer will extend that process into lamb in stores in New South Wales, progressively rolling-out into other states in coming weeks, becoming the only large supermarket in the country to offer certified MSA-graded Australian lamb to customers.
The MSA program will cover five popular lamb cuts: easy-carve lamb leg roast, lamb valentine steak, boneless loin, frenched cutlets and rack roast.
Some observers see it as a logical extension for Woolworths to broaden its MSA footprint into lamb, leveraging off the positive consumer endorsement for the tenderness guarantee scheme already. Woolworths has claimed double-digit growth in beef category sales since its January adoption of the program.
General manager of fresh food, Pat McEntee, said Woolworths was proud to be the first supermarket in the country to bring quality-guaranteed Australian lamb to customers.
"Woolworths is famous for its fresh food and this is another example of how we are bringing the best of Australia's meat to consumers," he said.
As part of its brand pitch, Woolworths consistently make conspicuous references to 'Australian' in its beef and lamb in-store packaging, and commentary in developments like this week's MSA launch.
"We've been working closely with Meat and Livestock Australia for more than a decade on developing the MSA grading system that takes the guesswork out of buying and cooking Australian lamb. MSA is an industry-audited program that delivers an eating quality guarantee," Mr McEntee said.
"All our customers need to do is look out for the MSA-graded logo, identifying that specific cuts have been graded to meet high standards for tenderness, juiciness and flavour."
As it has with its beef offer, Woolworths will also provide information booklets in stores to guide customers on how to cook the MSA lamb cuts to achieve best results.
The MSA program for lamb – closely mirrors the principles pioneered in beef under the pathways system – was developed by MLA over the past eight years and involving 15,000 consumers taste tests and more than 90,000 lamb samples.
"Since we launched MSA beef in January this year we have been really pleased with how it has been received by our customers," Mr McEntee said. "Clearly customers have loved it and have indicated that they are looking for fresh meat cuts that they can trust to be quality guaranteed."
MSA involves all sectors of the supply chain from paddock to plate. A wide range of cattle and sheep management practices, processing systems, cuts, ageing periods and cooking methods have been researched to determine the impact each has on eating quality. These attributes are factored-in to a series of production pathways used to deliver optimal eating outcomes.
According to the most recent Australian Meat Purchasing Data for the month of March, Woolworths accounted for 33.5pc of national lamb retail sales by value – little changed over the past four reporting periods. Coles held 27.4pc in March, its strongest relative position among the 'big four' meat proteins – beef, chicken, lamb and pork.
Beef Central will monitor monthly lamb market share in coming months, and report back to readers over any changes that may be attributable to MSA engagement.