JUST days after US President Donald Trump announced plans to slap hefty duties on steel and aluminium imports to the US, speculation is emerging about retaliatory actions among trading partners, and the prospect that this might include sanctions against US beef.
In a protectionist measure, the US President on Thursday announced a 25pc tax on imported steel products and a 10pc duty on aluminium products.
While the impacts on Australia are far from clear, the announcement has unsettled world financial markets, with Japan's Nikkei index falling 2.4 percent over following days.
A US Department of Commerce report released last month made a raft of recommendations, including a global tariff of at least 24pc on all steel imports and 7.7pc on aluminium imports from all countries. President Trump said those tariffs, would remain "in place a long period of time."
President Trump acted after meeting with steel and aluminium executives, who urged the him to act, saying they had been unfairly hurt by a glut of imports and foreign countries circumventing trade rules. It is not immediately clear if the tariffs would exempt certain trading partners, such as Australia.
Independent Australian beef industry analyst Simon Quilty has started to scrutinise the possible implications for Australia, and especially beef trade, should the situation escalate.
While it was still very premature to know what, if any, retaliation from export countries would take place, he pointed out that agriculture in the past had been used as a 'political football' in such disputes.
Global response so far
Already, media has reported that China has threatened to curb imports of US soybeans in retaliation, while the European Union said it would propose countermeasures within days.
Politicians within the US and overseas raised concerns it could launch a trade war that could hurt other industries.
"Every time you do this, you get a retaliation, and agriculture is the number-one target," said Senator Pat Roberts, Republican chairman of the Senate Agriculture Committee.
Should restrictions be imposed on Canadian steel and aluminium products, Canada would take responsive measures to defend its trade interests and workers, Canadian foreign affairs minister Chrystia Freeland said.
"We will not sit idly while our industry is hit with unfair measures that put thousands of European jobs at risk," European Commission president Jean-Claude Juncker said in a statement. He said the EU would "react firmly and commensurately," and would develop a plan to retaliate, per World Trade Organisation rules.
Potential impact on Australian meat markets
US meat exports were critical in maintaining the current prices domestically in the US, and as the northern hemisphere moves into the summer months with an expected increase in meat pricing due to good demand, any trade sanctions could see US meat exports been forced back onto the US domestic market, Mr Quilty suggested.
"This could have serious ramifications on Australia's export beef prices into the US," he said.
"Conversely, the impact could be significant on key beef export markets for Australia such as Korea, China, Canada and Mexico. Any retaliatory tariffs being placed on US meat exports could see the demand and value of Australian meat exports to these countries increase," Mr Quilty said.
He stressed that while such forecasts might be regarded as 'premature', the impact of any retaliatory duty on US meat exports by importing countries could be so significant on US domestic pricing and export markets that it was "worth at least understanding the markets and volumes of all commodities involved and some potential scenarios."
The US imports steel from more than 110 countries, with imports in 2016 representing 8 percent of all steel traded globally. The volume of US steel imports in 2016 was more than 15pc larger than that of the world's second and third-largest importers, Germany and South Korea.
Major steel suppliers included Canada, Brazil, South Korea, Mexico, Russia and China; while aluminium suppliers included Canada, China, Russia and the UAE.
Potential impact on the US beef industry
"When looking at the key steel supply countries involved and their role as importers of US meat, the potential impact seems quite significant," Mr Quilty said.
Eighty nine percent of US beef export markets are impacted, 83pc of pork markets and 39pc of poultry exports that go to steel-related supply countries, he said.
Given the reliance of US pork on exports, with 22pc of production impacted, this would seem the most vulnerable market to any retaliatory actions, while beef exports could be argued the next most vulnerable, with 11pc of US production exposed to export.
"But importantly, close to 90pc of US export beef goes to countries that are potentially impacted on steel. US poultry exports are possibly the least vulnerable, due to fewer key steel supply countries buying US poultry exports compared to pork and beef," Mr Quilty said.
"The response already from key trading countries such as Canada and China and global financial markets reacting so swiftly to the downside is pointing more and more to potentially retaliatory measures on many fronts, and unfortunately US meat exports could be dragged into this," he said.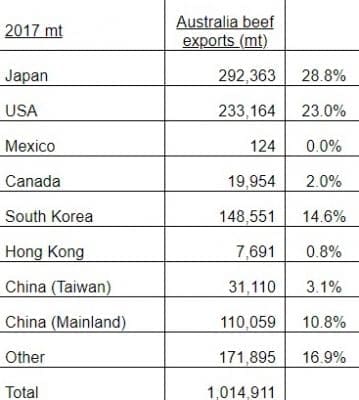 The table at left shows Australian beef exports for 2017 and shows the markets that we overlap with the US in and the potential upside and downside should meat exports be drawn into any retaliatory action.
Trade into the US currently represents 23pc of total Australian exports, and remains critical as certain items like lean beef and flank steaks have few alternatives globally, Mr Quilty said.
"So a fall in US domestic pricing could have a significant impact on export pricing. But as stated earlier, items like middle cuts might see some upside if Japan imposes tariffs as a counter measure."
How might countries respond?
The Dow Jones Newswire last week suggested that China might initially respond via soybeans. China imported $12.4 billion worth of American soybeans last year to feed its pigs. China relies on these imports to keep stockfeed prices low, which in turn keeps the politically-sensitive price of pork low, the Dow Jones report said.
Pork is China's staple protein, and a sizable component in household budgets – the newswire argued that China is arguably now in a better position to handle disruption from American soy.
Global soybean prices remain low, at barely half their 2012 peak, and Brazil, America's main competitor for the Chinese soy market, is growing another bumper crop. Brazil's 2017-18 soybean harvest is expected to clock in at 112 million tonnes, the second highest ever, according to Reuters' February survey.
Another suggestion has been that Canada and Mexico might walk away from North American Free Trade Agreement, given its state of uncertainty.
CNBC News service reported recently that South Korea (another large US beef customer) was considering filing a complaint with the World Trade Organisation if the US went ahead with heavy duties levied on steel.
"It is still early days on knowing the full impact of the Trump decision on imported metal tariffs, but it would seem that many countries are willing to respond with counter-measures – either by imposing their own tariffs on US goods, or via the World Trade Organisation," Mr Quilty said.
He suggested it would become a 'wait and see approach' as countries watched closely the lead of other countries before responding.
"Either way, President Trump seems to be resolute on this strategy which I believe will force change – resulting in an equal and opposite reaction in other sectors," he said.