Feedback from substantial meat wholesalers contacted by Beef Central yesterday suggests that the trade is still waiting for the traditional kick in business in the lead-up to Christmas.
"We're waiting for it to happen, but there's no life in the meat job at present," one large wholesaler whose company has a footprint across all three eastern states said yesterday.
"Normally we get a roll-on in demand by this stage of November, but there is little evidence of it yet, despite the warmer weather leading into barbecue season," he said.
"Consumers appear to be sitting on their wallets, more than normal – wary about expenditure over the Christmas period."
Wholesalers, like most businesses, made decisions based on history, and many had bought meat forward for a position in November, based on an expected rise in demand, and so far that had not really eventuated, he said.
"We're certainly not making the margin we expected at present, based on what we paid earlier for beef. Everybody's the same – beef was bought at a price and put aside on expectation of some growth in trade by mid-November, which hasn't happened."
"At this stage, it looks like I will be paying less for meat in December than what I did in October, and that's highly unusual – almost unprecedented," he said. "I would call it really flat."
With only a five-week run now until Christmas, wholesalers appear to be banking on seeing some 'really significant' lift in turnover from now on, to catch up.
The wholesaler contact said export processors were pushing whatever meat they could back onto the domestic market, due to continued flat trading conditions into North Asia, Russia and elsewhere, while still trying to avoid flooding the market.
"They are putting just enough meat into the market every week to hold-up prices, without collapsing the domestic trade altogether," he said.
One potential demand influence being discussed is the extremely large volumes of pork legs bought cheaply by Coles and Woolworths earlier in the year, now being turned into hams for the Christmas trade.
Those hams are currently being retailed at $7.99/kg, and could go to a bargain-priced $6.99/kg in the run through to Christmas, contacts said.
"The majors are promoting heavily, trying to turn Christmas/New year into a 'two-ham' period," one trader said. "If that's successful, that could put a further dent in beef sales over the holiday cycle."
"They would have valued those legs at around $3.20/kg when they were bought, and some were as cheap as $2.70-$2.80/kg. At most, it costs $2.50/kg to process them into ham, and picking up some weightgain along the way, they would still be making 80-100c/kg on those hams, or about 15pc. At $7.99/kg, they will make a dollar a kilo more than that."
Some stakeholders have also pointed to recent major supermarket beef 'specials' as evidence of recent demand falling short of retail expectations. National supermarket trade contacts denied it yesterday, however, saying their sales were tracking solidly, year on year.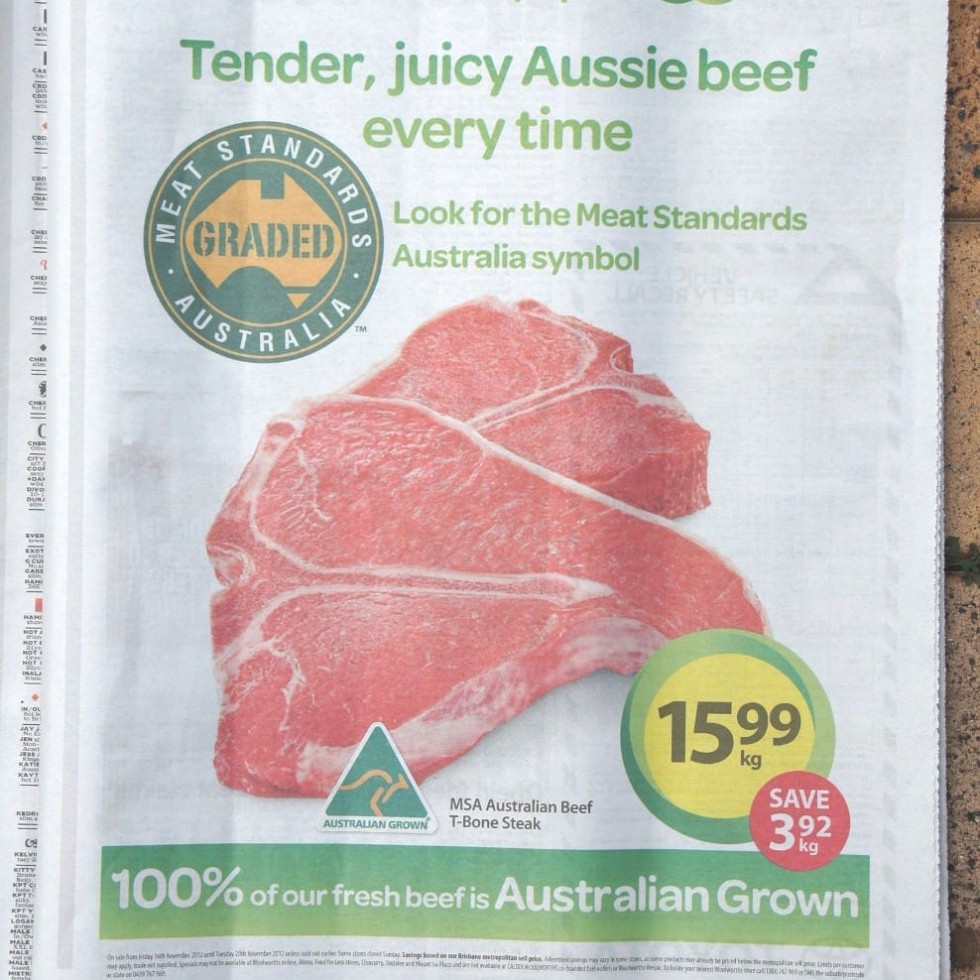 Checking out capital city newspapers in Perth, Sydney and Brisbane last Friday, while returning from the MLA annual general meeting, Beef Central noted Woolworths was running national full-page advertisements for MSA T-bones at $15.99/kg, a $4 discount. Wholesalers say that was because Woolworths was probably 'moving a position' they had taken earlier on T-bones, in anticipation of stronger November sales.
The cube roll market is another good example of the flat demand currently being experienced.
"There's nothing like the hype for cubes that we saw this time last year," a large trader said.
"They are probably $1/kg cheaper than they were. A-cipher cubes that were making a strong $11/kg this time last year are $10/kg now, and struggling to maintain it. If they are lighter weights, under 2.2kg, MSA cube rolls are holding their ground (partly because supermarkets were sucking-up lighter, younger meat), but there is so much heavier (3.1kg and up) export-type cube roll around, it is coming under considerable pressure."
"Heavy striploins and rumps are suffering the same fate. They are holding this job back," he said.
Beef Central understands one export processor unloaded a large quality of heavier steer cube rolls that were making $10/kg a fortnight ago, for $9/kg this week, because they needed to move them.
Flatness in export destinations was a key problem, the trader said.
"Russia's gone to sleep: they have problems with money and quota. The Japanese are hanging back waiting for bigger volumes of US beef in expectation of the relaxation of age limits on US beef. But they need to be careful they don't get short-suited on that: US production may battle to find the product to export," he said.
"The only cut that is booming at the moment is chuck rolls into Korea – they're on fire, making $5.60/kg, versus $4.60 anywhere else."
Body beef in higher demand
Another multi-state wholesaler agreed that beef demand had been flat so far in November, saying significantly cheaper prices for lamb, back at least 10pc on a year ago, had also contributed to the trend by displacing beef consumption.
He also noted a trend back into carcase meat, mostly out of southern Australia, where spring turnoff had grown rapidly and prices had declined. Carcase meat was looking increasingly attractive against carton supply for butchers at present.
"Some of those retail shops that were 80 percent carton meat are now doing 20pc carton meat and 80pc body beef. They've done a complete flip-around, because of the attractive price of that southern carcase beef," he said.
"They've done their sums, and the high availability and cheaper price of body beef out of Victoria and NSW looks attractive. The butchers know, as soon as they hit a certain carcase price-point, it is worth their while to bone-out beef themselves. It has now reached that point."
"They're thinking, 'there's opportunity here: we have time on our side to break down a hindquarter or a forequarter. There's been a 30-40c/kg carcase weight drop in southern body beef price over the past two months, which has stimulated the interest."
A large southeast Queensland processor commenting in Beef Central's weekly kill report on Monday suggested the flat demand being seen currently in the domestic retail and food service segments could impact on profitability in slaughter cattle in the next week or two, if demand did not turn around soon.