REPORTS continue to circulate out of the meat trade this week about large volumes of Wagyu beef, mostly lower marbling scores from crossbred animals, looking for a home in the domestic market.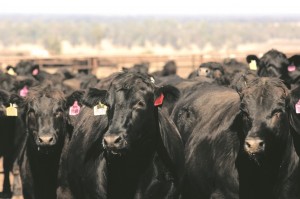 "When supply and demand on any beef commodity don't correspond, it tends to be the domestic market where the impact is seen first – and it's certainly  very evident for Wagyu beef at present," a source close to the Wagyu meat and livestock industry told Beef Central yesterday.
Trade sources this week said there was clear evidence of chilled Wagyu product in the market pressured by pack-date issues, which were now pushing owners to make decisions. Some of this, at least, appeared to be product diverted out of export programs. Lower range marbling scores appeared to be the worst affected – and particularly for loin cuts.
"It's not hard to find evidence of significant discounting, with a lot of high-quality Wagyu beef being pushed into the domestic market at very competitive prices," one contact said.
"From our experience, discounts on some lines may be more than 50pc," he said.
Large independent retail butchery chain Sutcliffe Meats, with 14 outlets in Sydney and regional NSW, is currently offering a Wagyu steak special (marbling score 3-4 crossbred, from a high-profile supply chain) for $28.99/kg for both eye fillet and striploin. That's considerably below the same cuts for 100-day grainfed Angus, supplied by prominent Angus brand programs. The Wagyu product was described by Sutcliffe management as 'very competitively priced' when picked up from a wholesaler, impacted in-part by pack-date issues.
Another grainfed beef supplier which routinely sells grained Angus sirloins into a large retail chain said he had lost the business, for the timebeing, because the retailer was offered marbling score 6-7 Wagyu from a major producer, for a cheaper price. Another wholesaler had 5+ marbling score F1 Wagyu striploins available this week for $19.50/kg – cheaper than grainfed Angus.
There are also reports this week of Wagyu cuts that had been frozen-down earlier – a highly unusual practice, but symptomatic of oversupply pressures – that was now looking for a home in the domestic market.
What's behind the over-supply?
"It's been a tough time in the Wagyu industry, especially while feedgrain prices have been as high as they have," a trade source said.
"Japan is certainly one market that we think has been over-supplied with high-end product out of Australia at the moment," he said.
However a combination of other factors also appeared to be in play:
Oversupply due to the widely-discussed build-up in Australian Wagyu cattle production over the past two years was considered by trade sources as a fundamental part of the equation (click here to view Beef Central's March discussion about the build-up in Wagyu numbers).
On the demand side, a contributing factor had been lower demand out of the northern hemisphere this past summer, due to the intense heat. "Summer is barbecue season, but when temperatures become too extreme, barbecues are turned off, and people head inside," an export trader said. "It's impacted recent beef consumption generally in countries like Japan and Korea, and also in Europe – and it applies as much to Wagyu as general beef."
Another factor in reduced Wagyu demand had been seen in the Middle East, which normally attracted large numbers of holiday-makers from Russia and the Ukraine over the summer period. But this year, Russians had stayed at home in droves, because of the Soccer World Cup, limiting demand for Wagyu in the Middle East region.
The extreme price competitiveness from other proteins, especially pork, had also taken the edge of Wagyu demand, as it had for all red meat offerings.
Australian Wagyu beef exports had also been impacted by the substantial rise in US beef exports in the past year in key markets like Japan and Korea, especially good-quality grained Angus beef, which was 'one step down' from some lower-marbled Australian crossbred Wagyu supply, Beef Central was told.
The Wagyu beef surplus is also prompting some tough marketing decisions on Wagyu fed cattle, partly driven by record-high feedgrain prices. A large processor's livestock manager told Beef Central he had recently been offered a large line of 300 Wagyu F1 steers, 260kg estimated carcase weight, that had done only 250 days, that the owner was looking to slaughter – well before their conventional feeding period was up. Other processors have recounted similar stories in the past fortnight.