Domestic live cattle cash prices in the US hit new all-time record highs last week due to tight supply caused by drought, longer-term herd reduction and strong beef sales – but what does it mean for Australian exports of lean manufacturing meat?
US packers were forced to pay as high as $133/cwt last week for cattle in Kansas and Texas, surpassing the previous Southern Plains record of $130/cwt set in March last year, Cattle Buyers Weekly reported on Friday. Prices in northern US states also hit new records last week.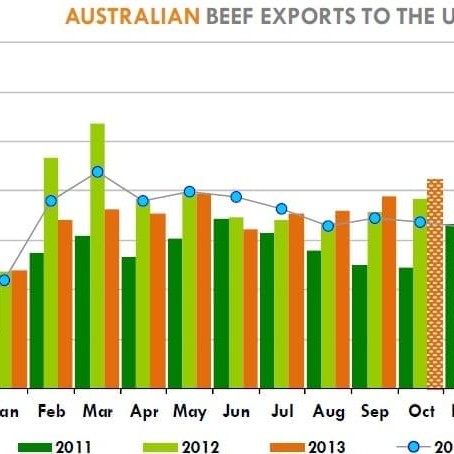 Cattle prices have been on a steady climb since the last northern hemisphere summer, and analysts expect short cattle supplies to continue to move US domestic beef prices higher in 2014.
US cattle slaughter numbers have now reached lows not seen since 1991 and 1979.
While a wide range of factors affect the demand and price for Australian lean grinding beef in the US market – rate of US cow slaughter, imported beef volumes and exchange rates among them – it is important to note the overall environment for cattle and beef prices at this point in the US and what futures prices are indicating for prices in 2014.
US analyst firm Steiner Consulting says current cash prices for US cattle and USDA Choice beef cutout values are 2.2pc and 0.7pc respectively above levels this time last year.
"Tight cattle supplies on feed and very high feeder cattle prices will for the most part limit the number of US cattle coming to market in 2014," Steiner said in its most recent weekly imported beef report.
"But that's not new. After all, cattle prices for the most part were high during much of 2013 and yet the price of lean beef remained well below year-earlier levels," Steiner said.
There was one caveat that buyers of lean grinding beef, be that from US or imported sources, needed to keep in mind: the expected sharp decline in US cow slaughter will necessarily reduce the supply of lean grinding beef available in the US market.
"We can quibble about the specific numbers, but at this point the odds favour a reduction in US cow meat coming to market next year," Steiner said.
"How does the market respond to this? First, we will try to buy more imported beef from foreign sources, like Australia. Prices will need to be high enough to bid product away from other markets, however, and the exchange rate remains critical in affecting the US's overall competitiveness with other markets."
The second response was to try and get more lean fed beef to go into the grind, Steiner said. Some of that was possible in 2013 as the price of some cuts, especially knuckles, flats and even insides, was low enough to make that viable.
But with fed cattle prices now rocketing higher, price-points at which rounds and chuck cuts could go into the grinder would rise, Steiner said.
Finally, the price of domestic fat beef trimmings will also impact the overall demand for lean beef in the US.
Tight domestic fed cattle supplies would tend to limit overall fat trim supplies and this could limit, to a certain extent, the overall demand by beef manufacturers.
"The bottom line is that ever-rising beef and cattle prices in the US will continue to make for a challenging environment next year," Steiner said.
"The exchange rate remains a key factor, as it has the ability to dramatically change the relative prices for imported beef products. And escalating prices for cattle and beef will increase the price-points at which leaner cuts go into the grinder."
"Last year, chicken prices were more competitive to beef, especially going into the spring. It's likely we will see more of the same again in 2014, which will continue to make for a difficult trading environment for buyers and sellers of lean grinding beef," Steiner suggested.
Last week's imported beef trading summary:
Imported lean grinding beef trade into the US last week remained limited in volume as overseas packers, particularly Australian, continued to offer beef at prices well above what US market was trading at the time.
"In the short term, there is a two-fold challenge in trading beef in the US," Steiner said in its weekly imported beef report.
"Firstly, the price on domestic fresh lean grinding beef is well below what Australian beef is trading. This is not all that unusual for this time of year, when domestic lean beef supplies increase while imported beef volumes are light due to limited NZ slaughter."
The second challenge was the sharp increase in the price of domestic 50CL beef trimmings and the impact this has on the overall price of the meatblock (the balance of fatty and lean manufacturing beef used to formulate a typical hamburger pattie).
Cattle slaughter in New Zealand is coming out of its seasonal lull, passing 24,000 head for the week ending October 12 – almost double the levels seen back in August. Market participants suggested the NZ kill should recover to close to 40,000 head per week by mid-November, providing greater competition for Australian grinding beef in the US market.
High beef prices forcing McDonald's to change menu
Meanwhile rising beef prices resulting from the shrinking US beef herd and lower rates of kill is forcing fast food giant McDonald's to adjust its 'value menu', changing from a $1 price-point to as much as $5 in its US operations.
McDonald's will still offer items for a dollar or less in its US restaurants, however a second and third-tier menu list will move some prices higher when the company's new menu launches early next month.
Consecutive years of drought, deteriorated grazing pastures, and rising feed costs have forced cattle producers to liquidate herds. With fewer cattle available and demand remaining steady, US beef prices have increased, presenting restaurants with the challenge of absorbing higher food costs in a weak economy.
McDonald's menu change is expected to allow franchisees to improve profit margins which had been struggling as the company avoided passing higher beef prices on to consumers. The competitive marketplace and slowed economic recovery are expected to limit McDonald's profits in the final three months of the year.