One of the great success stories of Australian export beef into the Korean market over the past decade has been the penetration of the Darling Downs Wagyu product into the E-Mart supermarket retail chain.
The Australian Agricultural Co's Darling Downs Wagyu has been one of Australia's true flagship beef brands in the Korean export market, helping 'pull through' a range of other products with it.
But with the suffocating effect of Australia's import tariff disadvantage against US beef in the Korean market, long-lasting, hugely successful and deeply committed supply alliances like this run a real risk of disappearing forever.
Since the US signed its unilateral Free Trade Agreement with South Korea in March last year, the competitiveness of Australian beef has been gradually disadvantaged, and will progressively get worse, unless we can quickly strike our own FTA with Korea.
E-Mart is South Korea's largest supermarket retailer, and to mark ten years of successful trade in AA Co's Darling Downs Wagyu, the company pulled out all the stops last week to celebrate the occasion with a week-long, nationwide promotion and sampling event.
E-Mart chief executive Inn-Chul Hur hosted Australia's Ambassador to Korea, Bill Paterson, AA Co director David Crombie, Austrade representatives, MLA regional manager Michael Finucan and other stakeholders at a special ceremony.
The company threw big licks of money at the promotion, advertising through national print media, and spreading awareness via social media, which is hugely popular in smart-phone crazy Korea.
An example of just how highly E-Mart regards its Darling Downs Wagyu offer in its stores is the fact that the brand is arguably the only imported beef product sold in Korea that has a clear and overt brand presence at retail. That includes point of sale material, specific cabinet space allocation, retail stripping and pack stickers (see photos).
Virtually all other imported beef, both US and Australian, sold at retail in Korea carries little more than retailer and Country-of-Origin label identity.
AA Co's general manager, marketing, Jason Strong, who has just returned from the E-Mart anniversary celebration, said the secret to achieving a unique brand presence in Korean chilled cabinets like this came back to the unique three-way relationship that had been fostered over a decade between AA Co, the importer, OK Meats and E-Mart as the retailer.
"That relationship has worked extremely well over the years," Mr Strong said.
"It has not only been a great mechanism for getting the product into the market, but establishing the awareness of the brand."
Korea is easily the largest export destination for the Darling Downs Wagyu program, and E-Mart's ability to turn over big volume has been a big part of that.
So why haven't other brands been able to establish a similar brand presence?
"It's a combination of the trading relationship, but also the critical mass of high-quality product that a large operation like AA Co is able to deliver to a company of the size of E-Mart," was Jason Strong's explanation.
He suggested there would not be many Wagyu producers anywhere in the world able to provide the volume of product that E-Mart requires, on a consistent basis and to the company's specification – even if they focussed their entire production at that single customer alone.
"It highlights the challenge of going to retail, where everybody wants to get closer to the consumer – but how do you actually make sure that you get consistent quality product and consistently supply the volumes they need? There is no point filling two metres of retail space today, and being unable to generate the volume to fill it tomorrow."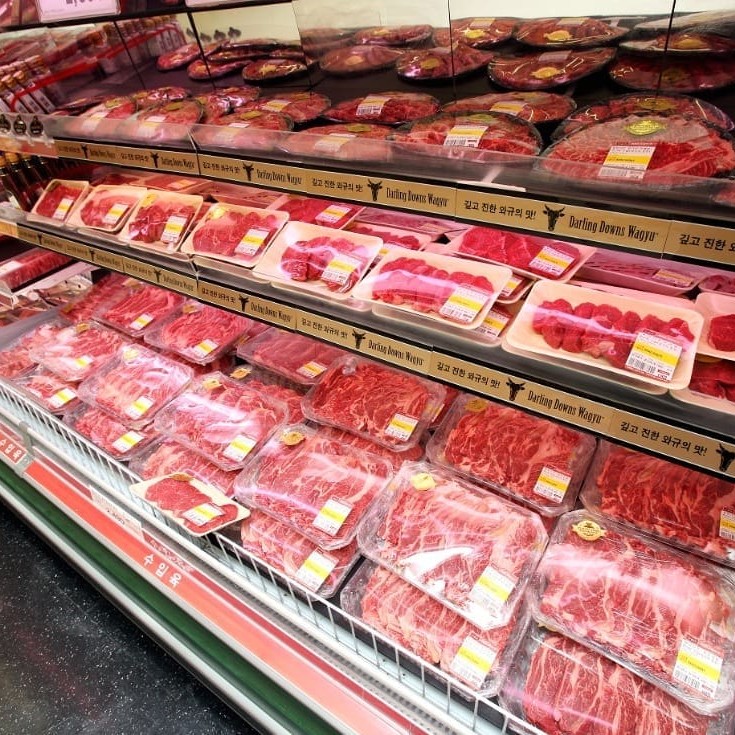 While the bulk of the Darling Downs product going to E-Mart is forequarter meat, the trade does include some hindquarter cuts, and only limited volumes of loin items.
"E-Mart provides a volume base for a large percentage of the carcase, allowing us to then marry that supply up with other high value loin-cut markets," Mr Strong said.
The spec for Darling Downs Wagyu calls for non-fullblood cattle, mostly F1s to F3s, fed 300-350 days on a Japanese style ration predominantly producing marbling score 4s and 5s, with some higher. Cattle for the program are not only bred by AA Co, but are sourced via a network of dedicated Wagyu feeder cattle suppliers across Australia's three eastern states.
The product compares more than favourably with the general run of Korean domestic Hanwoo fed beef, as well as USDA Choice and Prime grade offers in E-Mart's stores.
In response to the tenth anniversary of the launch of Darling Downs brand, E-Mart's week-long promotion also included extensive in-store promotion and displays, and product sampling – a big part of Korean supermarket retail strategy.
Sales turnover during the promotional week rose by three times the normal weekly volumes seen through E-Mart stores. Some stores raised concerns that the might in fact run out of product.
"They had never seen anything like the sales on the first day of the promotion," Mr Strong said.
"The Koreans have a very fast information flow, principally via their smartphones. We did the promotional launch by 10.30am; by 11.30 am, the news story and photos was already on the internet and being widely spread via Twitter and other social media, and by early afternoon the stores were packed."
"In one store we visited, the product was moving so fast, the store staff had tables in front of the chilled cabinets stacked high with pre-packs, because they could not replenish the chilled cabinets fast enough. Customers were just grabbing them as they went by."
Mr Strong said the company's successful alliance with E-Mart demonstrated what could be done in partnering with large-scale retail or food service customers in other markets to develop a brand over the long-term.
He saids the program could not have enjoyed the success it has in Korea without the efforts of staff with specialist skills, including branded beef general manager Pat Dempsey and genetics/feedlot manager Greg Gibbons.
FTA delay jeopardises future viability of programs like Darling Downs
While AA Co's Darling Downs Wagyu has historically competed effectively with Korea's own domestic Hanwoo beef and imported USDA Choice and Prime in E-Mart shelves, that is going to become increasingly difficult in the current trade environment, where a growing import tariff disparity exists between Australian and US beef.
As discussed earlier in Beef Central, the US and Korea reached agreement over a Free Trade Agreement which came into effect in March last year. The FTA immediately reduced Korea's import tariff for US beef from 40pc, to 37.33pc. This year Australia is at a 5.3 percent tariff disadvantage to the US, and each year that figure grows by an additional 2.67pc.
The only solution is for Australia to expedite the completion of its own FTA with Korea, to start to correct the tariff differential. Earlier disparate views within Australian industry sectors over the desired terms of an FTA with Korea have not helped that process, in Beef Central's opinion, sending somewhat confusing signals to government.
The mounting tariff burden has so far been 'managed' within the AA Co/OK Foods/E-Mart supply chain, but it is only a matter of time before it directly impacts on the trade – possibly permanently.
"Because of the strong and lasting relationship we have with both OK Foods and E-Mart, we've managed so far to maintain our price position with our customer," Jason Strong said.
"But that growing competitive tariff pressure is only sustainable for so long. Within a year or two, we would be putting a very large percentage of our margin at risk, solely because of the US/Australian tariff differential."
From March next year, the tariff differential grows to 8pc, and above 10pc the year after that.
"It very quickly gets to a tipping-point where the Korean customer has to make an adjustment, based solely on tariff pressure. It ultimately could jeopardise the entire Darling Downs program with E-Mart, unless urgent action is taken over striking an FTA deal," Mr Strong said.
"We're not talking about a gradual decline in trade over the entire 16 year term of the tariff decline in the US-Korea trade agreement. The damage will be done within the next two to three years," he said.
"Ten years' committed trade development work could be just washed away."
"If we don't find a way to get some equity back into Australia's tariff position, very quickly, then the damage will be done – and it will be irreparable, in my opinion."
"Without an FTA, the Australian beef industry will still end up with a trading position in Korea, but it will be a very different trade from what it is today. It would be a price-sensitive commodity product, at a lower price, and would likely be a lot more volatile, with periods of demand, and periods without," Mr Strong said.
"If we don't reach a conclusion on an FTA, I can guarantee our twentieth anniversary in Korea for Darling Downs Wagyu will be nothing like our tenth."
Mr Strong said it was clearly evident during the recent anniversary event in Seoul that Australia's new Korean ambassador, Bill Paterson, was acutely aware of the issue, and was strongly committed to achieving an FTA outcome as soon as possible.