PROGRESSIVE Western Australian independent butcher Milan Matutinovich was the big winner in the national finals of the coveted Sausage King competition staged on the NSW coast on the weekend.
Entries representing the Matutinovich family's The Corner Butcher retail outlet in the Perth suburb of Morley claimed two of the six 2020 National Sausage King titles on offer, in the beef and gourmet divisions.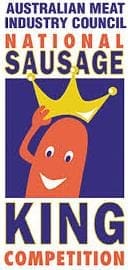 The Australian Meat Industry Council's ever-popular National Sausage King competition was staged at Terrigal on Saturday.
Finalists from six Australian states competed in beef, lamb, pork, gourmet, continental and poultry sausage divisions, after earning the right to represent their states in dozens of regional Sausage King competitions held over the past 12 months.
Judges scored entries on visual presentation in both raw and cooked state, as well as flavour, texture juiciness and overall liking in the tasting component, and performance on the hotplate.
The event culminated in a glittering awards dinner saluting the efforts of independent retail butchers on Saturday night.
Perth's Milan Matutinovich and wife Cyra have now earned five national sausage king titles over the past 18 years they have been trading. Their business, the Corner Butcher, services retail and wholesale customers right across Perth, ranging from fresh meat to value-added meals, continental cuts, gourmet meats and smallgoods.
Undeterred by advances being seen in retail market share by the major supermarket groups across Australia, the family is opening a second store in WA's Swan Valley, on the Great Northern Highway in wine country, around mid-year.
"We see a strong future in independent butchery, under the right model," Mr Matutinovich told Beef Central.
"For us, the customers keep coming back because they feel special, and we look after them with service and range. It all comes down to service, and good consistent, quality product in a retail business like ours," he said.
"Our plan with our new second shop is to do everything in-house – fresh meat, cooked meats and value-added meal items and smallgoods," Mr Matutinovich said. "Providing a point of difference, with a niche-market feel, is important when competing with the supermarkets."
Like most butcheries, sausages form a mainstay of the Corner Butcher business, with up to ten or twelve varieties regularly in the shop window, rotated for a long list of recipes for variety.
Long gone are the days of 'mystery bag' sausages being sold for $4.99 a kilo. Most of the range in the Matutinovichs' shop retail for $16.99/kg to $18.99/kg.
"Customers are prepared to pay good money for a quality sausage," he said.
"They appreciate the difference with a fresh, local, high quality product, and a lot of that has been driven by TV cooking shows and the internet, and the elevated interest among consumers in doing something a little special with a meal. It inspires people to get out and be a little more adventurous in putting together a quality meal."
Little touches, like using all-natural casings instead of collagen, make the shop's sausages a little more bespoke and 'hand-made.'
"For us, the secret to a good beef sausage is freshness, quality ingredients, quality control and no additional flavourings – keeping it as simple as possible is important."
Look after that, and the taste, texture and appearance look after themselves, and the sausages sell themselves out of the cabinet."
The business sources most of its beef requirements from Borrello Meats, a small domestic processor focused on quality yearling cattle near Gin Gin, 100km from Perth.
Judging by past Sausage King wins, the Matutinovichs are bracing themselves for a massive rise in sausage turnover through their shop after the weekend win, as media channels start to pick up on the story.
"A key for us is that the customers do recognise that we've done well in these competitions – it reinforces their belief that we're producing a good product."
Both Milan Matutinovich and Victorian butcher Pierre Mastromanno, from Piero's Meat Merchant at Highett were inducted into the AMIC Competition Hall of Fame at Saturday night's Sausage King dinner, having earned three or more National Sausage King titles.
Other 2020 Sausage King divisional winners:
Other Sausage King national finals divisions were evenly shared around the country this year (full placings listed at bottom of page):
Putting the small South Australian country town of Cowell on the culinary map was the Klingsberg family team from Our Butcher @ Cowell, national winners in the 2020 lamb division for a lamb and feta sausage.
Prominent Brisbane butcher Brad Cammack from Rode Road Meats at Stafford Heights won this year's continental sausage crown with an Italian pork and fennel creation.
As mentioned above, the poultry division went to repeat winner Pierre Mastromanno, Piero's Meat Merchant in the Melbourne suburb of Highett, for Thai chicken with lemon, line and coriander creation. Last year Mr Mastromanno won the Gourmet/Open sausage crown with a Wagyu beef chorizo creation.
Claiming this year's pork sausage crown was Tasmanian butcher Shaun Bartles, Hygenic Butchery at Somerset.
Several other AMIC awards were announced at the event on Saturday night, including National Apprentice of the Year Bonnie Ewan, from Lucas Quality Meats in the Sydney suburb of Bronte.
In the beef burger division, the national honours went to Patrick Rundell's Tender Gourmet Butchery at Eastgardens, NSW, for his Texas Longhorn burger, while the gourmet burger crown went to Kory Edwards, South Nowra Meats in Nowra, NSW for a chicken curry coconut burger pattie.
Organised by the Australian Meat Industry Council, the Sausage King competition attracts huge interest from the nation's 3000-odd independent butchers and is widely regarded as the meat industry's premier competition.
"Every year we are amazed at the interest we receive from butchers across Australia from country towns to capital cities," AMIC chief executive, Patrick Hutchinson said.
"It's an event that just gets bigger and shows that butchers still play an important role."
And the statistics prove it: each year, Australians spend $660 million on about 94 million kilograms of sausages. Despite the growing popularity of gourmet varieties, the traditional beef banger remains the most popular line.
Full National Sausage King results:
Beef sausage
1: The Corner Butcher, Milan Matutinovich, Morley WA; 2: Gold Coast Fresh Meat Centre, Paul Taylor, Burleigh Heads QLD; 3: Hastie's Toptaste Meats, John Hastie, Wollongong NSW.
Pork sausage
1: Hygienic Butchery, Shaun Bartles, Somerset TAS; 2: Collins Court Butcher, Michael Lamond, Mount Gambier SA; 3: Clifton Beach Butchery, Mitchell Hammond, Clifton Beach QLD.
Poultry sausage
1: Piero's Meat Merchant, Pierre Mastromanno, Chicken Thai Lemon Lime & Coriander, Highett VIC; 2: Vermey's Quality Meats, Marcus Vermey, Butter Chicken, Sandy Bay TAS; 3: Mount Pleasant Butcher, Jamie Hylan, Woodsmoked Belly Bacon, Chicken & Leek, Mount Pleasant SA.
Lamb sausage
1: Our Butcher @ Cowell, Joanne Klingberg, Lamb & Feta, Cowell SA; 2: Pyrenees Premium Cuts, James Collicoat, Coconut Curry Lamb, Avoca VIC; 3: Tender Gourmet Butchery, Adam Stratton, Moroccan Lamb, Hornsby NSW.
Continental sausage
1: Rode Meats, Brad Cammack, Italian Pork & Fennel, Stafford Heights QLD; 2: Purebred Meats, Peter Deiure, Italian Chilli & Fennel, Thirroul NSW; 3: Jake's Continental Butchery, Jacob Wilkinson, Afrikaans Boerewors, Kardinya WA.
Gourmet/Open Class sausage
1: The Corner Butcher, Milan Matutinovich, Cacciatore, Morley WA; 2: Our Butcher @ Cowell, Joanne Klingberg, Merguez, Cowell SA; 3: Pattemore's Meats, Daryl Pattemore, Field Mushroom & Roasted Garlic, Thornlands QLD.
2020 National Sausage Week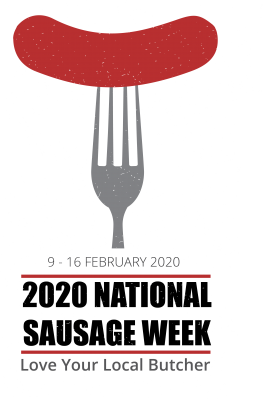 The Australian Meat Industry Council this week launches National Sausage Week, 9-16 February, in recognition of the humble snag.
The image published here will be appearing in thousands of retail butcheries across the nation.