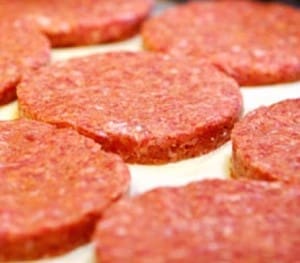 Despite a sharp jump in Australian beef shipments to the US over past weeks, imported grinding meat prices are on the rise, as New Zealand's slaughter season starts to wind down.
New Zealand's beef slaughter is expected to seasonally decline by about 65 percent in the next four weeks, and current pricing is reflecting that. This week's 90CL quote for imported frozen sits at 457c/kg in Australian currency terms, 8c high that last week, but still a long way from prices close to 500c/kg back in March.
In its weekly imported beef summary, Steiner Consulting says the market for imported beef this week was 'very firm', with offerings of lean beef from overseas suppliers as much as a 10c/lb higher than just a couple of weeks ago.
Volume offered from Australia was reportedly light, in part because of strong sales in previous weeks and also because Australian packers are fully aware of the strong seasonality in NZ slaughter and the anticipated sharp decline in NZ product availability in late June and July.
"It happens every year and Australian packers at this time appear content to sit on the sidelines and let business develop at higher levels," Steiner's report said.
The higher prices for imported beef also reflect the very large spread between domestic and imported product. Some end-users may have been caught short-bought, hoping to get a break in lean beef prices, which is usually the case after US Memorial Day (last weekend in May).
"That break never materialised, however, and US domestic lean beef prices actually have moved higher in recent days, helping support imported beef demand," Steiner said.
While prices have for the most part followed the seasonal pattern, the increase in prices this year has happened earlier than normal and prices have increased at a faster pace than the simple seasonal pattern would suggest.
A number of factors continued to support domestic lean beef prices at this time, the report said, and the firm prices for lean beef naturally tended to be supportive of imported beef values, despite the overall increase in product availability (and shipments) out of Australia:
US Cow slaughter
US domestic cow slaughter has been tracking well below year-ago levels for much of this year and it currently stands about 15pc below year-ago levels. US cow-calf producers currently are looking at some of the best profit opportunities in more than a decade, and this has limited the number of cull cows going to market. Calf prices have increased sharply higher since January, now 45pc higher than a year ago.
Young cow herd age profile
US producers currently have one of the youngest, and most productive beef cow herds of the last 30 years. This is because poor forage conditions, high feed costs and overall drought conditions forced producers to liquidate a significant number of cows in recent years. The beef cow herd as of January 1 was 29.04 million head, 3.6m head (11pc) smaller than in 2007, the last year of herd rebuilding. The supply of true cull cows in the market is quite limited and producers have every incentive to hold on to their productive cows this year, Steiner said.
Pasture conditions
US pasture conditions this year remain critical in order to support an expansion of the beef cow herd. There are plenty of indications that producers are holding back heifers in order to expand. Heifer prices have exploded and they are expected to stay high into next year. The main downside risk in the feeder market is weather related, Steiner says. So far, pasture conditions are modestly better than a year ago (which was a decent year) and also near the five year average. Weather reports point to generally benign conditions in much of the Plains for the next two weeks.
Corn price trends
Lower corn prices tend to be bullish for feeder cattle prices and thus bullish for the cow-calf complex and grinding beef market. Lower US feed costs in the short term provide an additional incentive for producers to expand. This means heifer supplies will remain limited and feedlots will become even more aggressive bidders for feeder cattle, Steiner says. The supply of cattle on feed will tend to decline, thus supporting higher cattle prices in the near term (6-12 months).
"USDA recently released its estimates of US corn supplies for next year, calling for an all-time record production and ample ending stocks. Based on current weather patterns, we have seen projections for corn yields that are significantly above trend and which could push corn prices under $4 per bushel," Steiner said. All this is bullish for US beef prices but moderately bearish for pork (depending on the trajectory of PEDv disease cases) and bearish for chicken.
Source: Steiner Consulting, on behalf of MLA.