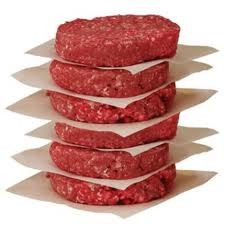 Prices for Australian grinding meat heading into the US market have hit their lowest level in eight months, going strongly against earlier predictions that the trade could be a bonanza for Australian exporters in 2012.
Expressed in A$ terms, prices late last week for imported 90CL (90pc lean meat, 10pc fat) grinding beef fell to 388c/kg, the lowest seen since the week of October 27 last year.
The figure as down from A403.4c/kg the previous week, and the recent high-point of 417.2c/kg a month ago – a 7pc decline, which is now predicted to fall further.
Put in a historical context, however, the current 90CL price isn't that bad: this week a year ago, it was A348c/kg. But at that time the US was entering into the depths of a horrific drought across major beef producing states centred on Texas, which saw record cow kill, and consequently greatly reduced demand for Australian hamburger beef.
Last week, the US imported 90CL beef indicator declined a further US3.5¢ to average US191.5¢/lb CIF (A388¢/kg FAS), with end-users continuing to purchase only for immediate needs. Volume remained thin as end-users purchase only for immediate needs and generally showed little interest in booking product out-front.
Importers also remain wary of a market that has been steadily losing steam since mid-May. With enquiries from the US few and far between, overseas packers have been steadily offering product at lower money. However, so far the price decline has not been sufficient to bridge the gap.
US domestic fresh lean grinding beef prices have also trended down in recent weeks, averaging US221¢/lb last Thursday. While there is often a seasonal decline in demand at this time of year, the magnitude of the price declines in recent years has been quite significant— giving end users cause to factor this in when trying to forward-book product for July and August delivery.
Analysts Steiner Consulting anticipate domestic US lean beef prices to ease another US10¢/lb (A23c/kg) between now and the end of August.
Low supply, drought, currency volatility
A number of factors continue to influence the US imported beef markets. While cattle slaughter in NZ has fallen significantly year-on-year over the past month, Australian eastern cattle slaughter during the first three weeks of June has also been 3pc lower (see this morning's separate report).
For the last six weeks, combined Australian and NZ slaughter (dominated by dairy steer manufacturing beef) is 5.1pc lower than a year ago.
Although the impacts of the recently introduced enhanced testing for non-O157 STEC strains of E. coli for all domestic and imported product in the US market are yet to be seen, the additional costs of testing are expected to make trading to the US market more challenging for Australian exporters.
The additional costs of testing as well as ongoing market uncertainty continue to make the US market much more challenging to navigate for Australian exporters than in past years. If premiums paid by US are large enough, Steiner Consulting suspects meat will continue to flow, but it also notes that the US is now much less competitive than even five years ago versus other customer countries.
Another factor is increased US cow slaughter in recent weeks, currently above year ago levels, as dry pasture again pushes more cows to market and negatively impacts cow-calf operators' intentions to rebuild herds. A very warm winter with limited snowfall has significantly reduced moisture conditions across the US Midwest and Great Plains.
The US$ also continues to be especially volatile. The A$ declined sharply into May due to ongoing uncertainty about the Euro Zone and negative economic news in China. The shifts in exchange rates bear watching both because they directly affect imported beef values but also for what they indicate – fears of a global recession and flight to the safety of US bonds, not a good combination for global beef demand.