THE Thousand Guineas beef brand, representing a collaboration between the Shorthorn breed and processor JBS Australia, earned the bragging rights after an annual consumer taste-test held during Brisbane Show week.
Brisbane's 140-year old Regatta Hotel boasts one of the city's best-known casual dining steakhouses, the Boatshed, which served as the venue for this year's competition.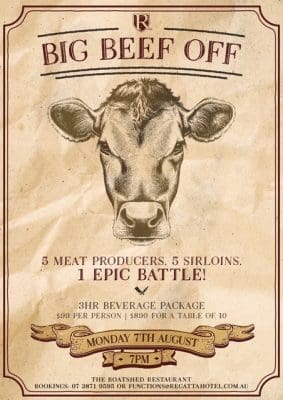 Top MSA-backed consumer brands from major Queensland brand managers JBS, Australian Agricultural Co, Stanbroke Beef, Nolans, Rangeland Quality Meats and John Dee competed for the Big Beef-Off prize.
The competition involves a blind taste testing of branded sirloin steaks using standard consumer taste test criteria of tenderness, juiciness, flavour and overall liking. This year, 170 consumers formed the independent judging panel for the competition, voting on each sample. The sirloins were prepared by the professional team at The Regatta, led by executive chef, Simon Street.
JBS Australia entered its Thousand Guineas Shorthorn beef brand in its inaugural debut in the event.
JBS Australia business development manager Denis Conroy said JBS wanted to test the Thousand Guineas brand against some of the best brands in the country.
"To be able to do it through a blind taste testing, with a large group of 170 consumers involved was a fantastic opportunity. Consumer satisfaction is what we are all about," he said.
Thousand Guineas was voted best overall steak on the night, a significant achievement for the brand, launched only 15 months ago. Thousand Guineas won a similar breed-based consumer taste test last November at Brisbane's Norman Hotel.
"The win was most satisfying, given the independent nature of the judging. We were gratified by the feedback the brand received from Regatta patrons who were extremely impressed by the juiciness and flavour of the product and the overall liking of the beef," Mr Conroy said.
"It is great to be able to be a part of a competition like this; to get feedback directly from such a large group of consumers. It really tells us a lot about where the brand is positioned. The Regatta team have done a tremendous job with this event."
About Thousand Guineas
JBS Australia purchases Shorthorn feeder cattle for the Thousand Guineas brand program. Cattle are grainfed for 140 days at one of JBS's four feedlots, and must achieve a minimum marbling score of two to qualify for the premium brand, which is designed to deliver an excellent eating experience to consumers.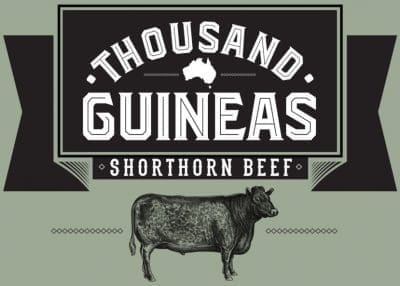 Beef from the Thousand Guineas program is sold into the food service sector both domestically and internationally.
For breeders, this is a premium feeder market for Shorthorn cattle, and as such support is being sought from commercial Shorthorn breeders with suitable Shorthorn cattle available for supply.
Feedback for breeders is available through the JBS Australia system.
Cattle requirements:
Steers and non-pregnant heifers
Pure Shorthorn or minimum 75pc Shorthorn content (cross with British breeds)
380-500kg curfewed weight
Milk or two-tooth
Registration is a requirement for suppliers to the JBS Australia Shorthorn branded beef program who wish to achieve the maximum price for their Shorthorn cattle.