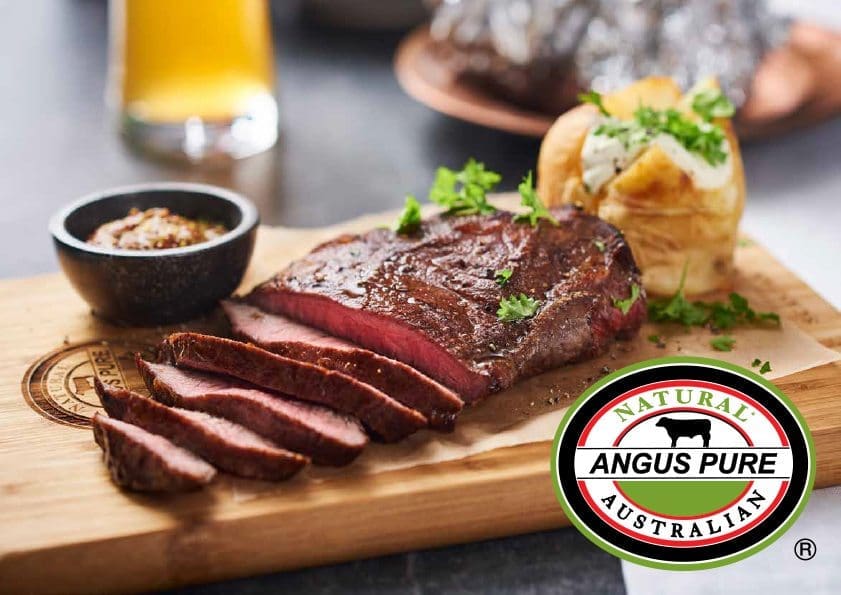 IN AN era when blockbusting, super-rich Wagyu entries tend to dominate major results in branded beef competitions across the country, a natural/grassfed yearling product claimed the 2017 Sydney Royal Fine Food Show grand champion beef exhibit award on Friday night.
A Signature Angus Pure brand entry submitted by Certified Angus Group and Thomas Foods International claimed the major honours among 25 entries.
The Angus Pure brand is produced exclusively by TFI under license from Certified Angus Beef group, owned by Angus Australia members. That arrangement, which has existed for the past eight years, is about to change however, as CAG is in the process of  transferring  ownership of the Angus Pure brand to TFI (see Beef Central's earlier story).
Angus Pure is a quality-assured MSA-graded beef product based on Angus genetics, backed by third-party verification for raising claims to underpin its grassfed/natural status. The product is HGP, antibiotic and GMO feedstuffs free, with minimum 75pc Angus breed content. More brand background below.
Stockyard just misses the branded beef 'grand slam'
It was a case of so near, but so far for this year's runner-up to the grand champion, Stockyard Beef's Stockyard Black Wagyu brand.
After earlier claiming the equivalent grand championship medals at Brisbane and Melbourne Shows' 2017 branded beef awards, Stockyard Black fell just short, being relegated to runner-up in Sydney to TFI's Signature Angus Pure product. No beef brand has yet won all three major capital trophies in the same year.
Stockyard Black was judged Sydney's champion grainfed beef exhibit on Friday night, after claiming the Wagyu beef class. It earned one of the only two gold medals awarded to entries this year, the other going to TFI's grand championship winner.
Stockyard Black Wagyu product is limited to marbling scores 8 and above, harvested from F1-Fullblood Wagyu cattle and fed for 400 days at the company's Kerwee feedlot on the Darling Downs. The product is used at high-end food service in Australia, as well as being exported into more than a dozen countries overseas.
Once again, an odd inconsistency has been exposed in the judging process applied in the Sydney Royal Fine Food Show awards.
In grassfed class judging, TFI's Signature Angus Pure entry earned 90.17 points from judges. In the Wagyu class, Stockyard's Stockyard Black entry earned 90.50 points from the same judges. But when both entries were 're-judged' for the grand championship, the results were reversed. Beef Central would argue that that was unnecessarily, and reflects poorly on the repeatability of the judging process. Better to let the class point-score outcomes speak for themselves.
Integrity underpins Angus Pure program
Thomas Foods International markets its Angus Pure beef under its 'Signature' range, the highest of four product quality levels managed by the company. The Signature range also supports the premium end of TFI's Certified Australian Angus Beef grainfed production, based on marbling score.
DNA samples are taken from animals to allow for whole-of-life traceability to the property of origin.
Expansion in TFI's production of both the CAAB and Angus Pure programs has been accommodated by the completion two years ago of a new state-of-the-art beef boning room at TFI's Murray Bridge plant.
The Signature Angus Pure product is directed into a range of markets, include upper-end food service and retail in Australia, and a host of international markets, including the US, where Australian source-verified natural grassfed products are gaining a significant niche.
To ensure Angus Pure product, brand and trademark integrity, the CAG Group licenses and monitors all points in the supply chain, using the ISO accredited 9001:2008 quality assured management program. All supply chain partners from producers and processor to wholesalers/distributors and end-users are monitored, to ensure adherence to brand requirements and product specifications. All cattle are individually identified and monitored throughout the supply chain and production process to ensure the highest product integrity, enabling information feedback at all points and product traceability.
In earlier branded beef competitions, Angus Pure gained silver medals at the Sydney Fine Foods awards in 2012, 2013 and 2014 followed by a gold medal in 2015. The brand also obtained medals at Melbourne's Fine Food awards in 2012 and 2015, as well as the Best Eating Experience Award at the Grassfed Beef Awards in 2015.
Value-added products
One of the real surprise packets in value-added beef judging at Sydney's Fine Food Show awards this year was the beef jerky section, which attracted no less than 69 entries from 15 exhibitors.
Placed first and second were entries from Nick's Fine Foods' Riverina Jerky, with lemon-pepper and chili-lime flavours respectively, followed by Orara Valley's Extreme chili beef jerky, third.
Full Sydney branded beef results:
Class 1 – Grassfed striploin, grilled.
Gold: Certified Angus Group Pty Ltd, Signature Angus Pure (Produced by Thomas Foods International) 90.17
Silver: JBS Australia, Swift Premium 83.00; NH Foods Australia, Manning Valley Natural (Produced by Wingham Beef Exports) 83.00; Midfield Meat International, Union Station Free Range Grass Fed Beef 82.50
Bronze: Teys Australia, Grasslands Premium Beef 79.00.
Judges' comments: Some wonderful entries, with great flavour displayed in all Exhibits. Exhibits reflect a somewhat better season all round for producers. Exhibitors have entered more consistent and better product all round for judging than past years. Congratulations to all Exhibitors.
Class 2 – Grainfed striploin, grilled.
Silver: NH Foods Australia, Angus Reserve, Est. 154 (Produced by Wingham Beef Exports) 87.17; Andrews Meat Industries, Grainge Angus Beef (produced by JBS Riverina) 86.67; Teys Australia, Riverine Premium Beef 85.83; Bindaree Beef, The Prestige 83.50; JBS Australia, JBS Riverina Angus 82.17; Stockyard Pty Ltd, Stockyard Gold 82.00; Teys Australia, Teys Certified Premium Black Angus 80.83
Bronze: JBS Australia, Thousand Guineas Shorthorn 80.67.
Certified Angus Group, Signature Certified Australian Angus Beef (CAAB) (produced by Thomas Foods International) 57.67.
Judges' comments: A good overall showing in the grain fed Class. Most Exhibits had very good marbling, with good muscle confirmation, mostly deserving of Silver medals.We were very happy with the overall standard and presentation of Exhibits and it was hard to pick a best in the Class as it was so even. Grainfed beef in Australia is in good hands.
Class 3: Open class striploin, grilled.
Silver: JBS Australia, Beef City Platinum 88.67; Andrews Meat Industries, Grainge Signature 3+ (Produced by JBS Riverina) 86.50; Bindaree Beef, Vintage Dry-Aged Beef 86.33; JBS Australia, Thousand Guineas Shorthorn 84.83; Bindaree Beef, Mayfield Beef 83.67; Harvey Beef, Premium West Australian Beef 82.33
Bronze: Bindaree Beef, Highland Park (Produced by Bindaree Beef) 80.50; Woodward Foods Australia, Finest Beef (Produced by Woodward Foods Australia) 80.17 B 303 Bindaree Beef, Cape Byron Angus (Produced by Bindaree Beef) 78.33.
Judges' comments: Great all round Class. Flavour a stand out feature for the majority of Exhibits. Juciness was also identified as strong character this year. Exhibitors should be commended on their presentation and quality of the produce exhibited, congratulations to all.
Class 4 – Wagyu striploin, 10mm style.
Gold: Stockyard Pty Ltd, Stockyard Black 90.50
Silver Andrews Meat Industries, Tajima Crossbred Wagyu (Produced by JBS Riverina) 84.83; NH Foods Australia, Oakey Beef Wagyu 81.00.
Judges' comments: Three very nice examples of grainfed Wagyu. All were very well marbled and had good distribution. Nice muscle size and meat colour. There was some variation in tenderness, with one stand-out exhibit deserving Gold.