GLOBAL burger chain McDonald's has reported a dramatic 30 percent increase in its Quarter Pounder burger sales in its US restaurant operations, since the adoption of a 'fresh (never frozen)' strategy a year ago.
McDonald's made the move after a host of US burger chain competitors promoted fresh-only as part of their burger product offers.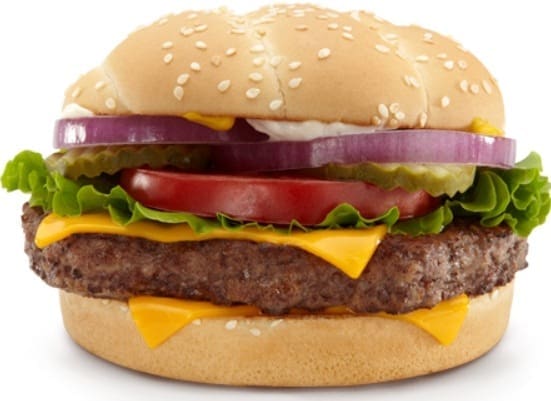 McDonald's US has consistently said that its 'fresh-only' strategy would apply only the company's Quarter Pounder sales in the US, and other beef burger lines, including the Big Mac, Junior burger and hamburger will continue to be made using frozen trim from Australia.
The success of the 'fresh-only' Quarter Pounder strategy over the past 12 months has delivered expanded US market share for McDonald's in its informal eating-out category for the first time in five years.
Some analysts have said that based on the recent consumer response, it may be only a matter of time before McDonald's adopts a 'fresh only' policy across more of its beef burger offering.
The development has considerable significance for Australian beef trade, as virtually all of Australia's grinding beef sales to McDonald's US – our nation's single largest beef customer – are in frozen form. Transport distance and shelf-life would make chilled high volume exports prohibitive, if not impossible.
In a statement to shareholders this week, McDonald's US said the fresh beef transition started as a customer-inspired initiative, to provide them with a 'hotter, juicier burger.'
"The introduction of fresh beef quarter-pound burgers in May 2018 started strong, resulting in a more than 50pc increase in quarter-pounder sales during the first month of marketing promotions, and sales remained strong throughout the year," the company said.
"Our numbers speak for themselves, with the introduction of fresh beef and the promotions including fresh beef quarter-pound burgers helping result in a sustained quarter-pound burger sales increase of 30pc on average throughout the entire first year," said McDonald's USA president Chris Kempczinski.
"McDonald's sold 40 million more Quarter Pounders in Q1 2019 than in Q1 2018"
"Ultimately, McDonald's sold 40 million more Quarter Pounders in Q1 2019 than in Q1 2018," he said.
The transition to fresh beef was the most significant change to the McDonald's US system for years, and the company was able to execute the rollout seamlessly without any interruption to supply across nearly 3000 independent franchisees, operating 14,000 US restaurants.
"We've proven that when we listen to our customers, good things happen," the company's chief supply chain officer Marion Gross said in the statement.
"But we could not have been successful without our supply chain partners who shared learnings and best practices to ensure the massive transformation went smoothly and elevated our existing food quality and safety procedures," she said.
To accommodate fresh beef, McDonald's introduced specially designed packaging for fresh beef patties, developed dedicated kitchen utensils, added new refrigerators designed to maintain proper temperatures and increased the required internal temperature standard for cooked patties in order to optimise quality and safeguard against food safety issues.
The adoption of fresh beef quarter-pounders is just one example of McDonald's evolution and food journey to build a better McDonald's, the company said.
By 2020, McDonald's has committed to sourcing a portion of its beef from its top 10 beef-sourcing countries from suppliers participating in sustainability programs aligned with the Global Roundtable for Sustainable Beef principles and criteria.
The removal of artificial preservatives from its classic burgers was another customer-driven change. Previous commitments include sustainably sourcing all McCafé coffee by 2020, and transitioning to cage-free eggs by 2025.
"Over the last two years, we have accelerated the pace of change around how we source and serve our food. Delivering fresh beef that's prepared when our customers order their food is just another example of how we are raising the bar.  We're just getting started, and can't wait to show you what's next." President Chris Kempczinski said.
"We are committed to transforming more aspects of our business, including offering a more modern and enjoyable dining experience, adding new levels of convenience and technology, and making more positive changes to the food we serve," the company said.
Strong response to testing
Quarter Pounder burgers using fresh beef, cooked when ordered, were initially tested last year in 325 restaurants across the Dallas/Fort Worth, Texas area and 77 restaurants in Tulsa, Oklahoma.
"We received overwhelmingly positive feedback from customers and employees and we're proud to have been part of a test that is creating a watershed moment for McDonald's," said McDonald's Dallas/Fort Worth Franchisee Joe Jasper.  "This test was driven by the franchisees, our region and insights from what our customers are asking for when they visit McDonald's."
The test markets in Dallas and Tulsa found customers love the 'hotter and juicier' fresh beef quarter-pound burgers, delivering a 90 percent customer satisfaction ranking from customers who order the burgers, and 90 percent intent to repurchase.