ENTRIES representing the Speckle Park breed claimed their first Brisbane Battle of the Breeds taste test competition win in 2021 results announced on Thursday.
Lined up for this year's competition, staged each year at Brisbane's historic Norman Hotel steakhouse, were beef samples from four diverse breeds – Santa Gertrudis, Brahman, Charbray and Speckle Park.
Samples were harvested from feeder cattle bred right across eastern Australia, and fed under a 100-day program at JBS Australia's Beef City feedlot near Toowoomba.
The Norman's popular Battle of the Breeds event has been held each year (except 2020, for COVID reasons) since 2016.
Each participating customer gets 100 grams of each breed entry in their plate, and a simple 1-10 score sheet for flavour, juiciness, tenderness and overall liking.
By the organisers' own admission, the judging is not 'science-based', but relies solely on everyday Norman Hotel steakhouse patrons to sample the entries, and register their preference. The customer 'poll', staged over several months, normally culminates during the annual Brisbane Show in August, when the city is full to overflowing with country folk, but the event was postponed again this year due to COVID.
Gauged purely on how the product looked into the hotel restaurant chilled cabinet last week, most of this year's entries displayed marbling scores around 1 or 2. All presented extremely well, with bright meat colour, consistent cut size and and chalky white fat.
Speckle Park cattle are relatively new to Australia, arriving only 14 years ago. Since then, the breed has grown strongly, logging about 4000 calf registrations on BreedPlan last year, and recording 18,000 in total. Registered female numbers have grown 20pc in the past 12 months, among about 500 society members. Although coming off a low base, Speckle Park claims to be the fastest growing beef breed in Australia.
Brisbane's Norman Hotel is one of the capital's biggest and best-known historic steakhouse pubs, with a one-time seating capacity for 550 diners. Executive chef Frank Correnti said the purpose of the annual breed challenge event was to do 'something different,' in concentrating on the breeds contributing to the Australian beef industry, rather than only on its commercial brands.
"Our customers respond to variety, and are always eager to try something new," he said.
"The Battle of the Breeds allows them to do that – many of our patrons would not have previously heard of the Speckle Park breed, for example."
He said results in the 2021 competition had been incredibly close, with all four breeds scoring highly with patrons who took part in the scoring.
"Under JBS's grainfed programs, beef from all breeds is now consistently of a high standard. This event is more about celebrating those subtle differences – a little more marbling here, some finer meat texture there, that delivers a competition winner."
Meat texture was one characteristic that stood out in the Speckle Park sample served at last week's awards lunch. The sample (see image below) displayed extremely fine meat texture, retaining moisture and juiciness, and delivering outstanding flavour.
Asked whether 'breed identity' was something that supply chain manager should focus on more in marketing their product, Mr Correnti said it was a good marketing tool to leverage off breeds, but crucially important to any large food service operator like the Norman was availability and continuity of supply.
"We turn over close to a tonne of premium steak cuts each week. For a breed like Speckle Park, there obviously isn't thousands of carcases out there yet to build a brand around. For a venue like us, it would be more of a limited time special for this year's winner, rather than a permanent menu item."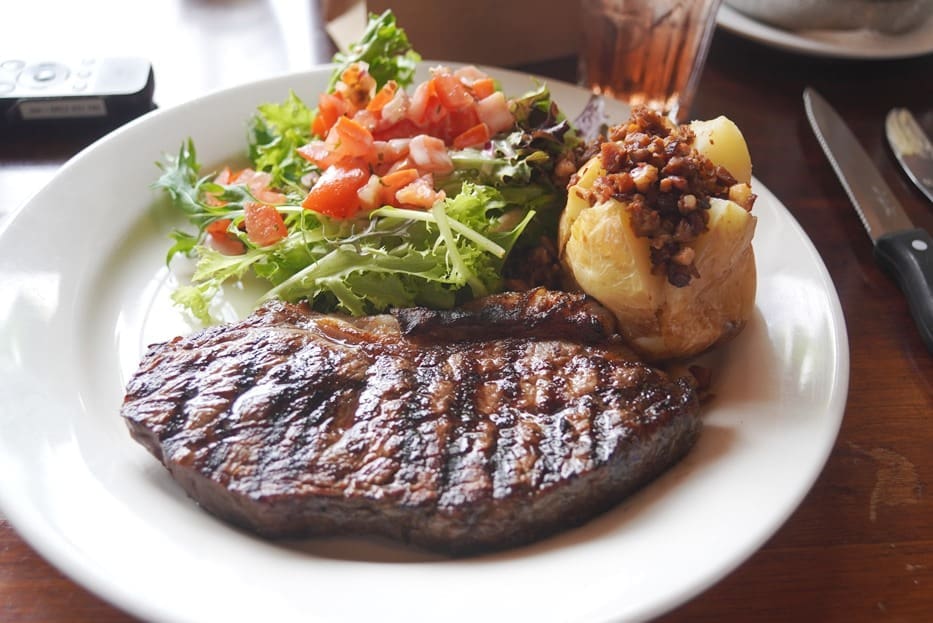 Growing breed momentum
Representing the Speckle Park breed at last week's awards announcement were Todd Missingham and son Dean, who operate Dorroughby Speckle Park on Queensland's Darling Downs, and daughter Stacy Warriner, who operates her own Bethvide stud. Dorroughby held its inaugural bull sale this year, averaging an incredible $14,357 for 26 bulls.
While Victoria and NSW had certainly been the 'nursery' for the breed in Australia, more recently it had started to penetrate more strongly into Queensland, Todd Missingham said. Dorroughby's first sale sold bulls across the state, heading into indicus and British-based herds as far north as Winton.
Being developed in Canada in the 1950s from three British breeds (Shorthorn, Angus and White Park), the Speckle Park breed has developed a reputation for meat quality, marbling and high dressing percentage. Entries have done well in recent hoof and hook carcase competitions, but yesterday's Brisbane result is one of the first serious taste test wins for the breed.
JBS 100 day programs
JBS Australia feeds a wide range of breeds for its various 100-day programs. While it also manages various breed-specific brand programs servicing larger breeds, many cattle, including those entered into this year's four-way breed challenge, go into non-breed specific 'legacy' brand programs like Beef City Black (100-day, marbling score 1+), Yardstick (marbling score 2+)  and AMH White. Collectively, they represent arguably the biggest commercial brand programs in the country.
This year's competition entries were drafted out of those brand programs on breed type.
JBS Australia's supply chain engagement officer Linden Cowper said that driven by scale, and consistency in cut-size and eating quality, JBS's 100-day programs had done a great job in penetrating the restaurant, hotel and other food service markets across Australia, as well as in higher-end retail.
The company has this year launched a producer day program taking samples of local product from the program back to regional areas, to promote the various brands and breeds back to the company's feeder cattle suppliers themselves.
"Like everyday consumers, they like to see where their beef has come from, where it is going, and how it has performed," she said.
"There's a lot of pride in having their own beef on the menu in their local pub, or somewhere else having a fine-dining experience."
Back in May, for example, JBS worked with Charbray breeders to present a Charbray showcase during Beef 2021 in Rockhampton. The company plans to do more local producer showcase days next year.
While the Battle of Breeds showcase at the Norman this year was more about a "bit of fun, rather than playing for sheep stations," it gave the various breeds some worthy recognition among everyday consumers, JBS's business development officer, Denis Conroy said.