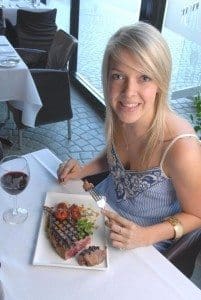 BEEF serve sizes in the Australian domestic food service industry are getting smaller as wholesale prices rise, while less expensive secondary cuts are occupying a larger proportion of sales in some segments, an annual survey of food service trends has shown.
The December 2014 tracking study of food service conducted by Food Industry Insight on behalf of Meat & Livestock Australia requested by Beef Central again showed some interesting trends, driven by a range of factors including price, economic conditions, consumer tastes, and evolving fashions in food.
The survey is conducted yearly, providing indications of trends for red meat use within the food service segment.
Food service encompasses a wide range of end-user segments including restaurants, hotels, cafes, clubs, pubs and function caterers. It does not include institutional users like hospitals, mining camps or military catering, nor retail sales through supermarkets and butchers.
Here's a summary of some of the key points:
Market share of each protein
The survey showed that there was little significant change in the food service market share held by each main protein between 2014 and the previous year. Beef and veal's share of overall main menu items was 25pc, the same as the year before. Poultry fell from 22pc to 21pc; lamb improved from 10 to 11pc; pork was up from 9 to 11pc, while fish/seafood and other meats declined. Within the different segments, pubs were the biggest users of beef and veal, at 34pc of all main meal proteins.
Prices per main meal serve
Main meal menu prices for beef/veal decreased slightly in all food service categories except cafes, perhaps partly reflecting smaller serve sizes, and a moderate but continuing shift in emphasis from grilling cuts to cheaper secondary cuts.
For the second consecutive year, beef/veal was the most expensive meat protein menu option in restaurants ($28.80), hotels ($28.30), clubs ($22.30) and pubs ($26). Lamb or fish/seafood were frequently the second most expensive menu category.
Portion size
Reductions in portion sizes compared with the previous 2013 survey were seen fairly consistently in all categories – not only for beef veal, but for all proteins including fish/seafood, lamb, pork and chicken.
Restaurants, for example, reduced their beef serves on average by 13g to 255g last year. The exception, for beef, was pubs and clubs which increased serve sizes by 10-15g to 282g and 295g respectively.
Lamb portion sizes decreased in all five food service categories – in some cases substantially.
The general trend in decreased portion size in in 2014 suggested a market correction where consumers are not demanding larger portion sizes due to health concerns, and/or a change in operator strategy, the report concluded.
Cuts usage
Again, the move towards more secondary cuts is evident with 35pc of all food service operators stating they used more secondary cuts last year. The largest drift was seen among café operators, rising from 21pc to 54pc of all members saying they are using more secondary cuts.
Cafés appear to be following the lead of restaurants, where the trend started earlier.
As noted in previous years, the primary incentives are in reducing cost due to tougher economic times, and adding variety to the menu while providing competitive advantage.
Perhaps surprisingly, secondary cuts usage was not as dependent on seasons as might be expected, the report showed. However the secondary cuts momentum gained last year seems to have slowed somewhat – perhaps due to higher secondary cut prices which have emerged over the past 18 months.
Which cuts are most popular?
While the popularity of individual cuts is somewhat muddled by the broad spectrum of businesses operating under the 'food service' banner, there was a clear reduction in use of premium grilling cuts like rib-eye, scotch fillet, tenderloin, rump, sirloin and T-bone.
Mince easily retained its dominant position as the most popular beef commodity across the entire food service segment, featuring on 62pc of menus.
Next most popular were rib-eye or scotch filet steak (although this declined from 58pc in 2013 to 43pc last year) and tenderloin (also declining, from 57pc to 42pc).
Items like briskets (part of the slow-cooked pulled meats movement) and mince patties lifted in popularity last year.
Similar trends were seen in specific food service segments. Restaurants reported fewer serves of grillings cuts and roasts, but growth in mince, and secondary items like chuckroll and bolar blade.
Cafes were similar, with retraction in sweet cuts and growth in items like briskets, beef strips, mince, chuck roll and flank/skirt steak.
Lamb cuts used in all food service applications followed a fairly similar trend, driven by price. In 2013 and 2012 cutlets/racks were reported as having the largest incidence of usage, however in 2014 this cut decreased significantly to seventh position, with easy-carve legs, leg roast and lamb steaks now being the highest. This suggests operators may be seeing cost advantages by buying in bulk as opposed to individual cuts.
Grass or grain?
While more food service operators were able to identify whether they were sourcing grassfed or grainfed beef for their requirements, almost one third did not know. Café proprietors had the least knowledge of whether their beef was grass or grainfed, while hotel/motel and club personnel had the highest.
Brands are moderately important
Beef and lamb were clearly the highest-ranking among all proteins where a brand or origin is mentioned on the menu. In beef the figure was 24pc across all food service outlets, while for lamb, the figure was 21pc. Overall figures remain low, however.
Within the beef category, clubs rated highest, with 41pc of all beef items identified with a brand, followed by hotels (32pc) and restaurants (27pc).
Last year it was noted that Pubs and Restaurants were particularly focused on brand/origin in beef. However, results this year suggest they are less likely to do so, which might suggest this particular marketing strategy has either been ineffective and/or operators had difficulty sourcing, the report said.
The December 2014 Food Service Meat Consumption study was carried out on behalf of MLA by Food Industry Foresight.