IT was arguably the biggest and best lineup of Wagyu beef samples ever assembled for a competitive branded beef competition in Australia, but ultimately there could only be one overall 'winner.'
The Australian Wagyu Association's 2014 branded beef competition, held as part of the body's national conference on the Gold Coast on the weekend, attracted 23 blockbusting Wagyu entries from brand managers in five states.
Each sample was prepared under a heavily controlled set of criteria based on MSA sensory panel work, and assessed based on tenderness, juiciness, flavour and overall liking in the sensory taste panel stage, plus visual raw state.
Having been part of the judging panel, this correspondent can report that without exception, all entries delivered on that priceless 'sense of expectation' that surrounds 'brand Wagyu.'
While the competition distributed multiple gold, silver and bronze medals to entries in each class on the basis of achieving certain points-score levels – a la wine industry judging – it also included for the first time a grand champion brand, representing the best single points-score across the Fullblood, crossbred and grassfed Wagyu classes.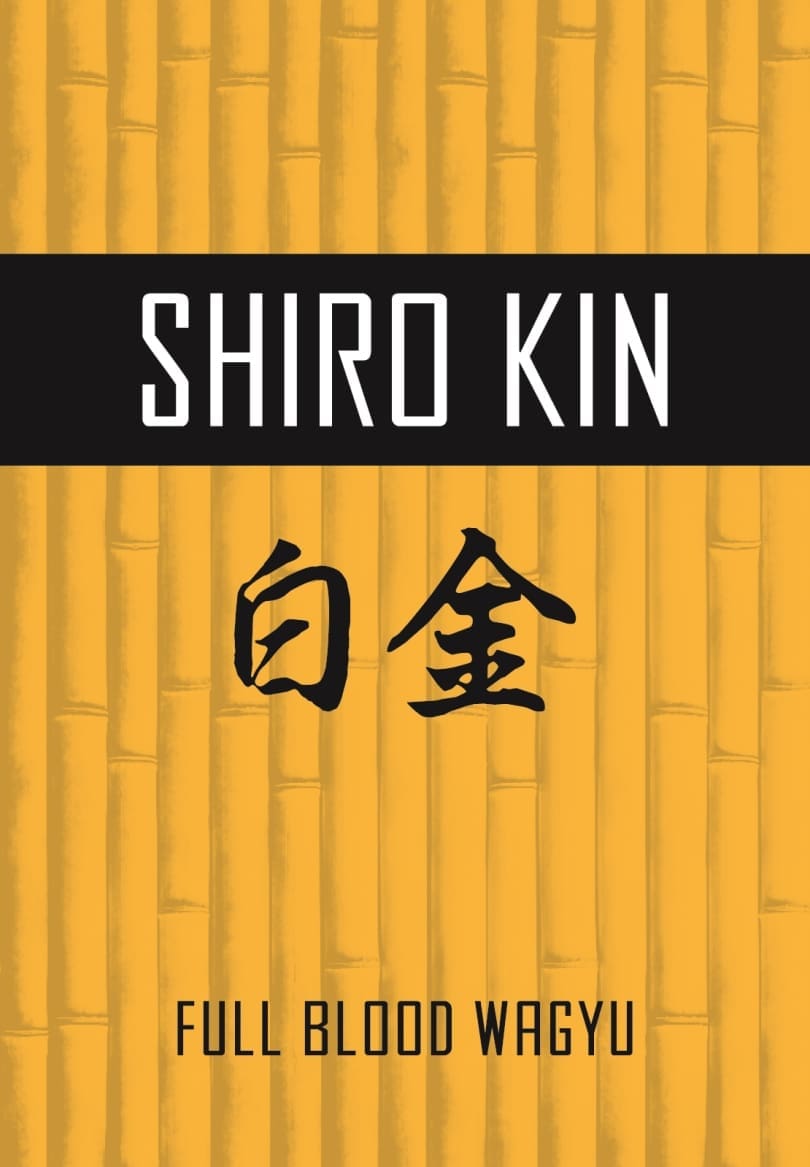 The winner was Andrews Meat Industries' Shiro Kin Fullblood brand program, which earned the grand championship by way of a score of 733 points out of a possible 880 from an expert judging panel.
The Shiro Kin (White Gold) brand was established by Andrew Meat Industries in 2012, as a means of differentiating its new Fullblood Wagyu beef from its existing Tajima crossbred Wagyu brand program. Click here to see an earlier article discussing the establishment of Shiro Kin.
Cattle for the Shiro Kin program to this point have been sourced from Macquarie Downs Fullblood Wagyu herd near Leyburn in Southern Queensland, plus other selected fullblood breeders. They have been fed at the Macquarie Downs feedlot for a minimum 500 days, before slaughter at the Northern Cooperative Meat Co plant at Casino.
It proved to be an unbelievably memorable week for Macquarie Downs managers Anthony and Chantal Winter. On top of breeding and feeding the winning Wagyu entry, just three days earlier Macquarie Downs was judged Feedlot of the Year in the under 3000 head capacity division of the competition held as part of ALFA's BeefEx conference.
End-users of Shiro Kin include high-end food service operators in Australia like iconic restaurants, Guillime at Benelong and Icebergs, plus top hotels and restaurants in Asia, the Middle East and elsewhere.
The winning entry had a marbling intramuscular fat level of 47 percent (third highest among all entries, easily qualifying for marbling score 9+, and if the Australian grading range extended to it, possibly as high as an 11 or 12) a marbling fineness index of 2.544 and a coarseness of marbling index of 0.169.
Significantly, it also had easily the largest rib-eye area of any Wagyu beef in the competition of 103sq cm. Balancing quality (marbling) with ultimate carcase size and yield (EMA) is one of the key selection challenges facing Australian Wagyu seedstock producers.
The judges' comments on the winning entry included: "Spectacular molten bliss" "Very tender; good earthy, caramel, rich buttery flavours." "Silky mouth-feel with a savoury after-taste."
The Shiro Kin entry was a clear winner in the competition's Fullblood class, although four of the five Fullblood entries picked up enough points to earn gold medals under the judging process. Three of the five entries in the Fullblood class carried intramuscular fat percentage above 36pc, indicating they would score a 9+ marbling score, on either the AusMeat or MSA scales.
Other Fullblood class gold medalists included:
The De Bruin family's Mayura Station fullblood program, and integrated breeding, lotfeeding slaughter and marketing supply chain based on South Australia's Limestone Coast (712 points)
Stockyard Beef's Kiwami Fullblood program, fed in the company's Stockyard feedlot on the Darling Downs. Kiwami is Japanese for 'Outstanding Excellence', representing Stockyard's finest quality Wagyu from its marbling score 9+ production (708 points)
Australian Agricultural Co's Master Kobe Fullblood Wagyu brand, bred on the company's dedicated Wylarah Wagyu breeding property near Surat and fed at Aronui feedlot near Bell on the Darling Downs (697 points).
While an abundance of marbling was evident in all grainfed entries, and indeed in the two grassfed entries also, it was the coarseness/fineness of marbling that provided clear distinctions between the Fullblood and crossbred entries this year. Six of the nine entries in the crossbred class would also have qualified for a 9+ marbling score, being 36pc IMF or higher.
Crossbred entries tightly bunched
The AWA branded beef competition's crossbred class also produced consistently high scores from the expert judging panel.
In fact just 12 points separated the first six crossbred entries, and no less than seven of the nine entries competing in the class qualified for a gold medal.
Published below is a brief summary of the crossbred Gold medal winners, ranked by points-score.
Central Queensland producer Darren Hamblin produced another strong result for his MasterBeef AusKobe F1 brand. Masterbeef was earlier judged grand champion carcase at the Primex Field days carcase competition last year. Score 697 points.
David Wormall's Jack's Creek F1 program, out of NSW, concentrating on Tajima bloodlines earned a gold medal, scoring 691 points.
Western Australian entry, Margaret River Wagyu, out of Cowaramup earned gold for its purebred entry, scoring 688 points
Rangers Valley scored a Gold medal for its crossbred entry, fed at the feedlot of the same name near Glen Innes. It scored 687 points.
Andrews Meats, which produced the branded beef competition's grand championship winner from the corresponding Fullblood Wagyu class, produced a second gold medal for its Tajima brand crossbred brand program, scoring 686 points. This entry produced the overall competition's highest IMF reading of 53pc. Delivering a clean-sweep in all three classes entered by Andrews Meats, it also produced the winning entry and only gold medal in the Gourmet Wagyu sausage class, introduced for the first time this year.
Stockyard Meats' Stockyard Black crossbred brand program secured a gold medal, scoring 685 points.
Stanbroke Beef's Diamantina Wagyu brand program also scored a gold medal in the crossbred class, fed for 400 days at the company's Stanbroke feedlot at Fairymeadow, near Chinchilla.
In terms of judging performance, there was a clear trend evident this year for judges to score Fullbloods more highly than crossbreds, despite the two classes being judged blind, but co-mingled.
That has not always been the case in the past, when the best of the crossbred entries have sometimes rivalled the Fullbloods, based on the opinions/points of the judges.
By way of illustration, the top four Fullblood entries this year averaged 722 points, while the top four crossbreds were some way behind, averaging 690 points. In essence, both were marked extremely highly, but judges could clearly pick the difference, despite the abundance of marbling in both.
There was also a very close correlation between the degree of marbling present in Fullblood entries, with where they finished in rankings. Intramuscular fat percentages among Fullblood entries ranged from 48pc (roughly equivalent to Japanese Beef Marbling Score 7) to 30pc.
That same general trend was evident, also, among crossbreds, with a couple of exceptions. One crossbred entry in fact produced the highest IMF in the entire competition (53pc, or Japanese BMS 9), but finished down the rankings a little in fifth place.
Grassfeds still produce plenty of marbling
While there were only four entries in the grassfed segment of the competition, they all proved the ability of Wagyu to express an abundance of marbling, even on a paddock-based diet.
Scoring a gold medal was Dom Bayard's Goorambat Wagyu, based out of Benalla in northern Victoria. The Goorambat Fullblood entry producing a marbling IMF of 29pc, and scored 689 points.
Earning a silver medal was a Robbins Island Grassfed entry from John and Keith Hammond in northwestern Tasmania, processed through the HW Greenham Smithton plant. The entry had a marbling IMF of 23pc, which given that USDA Prime grade (almost entirely produced off grain) has a minimum IMF requirement of 12pc, is still an extraordinarily high fat percent figure, off grass.
Significantly, judges' comments on the grassfed class were not only very complementary, but picked up strongly on flavour cues: "Good buttery mouth feel; creamy texture. Beautiful caramelisation and overall flavour. If I were single I'd marry this steak. Lovely steak, juicy, tender, great texture with buttery flavour and silky mouth-feel."
During the Wagyu conference dinner on Saturday night, a number of donated items were auctioned, with proceeedsw going to the RFDS. In total, the auction raised more than $19,800. Some of the items are included in images published in the photo gallery, below.
Click on AWA conference images in gallery below for a larger view.