A team of six crack independent retail butchers has been selected to represent Australia in a Tri-Nations Butchery Competition to be held in the UK in July.
As highlighted on Beef Central over the past two days (click here to view Tuesday's original article), the Australian team has been selected and managed under MLA's Butcher's Guild program, previously known as the Red Meat Networking Club.
Today we present profiles on the three 'seasoned veteran' butchers who will book-end the Australian team. Let's meet Gary Hine, Trevor Hill and Michael James…
Trevor Hill, Bruce's Meat & Poultry, SA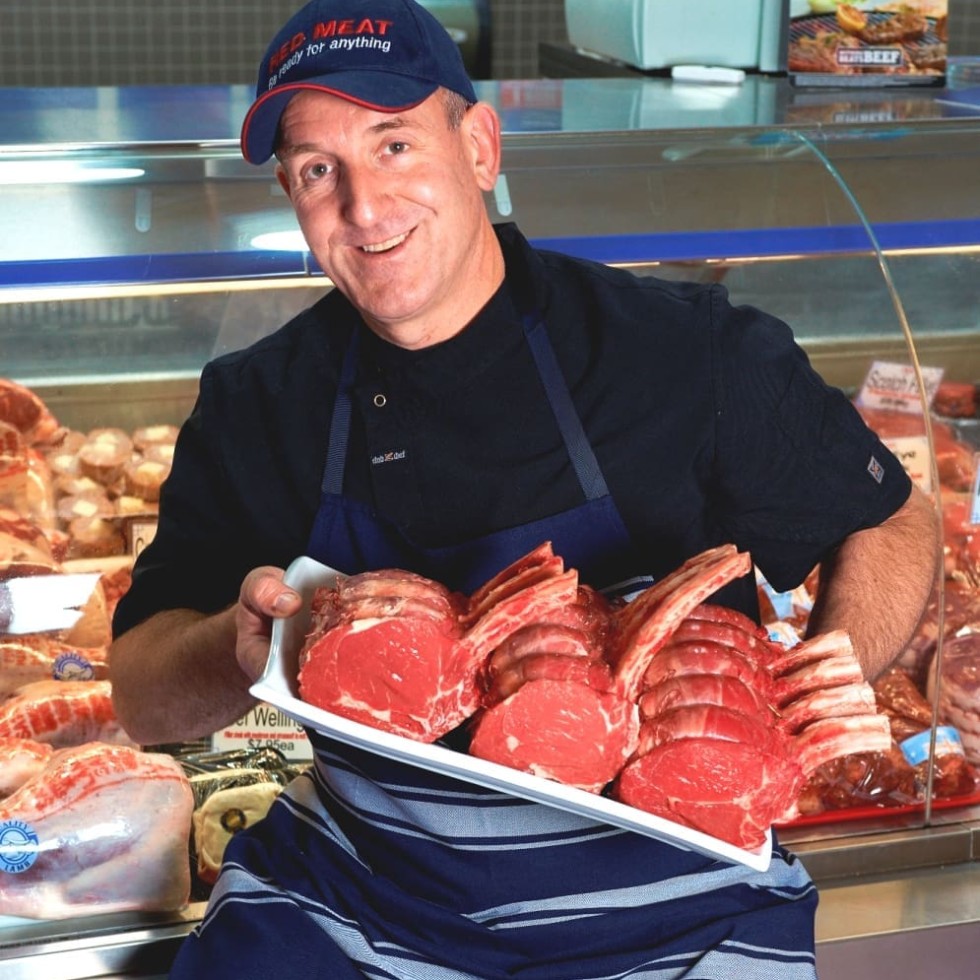 Adelaide butcher Trevor Hill has positioned his three retail meat shops as 'steak destinations', backed by a local, low-food-mile philosophy.
Trevor's mantra just might be 'food is life'. His career in the meat industry has come full circle, but throughout he has maintained a focus on keeping meat as the centre-piece on the table.
His father bought a butcher shop in the Adelaide suburb of Grange when the family shifted from Victoria, when Trevor was aged nine. Butchering is a real Hill family tradition, with Trevor's grandfather also a meat retailer, and his daughter now completing her apprenticeship.
Trevor started as an apprentice under his father in 1977, then worked at Conroy's Smallgoods followed by a stint selling butchering merchandise at Master Butchers. He donned his butcher's apron again in 1989, working at another Adelaide shop, before changing direction and studying for a Bachelor degree in Business Management and Marketing.
He also spent time working for the Australian Meat and Livestock Corp, and with brands like Nestle, Unilever, Cadbury and Coca Cola. It wasn't until 2009 that Trevor returned to the meat retail industry, buying 'Bruce's Meat and Poultry' in the south Adelaide suburb of Mitcham.
"I always maintained an interest in butchering even when I was working in other sectors, and knowing the great reputation held by Bruce's Meats, I jumped at the chance to buy it when the owner retired," he said.
Since then he has expanded into two more Adelaide shops at Pasadena and Fairview Park. Drawing on his marketing and industry experience, Trevor has positioned his meat retail businesses as a 'steak destination'.
When he is not selling quality cuts to meat-lovers, he contributes to the industry with roles on the AMIC state and national retail councils. He also acts as 'butcher-in-residence' at the annual Adelaide Royal Show, and will compete on the Tri-Nations team for the third time in 2014.
"Our customers tend to be foodies and meat-eaters," he said. "They like cooking and want to know where their ingredients come from. We have a low-food-mile mentality and prefer localised supply chains, such as grassfed beef and saltbush fed lamb from the Adelaide Hills and Mt Gambier," he said.
"Although we do sell value-added options, we give our customers the opportunity to still participate in the preparation process, so they have ownership of the dish."
Having worked for global giants like Nestle and Coca Cola, Trevor puts a lot of emphasis on marketing the business and training staff.
"I learnt from those big companies the value of focusing on training – I recruit for attitude, not just skills. If someone has the right attitude, they can be trained to do virtually anything. I also emphasise the experience customers have in our stores. Our staff receive commercial cooking training, so they can provide guidance to customers on the best way to prepare meals using our products."
"It's about 'selling the sizzle, not just the sausage', by creating a positive, colourful experience, so customers can visualise how the raw product will look when they serve it up to family and friends.
"Food is about life and love. The centrepiece of every table is the roast, the steak, the sausages bursting in flavour – anything else is just the accompaniment."
As well as boning out six to seven bodies of beef a week, the shops sell 60-70kg of boxed porterhouse steaks, 30-40kg of scotch fillets and 20kg of eye fillets.
"Cooking programs have made unusual cuts popular," Trevor said. "My butchers and I keep an eye on shows like My Kitchen Rules and MasterChef, because we know our customers are watching too and will come in, asking for the same cuts."
"We strive to be innovative, for example brisket was a trendy cut earlier this year, so we used duck fat to confit beef brisket for 13 hours, then pressed it and sold it in pieces – that was really popular."
Trevor thinks winning, or losing the 2014 Tri-Nations butchery competition will come down to boning and cutting skills.
"The butchers working on the hooks need to give cleanly-cut and well-portioned cuts, to give our team-mates the best opportunity to present fantastic products to the judges. It will also be important to present products which push the boundaries, but can still be translated to the dinner plate" he said.
Gary Hine, The Naked Butcher, Mundaring, WA
The Naked Butcher has an unforgettable name – and owner Gary Hine ensures the natural products he sells are just as memorable.
After more than 20 years working in the retail meat industry across Queensland, the NT and WA, Gary and his wife Kirstin Janke purchased their butcher shop in Mundaring, WA in 2007.
Their unwavering focus on quality ensures a delicious offering of organic, grass-fed and preservative-free products which have earned them local and regional accolades.
After completing his Retail Butchering and Slaughterman qualifications at the Lowood Butchery in southern Qld in 1987, Gary headed to the NT working as a butcher at Tennant Creek and Darwin. A two year road-trip around Australia ended on the west coast in 1998 – and he never left. He worked in his trade at several Perth shops, including a halal butchery, then managed meat departments at supermarkets in the goldfields and Perth.
Gary took time out to study a Bachelor in Youth Work, but with 'butchering in his blood' he embraced the opportunity to manage – and eventually buy – a retail shop at Mundaring in the Perth Hills.
With a coat of hot pink paint and a passion for quality, natural product, 'The Naked Butcher' was born. Today, Gary and his wife Kirstin manage a team of three butchers and an apprentice. Their hand-picked range of predominately organic, grass-fed beef and lamb is popular with locals and even sought by customers as far away as Christmas Island, Dampier, Kununurra and even Malaysia.
Why the name, 'The Naked Butcher'?
"When we bought the store in 2007, we renamed it The Naked Butcher because we wanted to communicate our philosophy of only selling natural products that contain minimal or no preservatives, wheat, gluten or artificial additives – basically, nothing between the customer and a quality piece of meat, Gary said.
Organic beef for the shop comes direct from producers at Dandaragan, and in the Swan and Chittering valleys of WA. Prime Dorper lambs are sourced from the South West and wheat belt regions of WA.
"I can honestly tell our customers I know where meat is from and how it was sustainably produced," Gary said.
"We bone-out two-three beef carcases a week, and also source extra boxed beef from MSA grassfed brands such as Tasmania Natural or Pure South. We make all of our value-added products in-store, so we know they contain quality meat and fresh ingredients."
Customers are typically local families and middle-aged couples whose children have moved out of home. They have disposable income and are willing to buy premium products.
The Naked Butcher connects with more than 1500 customers each week with an email newsletter, and does regular delivery to the metro Perth region and to regional customers.
Having competed in the 2013 Tri-Nations Butchery Challenge, Gary said competition butchery wasn't like retail butchery – the challenge being to create innovative products that really stand out.
"Not every product we tray-up for the judges would sell in a retail shop, but many are adaptable. In the 2013 competition, for example, the Australian team presented a double rib-eye 'tomahawk' steak, with the ribs still attached – it had the 'wow' factor and showed skill and innovation.
"It would be difficult to display or sell in a retail shop, but was adaptable – we have translated the concept to lamb and sell a double French cutlet, which is more manageable," Gary said.
He said the competition provided an opportunity to meet butchers from other parts of Australia and overseas. "It's a great opportunity to bounce ideas off each other and access strategies to build our business. I keep in touch with my team members and competitors, and we share ideas and recipes."
Michael James, Carina North Quality Meats, QLD
Australian Tri-Nations team captain and Brisbane butcher Michael James will channel his 'State of Origin' enthusiasm when he leads the Australian team into the 2014 competition.
As a fifth generation butcher, Michael is as passionate about giving customers who visit his Carina North butchery the best beef and lamb Australian farmers can produce, as he is about the legendary 'Maroons'.
This year will mark the 100th year that his family has owned their Brisbane meat retail outlet. Michael previously worked in his uncle's shop after school and on holidays, so it was no surprise he started his apprenticeship in 1994.
He bought his own shop, Carina North Quality Meats, in 2006. After expanding the business to three stores, he consolidated it back to the original shop in 2013 so he could spend more time with his young family.
Today, Michael and his team of six butchers (four of whom completed their apprenticeship at the store) and two apprentices are renowned for their service and innovative products.
Michael is no stranger to competition butchering – as well as winning medals for his sausages, he has represented Australia in the Tri-Nations competition for three years, and captained the team for the first time in 2013. He is passionate about the future of the retail meat industry, and contributes as a member of the AMIC Queensland Council. Michael also regularly judges the meat competition at the Royal Queensland Show.
"Australia's beef and lamb is the best in the world, and we butchers have a responsibility to pass on quality products to our customers," he said.
"I aim to provide our customers with the best quality meat, so they keep coming back. I regularly participate in MLA trips to visit other butcher shops and see new products, so I can provide customers with as much information as possible about what we sell. I'm a great believer in grassfed beef, so I offer meat that is produced naturally, without added hormones, antibiotics or lotfeeding.
"We feature MSA beef, as it is backed by sustainable grower practices and is a healthier, more natural product with exceptional eating quality."
Michael said it was really important to understand his customers' demands, so he used ABS census data to learn more about the demographics like age and income of the nearby suburbs.
"We structure our business around this information. For example, most of our customers are young families and young professionals and many didn't have a chance to come into the shop during our traditional opening hours. So, we changed our hours to 8am-6:30pm and 70pc of our daily turn-over now happens from 3pm-6.30pm, when our customers are coming home from their school run or work in the city."
"We also open from 8am-5pm on the weekends, which have become our biggest days."
Eight years ago, the shop hardly did any value-adding work. Today, 30-35pc of products are value-added in some way, because customers are often time-poor, and they want something they can just pan fry or pop in the oven when they get home.
Trevor said he'd never been more excited as when his butchery team won the Tri-Nations challenge in Melbourne in 2012. He has all his competition shirts framed and displayed in the store.
One of the challenges in competing overseas is in sourcing the right ingredients, he said.
"There is also a lot of time-pressure, so the Australian team spends a lot of time practicing their knife skills so we can utilise the beef and lamb carcases as much as possible. Another challenge is presenting innovative value-added products, so in the lead-up to the competition the Australian butchers share a lot of photos and ideas. We want to represent all the states involved – from Queensland BBQs to southern slow cooking."
Readers should note that the UK Tri-Nations Butchers Competition team supporters and study tour discussed in our original report is now fully subscribed.