If a bomb had gone off in Brisbane's Regatta Hotel Boatshed steakhouse restaurant yesterday, it would have wiped-out a sizeable portion of the Australian beef industry's meat marketing and sales capability.
The occasion was a gathering organised by Coles' Spirit Hotel division and large wholesaler/provedore, Holco, to showcase Holco's key branded beef suppliers' products to an appreciative pre-Brisbane Show audience.
The venue was the Regatta's flagship Boatshed steakhouse, part of a $10 million refurbishment of the historic venue after the 2011 Brisbane floods. The Boatshed's menu is heavily influenced by beef, with close to 20 steaks and secondary cuts on the menu.
The centre-piece of the event was "The Big Beef-Off", where more than 100 invited guests got to sample and rate each of the five branded products on display (all minimum 70-days grainfed; some fed to export weights), using standard MSA taste panel ratings for tenderness, juiciness, flavour and overall liking.
All the samples were dry-aged in Holco's extensive specialised dry-aging chiller, which has capacity for 300 primals at a time, used to supply customers like the Regatta.
Engaged in the battle were some of Australia's biggest and best known domestic and export supply chains: John Dee (Banksia Gold), Warwick; AA Co (1824); Nolan's (Private Selection); Stanbroke Beef (Diamantina); and JBS Australia (Friboi).
While many of the sales teams present in the audience are literally at each other's throats in the day-to-day cut-and-thrust of domestic and export meat marketing, there was nothing but compliments and good-natured banter and rivalry passing around the room in this less adversarial context.
John Dee's sales manager James Erbacher said in reality, there was very little to separate high-end products like this in terms of performance, and all five brands set an extremely high standard.
The interesting point about the exercise was that tenderness was basically taken out of the equation as a distinguishing feature on which to rank each sample. All five MSA-backed samples were supremely tender, and would meet any discerning diner's expectations.
"Better quality beef is now like chicken, in that tenderness is no longer a consideration, or even talked about," one of the guests on Beef Central's table said.
Rather than simply char grill the samples, Boathouse executive chef Shane Keighley chose to slow cook the cube roll samples for 12 hours at 58 degrees, using combi-ovens.
The result was a sample that was incredibly tender and juicy, and evenly cooked through from the surface to the centre.
And the winner was….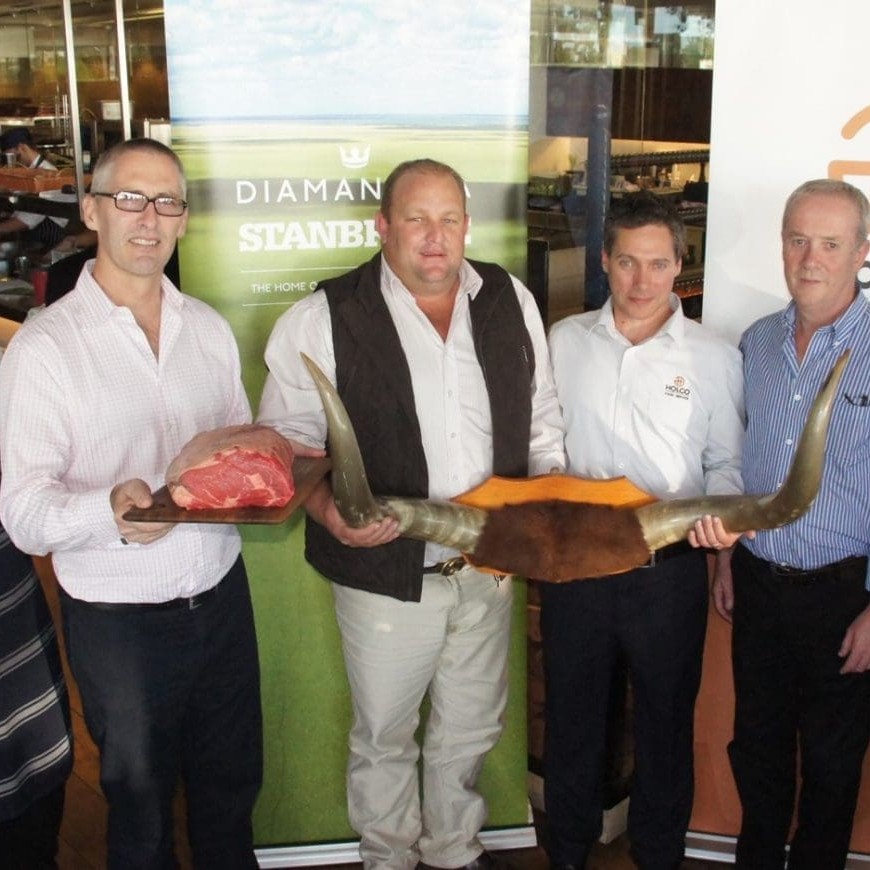 While the day was all about showcasing a range of extremely good product – flavourful, juicy, tender and satisfying – ultimately, a winner had to be found.
Accumulating the greatest number of points from the audience was Stanbroke Beef's Diamantina Platinum entry, bred, grown, grain-finished and processed within Stanbroke's unique unbroken Queensland beef supply chain.
Stanbroke Beef's sales manager Alastair Ronald said the sample was selected at random from the company's Diamantina 100-day grainfed program, fed a white-grains based ration through the company's Bottletree feedlot near Chinchilla. It was selected in the chillers for a marbling score of 2.
The sample was drawn from Stanbroke's composite breeding program, carrying no more than 25pc Bos Indicus, bred on Stanbroke's gulf holdings before being sent south for backgrounding on paddocks adjacent to the feedlot, and then into the feedyard. Feeders stay in their original mobs from birth into the feeding pens, which eliminates much of the social impact stress caused by transition into the feedlot.
While Stanbroke's Gulf properties had been impacted by drought the same as everybody else's, it was essential to commit to a rising plane of nutrition on such cattle to avoid setbacks later in life that could ultimately affect meat quality, Mr Ronald said.
The Diamantina program is primarily directed into Southeast Asian export markets, for use on both higher end food service and retail markets.
"We are now really starting to make some ground in food service, as opposed to retail – particularly in markets like Malaysia and China," he said.
Just last week, Mr Ronald was in China for the opening of a new Stanbroke-supplied restaurant in Shanghai, which already is laying claim to being the best steakhouse in the entire city.
"It's a step above all of the other western style steakhouses in China at the moment," he said.
"As a brand program, you've got to let people know what you're doing, and that's what events like this one are all about," Mr Ronald said.
"The difference about today is that we were all being judged by our peers. The level of knowledge in this audience was considerably higher, on average, than at many other competitions."
While more Stanbroke cattle were currently going through a Diamantina Gold type program (50-70 days) because of the seasonal crisis in the gulf, a recent expansion in capacity at the company's feedlot completed over the past month to 28,000 SCU meant that there were growing opportunities to expand grainfed programs, if required.
That expansion was driven primarily by customer signals, looking for two things: consistency of supply, and critical mass.
"The consistency is going to give the end-users the confidence to keep on buying the product," he said. "Through the unparalleled vertical integration that Stanbroke has, via company-owned breeding and growing properties, feed and processing plant, we think we have the best opportunity to do that."
"That's the value proposition that we offer to customers – the assurance of knowing your supply, and the consistency of managing that animal and carcase at all points along the supply chain."
Mr Ronald said competitions like yesterday's added a little more perspective, because of the calibre of people judging it.
Holco's key accounts manager David Ellis, said the event was really designed to coincide with the start of the Brisbane Ekka, and to showcase the qualities of products supplied into the Holco supply chain by leading beef companies.
"It's about supporting their brands, and getting them involved in what was a really successful event," he said.
"Using the MSA consumer taste test system gave the event some integrity, and recognises the value of the MSA grading system."