INDEPENDENT retail butchers from four states shared in the glory during the 2018 National Finals of the Australian Meat Industry Council's ever-popular Sausage Kings competition, which was judged in Victoria's Yarra Valley over the weekend.
Finalists from six Australian states competing in beef, lamb, pork, gourmet, continental and poultry sausage divisions were drawn together for Saturday's National final, after earning the right to represent their states in regional and state-level competitions held over the preceding 12 months.
The event culminated in a glittering awards dinner held in the Yarra Valley wine region on Saturday night.
Once again, butchers from regional centres excelled in the results, taking five of the six National Sausage Kings crowns on offer.
Crowned National Sausage King in the beef (traditional Australian) division this year was the New South Wales representative, John and Matthew Hastie, proprietors of Hastie's Toptaste Meats, Wollongong.
John Hastie said he had been 'bowled over' by the public and media interest since accepting the award on Saturday night.
"The phone has not stopped ringing. We were on Channel Seven yesterday morning in Melbourne, have done live radio crosses, and have more newspaper interviews this afternoon. It's amazing."
"We trade seven days a week, and yesterday we had our busiest Sunday in a long, long time – only 24 hours after we received the award."
With his brother Matthew, Mr Hastie, a third generation butcher, has run the family business for the past 30 years, after it was started by his father 42 years ago.
Hastie's Top Toptaste Meats is a wholesale/retail operation employing 12 staff, and turning over about 300 cartons a week, plus body beef.
He put the Sausage Kings result down to quality, fresh ingredients. "Getting the right balance of mean beef to fat is critical – not too lean, but not fatty."
"There's probably also a bit of luck involved – especially at the national finals level, where every single entry was first class," he said.
The Hastie's TopTaste Meats wholesale factory turns over between two and three tonnes of sausages each week – which was likely to grow substantially this week, in the wake of Friday night's win. The wholesale side of the business supplies sausages to supermarkets and IGAs.
In the retail shop, the business typically have between a dozen and 15 sausage varieties on the go at any one time.
"It goes crazy at busy times, like the recent Australia day weekend," Mr Hastie said.
Sausages are an important part of the retail shop's turnover. Retail prices range from $12-$16/kg – a long way from the $3-$4/kg 'mystery bag' sausages that were common in retail years ago.
"Customers are more than happy to pay a good price, for a good quality, consistent sausage," Mr Hastie said. "Ingredients can be expensive – some of our gourmet lines contain items like blue cheese, which pushes up the production cost."
"But we have no problem selling our sausages at that price, and we have to: yearling carcase and carton beef in the local market remains expensive, so we need to be selling sausages around that rate to cover the raw material and production cost."
The business sources raw material from five or six main wholesaler suppliers, in Sydney and Melbourne. Branded product is becoming more prominent.
Mr Hastie said at retail level, consumers had definitely traded-down to less costly cuts and mince since retail prices started to surge sharply in 2015.
"A kilo of mince at $12-$14 can feed a family of four, but it costs double that and more to serve scotch fillets. In every family budget, that comes into consideration, more regularly than it did earlier. And that means as butchers we need to continue to innovate, to present those minced items (including sausages) in more creative ways."
Runner-up to John and Mathew Hastie in the beef sausage category was last year's national beef category winner, Milan Matutinovich, from The Corner Butcher, in the Perth suburb of Morley.
Other divisions
In other results announced on Saturday, the winner in the Gourmet/Open sausage class this year was another NSW representative, Kory Edwards from South Nowra Meats in Nowra. His winning entry was a Peking Duck sausage, while the runner-up, Jason Mathie, from Mathie's Meat Shoppe in Clare SA, produced a beef and blue cheese creation.
Sausage Kings lamb division national champion this year was a familiar face in this competition. Ipswich, Queensland butcher Barnie Nolan, from Circle T Meats returned to claim his fourth national sausage kings title over the past 15 years. His winning entry in the lamb class was a Moroccan Lamb sausage. Runner-up was Craig Fitzgerald from Fitzgerald's Farm Fresh, Kyabram, Victoria, with a tomato, roast capsicum and feta creation.
Successful with his bratwurst entry in the continental division this year was Paul Rae, from Aussie Smokehouse at Warana in southern Queensland. The runner-up award went to Nigel Birrell from Nigel's Gourmet on Tamar in the Tasmanian town of Exeter, with an Italian pork sausage.
Traditional Australian pork division honours this year went to Mt Gambier, SA independent butcher, Michael Lamond, from Collins Court Butchery, with Andrew Loveday from Loveday's Quality Meats at Burleigh Waters on the Gold Coast second.
The poultry division Sausage Kings award was presented to another WA butcher, Raff Barbaro from Barbarao Bros Quality Butchers at Greenwood. His entry, a smoked chicken bratwurst sausage, finished ahead of another entry from Nigel Birrell from Tasmania.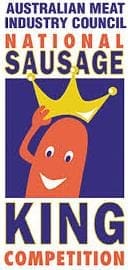 Other awards
In national competitions other than Sausage Kings decided on Saturday, WA's Milan Matutinovich, from the Corner Butcher, claimed the national title for best butcher's beef burger, with his gourmet-style Angus beef burger. Runner-up was Stephen Pocock from Church Street Butchery, Brighton, Victoria, with a BBQ Beef entry, while third was Trevor Hill from Bruce's Meats at Torrens Park, SA, for a Salt & Pepper Brisket Burger.
In the gourmet burger category, the win went to Shaun Watson, Tender Cuts Butchery, Naracoorte, SA for a Thai chicken with shredded coconut entry.
Named National Apprentice of the Year during Saturday's awards dinner was Jack Stuart from Neal Eastley's Butchery, East Maitland, NSW.
To access full National Sausage Kings results, Click here.