BEEF supply chains will now be able to market their cattle as 'Grain Fed Finished' after feeding them grain for 35 days before slaughter. The new standard, or trade description, will apply both domestically and in overseas markets.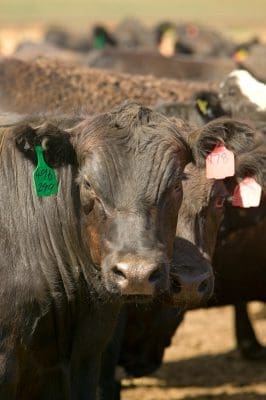 Australian Lot Feeders Association president Bryce Camm welcomed Agriculture minister David Littleproud's support to include the Grain Fed Finished Standard into legislation and the industry's trade description language.
"The inclusion of the Grain Fed Finished Standard into Australia's Export Control Act and Orders means exporters and brand owners can freely label beef that meets the new standard as Grain Fed Finished," Mr Camm said in a statement.
"It will simplify the current interim process whereby exporters were asked to go through an application process to be able to describe and label product that meets the Standard."
Once adopted commercially, the development would give feedlot operators another option for producing and marketing cattle into a high-quality grainfed beef market, Mr Camm said.
Developed by ALFA through industry-wide consultation and introduced in September this year, the Grain Fed Finished Standard increases flexibility around producing certified grainfed beef while continuing to ensure product integrity and eating quality.
The Grain Fed Finished Standard requires cattle to be produced within a National Feedlot Accreditation Scheme accredited feedlot, be raised on a specific high energy ration for a minimum 35 days on feed and successfully meet Meat Standards Australia grading requirements when processed.
Being included in legislation provided integrity to the labelling of Grain Fed Finished beef for export customers and gave confidence to beef processors and brand owners to develop and invest in brands that meet the standard, Mr Camm said.
The Grain Fed Finished Standard compliments two existing Australian Grain Fed Standards: Grain Fed (GF), and Grain Fed Young Beef (GFYG). These existing Grain Fed Standards are widely recognised for delivering high quality Australian grainfed beef and so they will continue to be available without change, with Grain Fed Finished providing an additional feeding option for NFAS accredited feedlot operators.
The Grain Fed Finished Standard will take its place in the Export Legislation alongside the Grain Fed and Grain Fed Young Beef Standards which are already part of trade description language and deliver a high level of integrity to customers of Australian certified grain fed beef, Mr Camm said.