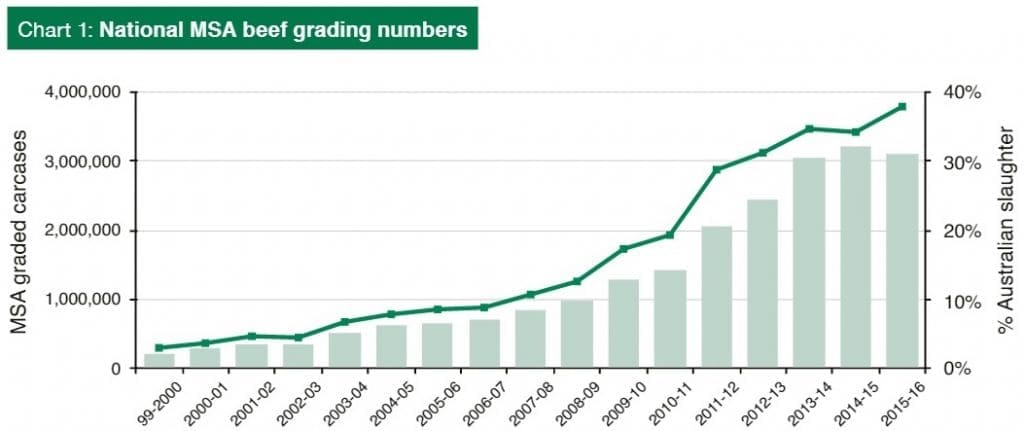 THE Meat Standards eating quality assurance program has continued to grow in 2015-16, with more than 3.1 million cattle presented for MSA grading during the last financial year.
While the outright number of cattle graded is down a little on the previous financial year due to the dramatic decline in beef kills seen during the second half (January-June) this year, the number of MSA cattle as a proportion of overall slaughter has risen to a record high of 38 percent.
According to new data for 2015-16 released as part of MSA's Annual Outcomes Report, the program also delivered an additional $153 million in farm gate revenue thanks to premiums paid for MSA accredited and compliant cattle, with more than 3000 additional cattle and sheep producers becoming MSA registered.
Over the last five years the MSA program has expanded by 230 percent, from 1.34 million head graded in the 2010-11 year (see graph above) in line with commercial incentives, as shown by an increase in young cattle premiums which have risen from 15c/kg to 24c/kg, and retail premiums across key primals of $1.73/kg in 2015-16.
Meat & Livestock Australia's general manager for producer consultation & adoption, Michael Crowley, said the program's strong performance was encouraging, where it increased its share of the national slaughter by 4pc, despite the decline in slaughter nationally.
"Based on the average carcase weight of MSA cattle in 2015-16, MSA beef producers potentially received an additional $66 per head for young non-feedlot cattle that met MSA and company specifications," Mr Crowley said.
"Over-the-hooks cattle prices for MSA cattle remained higher on average than non-MSA cattle in both Queensland and NSW, with the average differential for young non-feedlot cattle across all weight ranges a strong 24c/kg.
NSW experienced the strongest growth in the number of MSA graded cattle, reaching almost one million head. By volume, Queensland continued to boast the largest number of MSA graded cattle with 1.3 million head. Tasmania and South Australia continued to show strong adoption rates with more than 60pc of their respective state cattle slaughter MSA graded.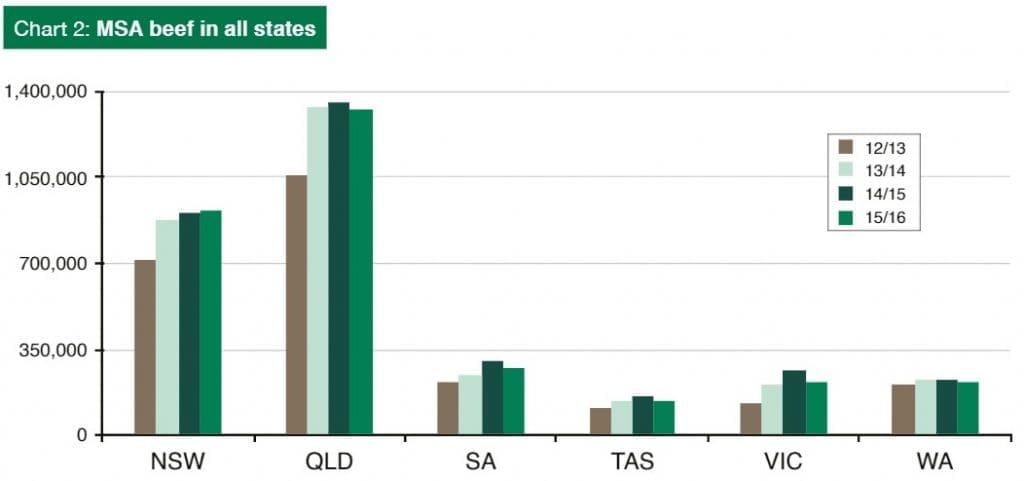 Carcase compliance
In the face of tough climatic conditions in parts of the country, MSA beef producers were able to maintain 93pc compliance to MSA minimum requirements. However, the national average MSA Index reduced by 0.09 to 57.52 points which reflects some tougher finishing conditions through the year.
Grassfed cattle represented 49pc of MSA graded cattle with 88pc compliance to MSA minimum requirements while grainfed carcases had 98pc compliance. Compliance rates vary according to season changes in different regions around Australia. August had the highest rate of non-compliance for the year at just shy of10pc.
Again, the major reasons for non-compliance against MSA specs were pH and meat colour.
Of the carcases graded against MSA standards, 5.26pc had pH levels exceeding 5.7, while 5.85pc did not meet the meat colour specification of 1B to 3. A further 1.46pc failed to meet spec on rib fat, being less than 3mm. In 2015-16, an additional 3pc of MSA-graded cattle did not meet company-imposed specifications (carcase weight range, dentition etc).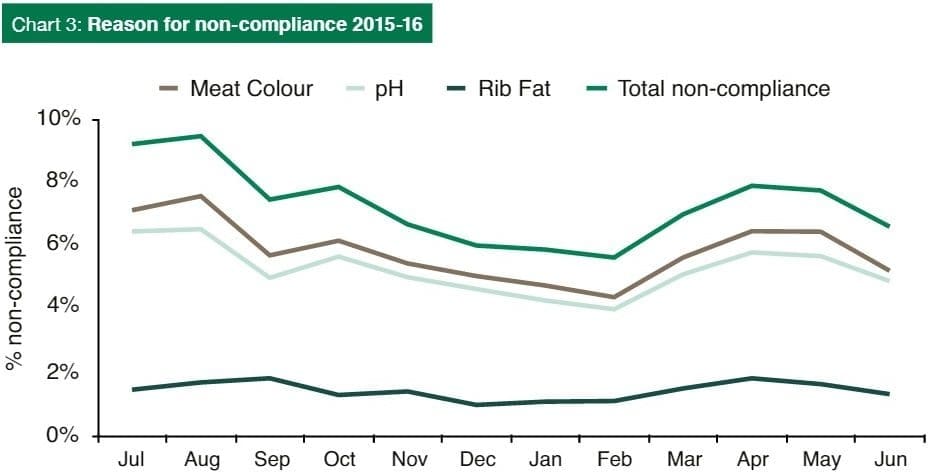 Mr Crowley noted that beyond the paddock, nine new brands were registered with MSA during the year to promote the quality of their product, bringing the total to 140. Eight brands have now adopted exporter guidelines to communicate MSA in international markets. More than 3600 Australian end-user businesses are now licensed to promote MSA beef and sheepmeat.
More than 2000 producers received MSA education during the year, through almost 50 workshops or information sessions involving MSA and 2367 producers completed MSA training online.
MSA was developed by the Australian red meat industry to improve the eating quality consistency of beef and sheepmeat. The system is based on more than 700,000 consumer taste tests by 100,000 consumers from nine countries, and takes into account all factors that affect the eating quality of the 169 cuts and cooking combinations within a carcase.
Click here to download the MSA Annual Outcomes report.