THE eating quality of Australian beef continues to rise, with the national average Meat Standards Australia Index reaching 57.56 points in 2015-17 – that's a large rise of 0.84 index points since the 2010-11 grading year.
The results are revealed in a new report, 2017 Australian Beef Eating Quality Insights produced by Meat & Livestock Australia. The report aims to help beef producers optimise the eating quality of cattle by demonstrating the impact production factors have on the MSA average.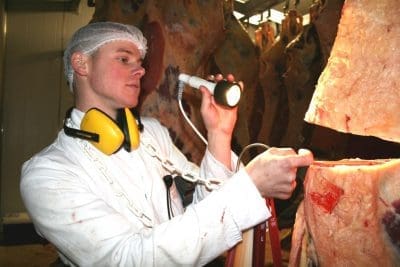 The MSA Index is a single number between 30 and 80, and is the standard national measure of the predicted eating quality potential of a whole carcase.
The report analysed carcase grading data from 5.5 million MSA-compliant cattle processed in the 2015-16 and 2016-17 financial years and examined compliance and eating quality performance by production categories including feed types, use of HGPs and gender.
MSA program manager Sarah Strachan said the report highlighted the traits of carcases in the top 1pc through to the bottom 1pc of the MSA Index scale to identify the areas producers can focus on to improve their own Index results.
The report showed the top 1pc of carcases had an average Index of 66.19, and those in the top 25pc are averaging an Index of 60.61. Carcases in the bottom 10pc had an average Index of about 52.17.
The report also found that 10.8pc of MSA-graded grassfed carcases did not meet MSA requirements compared with 2.3pc of grainfed cattle.
"And while seasonal conditions vary for each state, on average, non-compliance was highest in the winter months. The main reason for non-compliance across all cattle was consistently having a high meat pH above 5.7," Ms Strachan said.
The report was part of a series of planned benchmarking activities to the year 2020 to continue evaluating the eating quality performance of the Australian beef herd and build on the groundwork set by the 2015 Australian Beef Eating Quality Audit.
"The project aims to provide more meaningful tools for producers and wider industry to identify areas for improvement but to also highlight reasons for celebration," Ms Strachan said.
"The results of the study confirm with confidence that the opportunity exists for MSA beef producers to continue to improve the eating quality potential of their herd as well as manage fluctuations in compliance throughout the year.
"Improving both of these areas can increase the value of the carcase they are producing and can create potential for increased profitability and enhanced farm productivity. Our objective is to help producers improve their MSA Index as well as ensure all cattle in Australia are eligible to be graded to receive an MSA Index."
State breakdown
The report includes state-based benchmarking, delivering key insights into the eating quality performance trends in each state.
New South Wales:
Average non-compliance of 6.3pc, peaking in the cooler months.
Average MSA Index 57.52.
Queensland and Northern Territory:
Average non-compliance of 6.2pc, with non-compliance typically higher in the winter months.
Average MSA Index of 56.02
South Australia:
Average non-compliance of 8pc with non-compliance greatest in July 2015 and noticeable in peaks in January across both years
Average MSA Index of 60.54
Victoria:
Average non-compliance of 5.6pc with non-compliance remaining stable throughout the two financial years. This is possibly due to the high proportion of grainfed cattle compared to other southern states
Average MSA Index of 59.37
Western Australia:
Average non-compliance of 6.2pc peaking from late spring through summer
Average MSA Index of 60.25
Tasmania:
22pc of cattle with ossification scores greater than 300 did not meet MSA minimum requirements and had an average MSA Index of 60.90.
10pc of cattle with ossification scores less than or equal to 300 did not meet MSA minimum requirements and had an average MSA Index of 66.93.
The new online myMSA Benchmarking function was released in April to complement the ABEQI, allowing producers the ability to benchmark the performance of their herd over time against their region, state or national herd by selecting for production factors such as HGP status and feed type.
Producers can use the benchmarking tool and view their average MSA Index at www.mymsa.com.au
The 2017 Australian Beef Eating Quality Insights report can be accessed here
Source: MLA