AN additional beef abattoir and four cold storage facilities have been added to the list of approved establishments for chilled beef export to China, following high-level government-to-government dialogue last Friday.
Beef Central understands the export-licensed Moe abattoir in Victoria's Gippsland has now gained chilled access to the China market, although the official reference on China's AQSIQ website is yet to appear.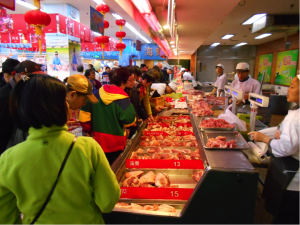 At the time the plant was inspected, leading to approval to export, the Moe abattoir was owned by Chinese investor Hengyang Group (formerly Foresun Group). Hengyang bought the abattoir as part of the Tabro Meats business in 2014  from processing industry veteran, the late Ted Brorson.
Moe and its sister plant, Tabro Meats Lance Creek in southern Victoria, struggled to operate consistently for the past three years, spending long periods either closed or performing only skeleton kills.
The Moe plant was re-sold last month to Victorian processor HW Greenham & Sons.
All chilled beef exports from Australia were temporarily suspended in 2013 during a period of heightened food safety concerns across China. The primary reason appeared to be food safety concerns surrounding the storage and handling of chilled beef over frozen – seen as presenting a higher perishability risk due to China's limited cold chain infrastructure.
China partially re-opened chilled access for Australian beef in 2014, but limited supply to just ten beef processors. The eligible plants included Teys Australia plants at Beenleigh, Rockhampton and Wagga; JBS Dinmore, Qld; Kilcoy Pastoral Co, Qld; Stanbroke Beef, Qld; Bindaree Beef, NSW; G&K O'Connor, Vic; Northern Cooperative Meat Co, NSW; and John Dee, Warwick, Qld.
In addition to the Moe abattoir chilled listing added this week, four additional cold storage facilities have also been listed for chilled beef supply to China. Under China's protocol, abattoirs and cold storage facilities must be listed separately.
Agreement pointed to 'greatly improved market access'
In March this year during an Australian visit by China's Premier Li Keqiang, both governments announced an agreement intended to lead to greatly improved market access for Australian chilled and frozen beef and sheepmeat, expanded trade in offals and a new trade in live sheep and goat exports.
The red meat access relaxations came as part of a joint statement on enhancing inspection and quarantine cooperation between Australia and the People's Republic.
Deputy prime minister Barnaby Joyce said at the time that the agreement would "expand and improve Australia's meat market access by allowing more meat and live animal exporters access to China and progressing new trade opportunities." He said the agreement could lead to significantly improved farmgate returns across the nation.
"The finalised agreement includes a meat export package which expands chilled meat access from 11 exporters to all eligible Australian exporters. Australia is the only country in the world with this market access," prime minister Malcolm Turnbull said at the time.
Eight months later, 35 Australian beef export establishments continue to wait for chilled access to the Chinese market.  Just one plant has been added.
Currently, out of the 47 integrated establishments approved for China, only 12 are approved for export of chilled beef, and one for sheepmeat.
Sources close to Friday's High-Level Dialogue talks described the outcome as 'encouraging progress.'
In a statement issued after Friday's meetings, assistant agriculture minister Luke Hartsuyker said Australia and China had confirmed a joint commitment to food safety as part of a meeting which included discussions on exports of Australian meat products.
He said the outcomes of the meeting reflected the trust and collaborative relationship between Australia and China.
"Australia is a supplier of safe and high-quality meat and food products to China and ensuring the quality and safety of these products is in both countries' interest," Minister Hartsuyker said.
"The recent positive outcome around the lifting of compliance-based suspensions on Australian meat establishments reflects the high level of cooperation between our two countries to work through issues in a constructive and collaborative manner.
"Australia is committed to being a reliable supplier of wholesome and safe meat to China and we have reconfirmed this commitment through the recent implementation of enhanced verification and audit procedures, which were developed in consultation with industry.
"These enhanced procedures will support improved food safety for Australian meat exports, to ensure Chinese consumers can continue to have access to the safe, high-quality produce that Australia is known for.
"Both countries also agreed to work closely to ensure the implementation of the Joint Statement signed earlier in the year, which includes expanded chilled meat access to China.
China is Australia's largest sheepmeat market, worth $240 million in 2016, and its fourth largest beef market, growing from less than $100m in value in 2011 to $670m last year.